Stout Braised Pork and Black Bean Empanadas and a Craft Beer Adventure in South America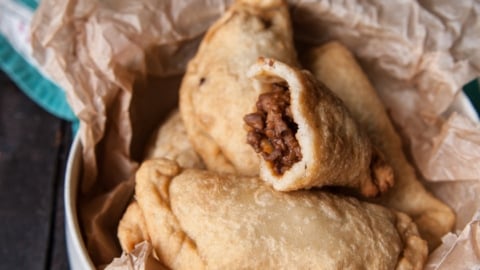 Stout Braised Pork and Black Bean Empanadas
The first thing you notice about the owners of Bogota Beer Company is how much they care. About each other, about the people who work for them, about the brand and every detail of it. It conveys so strong, the minute they picked me up from an airport in Panama, I could feel it instantly. The entire reason they'd flown me thousands of miles was because of how much they care. The menu they had in the 27 pubs spread over 2 countries was good, but they wanted it to be great. They wanted me to revamp it, add some beer, make it exciting.
The week was peppered with new experiences every day. A fish market in Panama, foods and flavors that were new to me, gorgeous dinners, late nights walks around a rain slicked city, a private coffee class in the hills of Bogota, Colombia. All the while I was reworking an already decent menu. A menu that, to be honest, was better than most American pubs. We made it exciting. We added a burger with a bacon jam made with their porter, doughnuts served with sauces infused with their beer, fried chicken made the way American Southern women make it, and a pizza menu that feels as artisan as their beer.
I'm proud of what we did. Proud to work with a company that is paving the way for great craft beer in countries that are brand new to even the idea of a beer that isn't a pale lager. The beer is fantastic, and the company is even better. If you're in Bogota, Colombia, stop in the BBC for a pint and sample the menu I helped create. Or stop by one of the micro-pubs they're dotted across the country in renovated shipping containers. If you visit Panama City, stop by La Rana Dorada. Stop by and have a pint, have some food, and make some friends. They are the best people you can hope to come across while traveling.
Stout Braised Pork and Black Bean Empanadas
Ingredients
Dough:
3

cups

350g Masa Harina (corn flour)

1

cup

120g all purpose flour

2

cup

450g warm water

2

tbs

32g oil
Filling:
1

tbs

oil

½

large

160g white onion, chopped

12

wt oz

340g Ground pork

1

cup

226g stout

2

tbs

32g Tomato puree

15

oz

425g Black beans

¼

tsp

0.6g smoked paprika

½

tsp

1.5g garlic powder

½

tsp

3g salt

1

tsp

1g black pepper

Oil for frying
Instructions
Add the masa, flour, water, and oil to a bowl, stir until a soft dough forms. If the dough is too wet, add additional flour. The consistency should be similar to Play-Doh. Cover the bowl and allow to rest while you prepare the filling.

Heat the oil in a large skillet over medium high heat. Cook the onions until slightly caramelized, about ten minutes. Add the pork, cooking until browned, breaking up into small pieces.

Add the stout and allow to cook until the beer is almost completely gone.

Add the tomato puree, black beans, smoked paprika, garlic powder, salt and black pepper, cook until well combined. Remove from heat.

Form dough into balls about the size of golf balls.

One at a time place between two sheets of parchment paper (parchment works better than plastic wrap, the dough removes more easily) and using either a tortilla press or a rolling pin, press/roll into 6 inch circles.

Add about 2 tablespoons of filling in the center. Using the parchment, fold over the dough to form a crescent shape. Peel back the parchment and press the dough to seal the edges. Repeat for all dough balls.

Heat the oil (canola or peanut oil), in a large pot over medium high heat. Using a cooking thermometer adjust heat to maintain 350F degrees.

A few at a time, fry the empanadas until golden brown, about 3 minutes. Allow to drain on a stack of paper towels.
Notes
Masa Harina is sold in most major markets, look for it in the Hispanic food section.
To make ahead of time: After frying allow to cool. Place on a plate and loosely cover, chill for up to three days. Once ready to serve, drizzle with oil and bake at 425 for 12 minutes.