Steak With Stout Beer Mushroom Sauce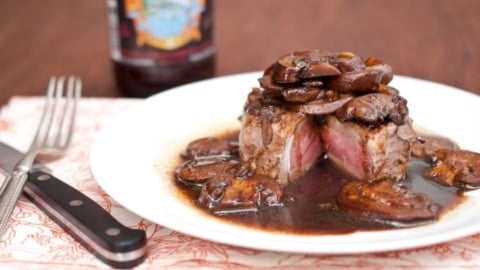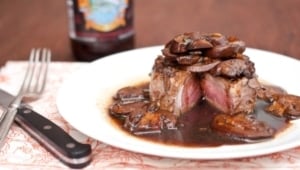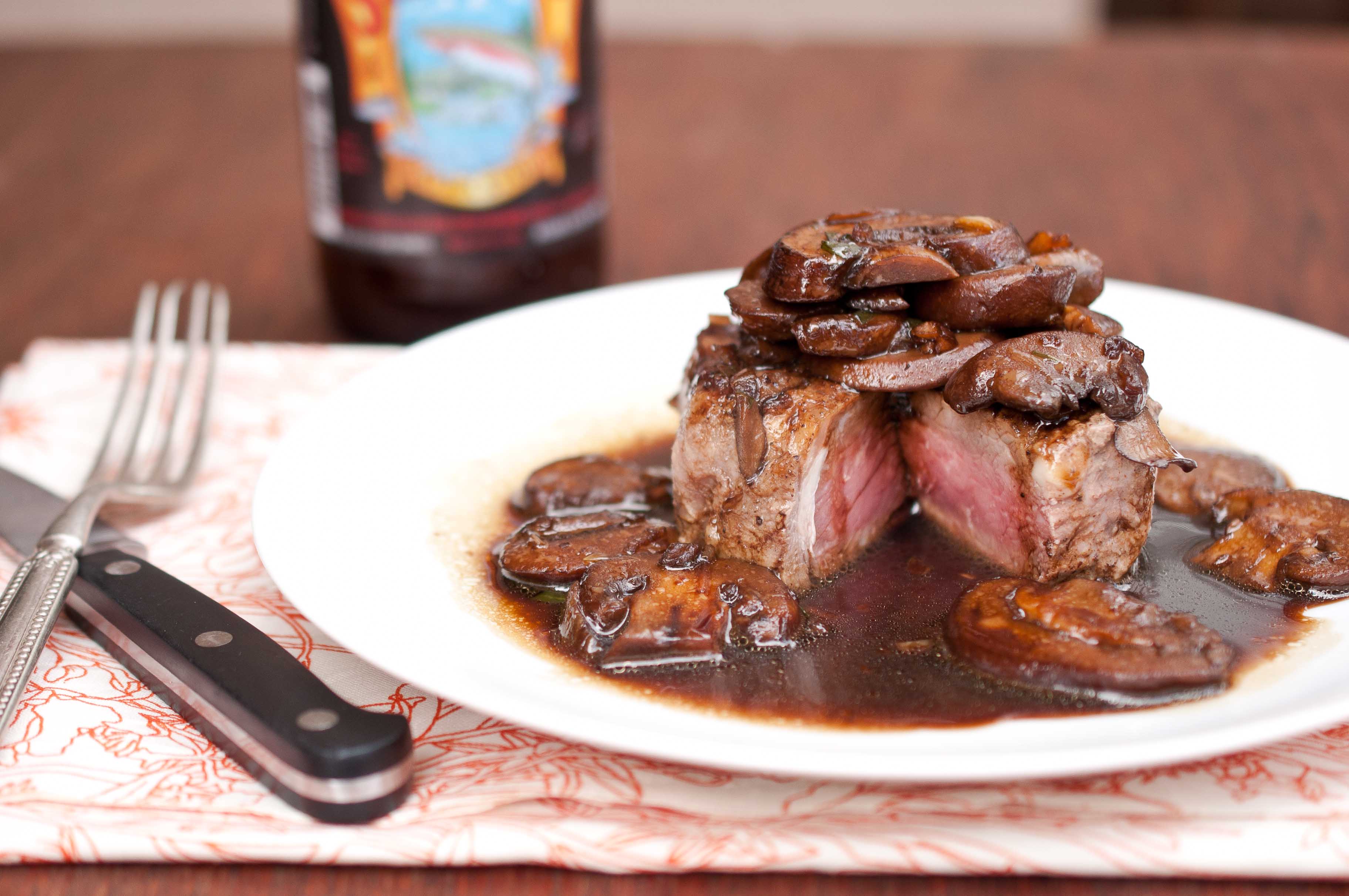 Let's start by talking a little bit about steak, and how to cook it at home. Before you even start your meal, you need to know how to buy steak and what those stickers on the package mean.
If you are lucky enough to be cozy with your local butcher, you can disregard this next bit of trivia. If you buy your steaks at the grocery store, you'll need to know this in order to get an amazing steak on to your dinner plate.
While I'm the first in line to let everyone know that cheap cuts of meat can turn in to fantastic meals, this is not a dish that will give you memorable results with low quality beef. You must spend on steak.
That being said, the most expensive cuts of meat aren't always worth the price but knowing how to decipher the labeling will help you balance price vs quality.
Prime, Choice, and Select.
Prime is the best meat for that cut and will, most likely, taste the best once cooked, but it almost always cost the most.
Don't even bother with Select, it's the lowest quality of meat. Unless you are a "well-done" steak person, then it doesn't really matter, an overcooked piece of meat taste the same regardless of quality.
Choice is a great option and a middle ground between price and quality if you are on a budget. It's far better than Select, but not as expensive as Prime.
Don't fall for the "Inspected by USDA" sticker, all meat is inspected by the USDA and that sticker just means that quality was so poor, it didn't even qualify for a "Select" sticker. If there is no indication if the meat is Prime, Choice or Select, the odds are that the meat didn't meet standards for any of those categories. In other words: don't buy an unmarked steak.
Another important step in pan-searing a steak at home is removing excess moisture from the outside of the steak. I know that it seems counter-intuitive to remove moisture when the goal is a juicy steak, but this is the only way to get a good sear and avoid gray meat. Pat the steak dry with paper towels before seasoning it.
Salt is another essential component in making steak, regardless of the cooking method. Salt the outside of your meat generously. This will tenderize the steak, brighten, and enhance the natural flavors. Without it, your meat will be slightly tougher and have much more of a "flat" taste to it.
A hot pan and a 350°F degree oven is the combination that you need to achieve a crust on the outside and the perfect amount of pink on the inside of the steak.
For the mushrooms sauce, I used Steelhead Extra Stout by Mad River Brewing. A smooth, creamy stout with a surprisingly light finish. A stout lover's dream, a great beer to drink with dinner or dessert.
Pan-Seared Steak with Stout Beer Mushroom Sauce
Doneness is a hard thing to explain, but there are several ways to know if your steak is where you want it to be without the dreaded slice through the middle that will compromise your overall results.
First, there is the temperature check, but this does require a stab to your meat which will allow some juices to flow out, but far less than cutting it open. Get out an oven-safe thermometer and push it halfway through the middle of your steak. Keep in mind that your meat will continue to cook an additional 5 degrees once remove from the oven so keep that in mind when your test the temperature, removing the meat about 5 degrees before it reaches the level you want it.
126°F Rare
131°F Medium Rare
145°F Medium
154°F Medium Well
The second way is the feel test. This is what I use, and if you cook enough steak, you will be familiar with how your steaks feel once they are done. Here is an old line cook secret to understanding how a steak should feel once it's done:
Put your thumb and forefinger together. With your other hand, feel the fleshy part of your palm, just below your thumb. That is what a rare steak will feel like. Then put your thumb and middle finger together. The fleshy part of your palm will now feel medium-rare. Thumb and ring finger: medium-well. This is a way to get the doneness you want without having the unsightly cut marks in your beautiful steak.
Here is a great article about the feel test, with pictures of what I'm talking about.
Allow your steak to rest for five minutes while you finish the sauce.
Top each steak with mushroom sauce, serve with stout beer.
Steak With Stout Beer Mushroom Sauce
Ingredients
For The Steak:
1

tbs

unsalted butter

4,

6 oz Steaks

Salt and pepper for seasoning
For the Mushroom Sauce:
3

tbs

butter

1/4

cup

shallots

chopped

4

cloves

of garlic

minced

4

cups

Crimini mushrooms

sliced

2

tbs

olive oil

if necessary

1

cup

Stout Beer

1/2

cup

beef broth

1/2

tsp

salt

1

tsp

sugar

1

tbs

balsamic vinegar
Instructions
Preheat oven to 350.

In a pan over medium heat, melt 3 tbs butter. Add the shallots and cook until softened, about 3 minutes.  Add the garlic and stir. Add the mushrooms and cook until the mushrooms are soft and dark brown, about 5 minutes. Add the olive oil if the pan starts to get dry. If you add the beer before the mushrooms are cooked through, they will absorb too much of the beer flavor.

Reduce heat to medium and add the beer and broth, allow to cook until reduce by more than half, about 10 minutes. Stir occasionally. You can cook the steaks while the sauce is reducing (see below).

Once the sauce has reduced, add the remaining ingredients and stir to combine.

Pat the steaks dry with a paper towel, and season all sides generously with salt. Sprinkle liberally with pepper.

In a sperate pan, heat 1 tbs butter until melted and the pan is very hot but not smoking. Add the steaks and cook on each side until a brown seared crust has formed, about 2 minutes per side. Don't crowd the pan or the the cooking temperature will fall below what the steaks need for a good sear. Cook in two batches if necessary. Move steaks to a sheet pan or baking dish.

Cook in the oven for 5-7 minutes, or until desired level of doneness. Allow to rest for at least 5 minutes.