Sriracha Chip Crab Cakes with Spicy IPA Hollandaise
Sriracha Chip Crab Cakes with Spicy IPA Hollandaise
We like craft beer because we like things that are way better. Ingredients matter to us, so does flavor. We've decided to step away from the mass produced in favor of what's a little left of center, a little less common, and a little more interesting. That's why we've ended up with craft beer in our pint glasses. That's why we will drive across town to our favorite bottle shop that always has the best stuff because it's worth the effort.
This, of course, spills over into other aspects of our life. We started to evaluate other things we consume, and snacks were on the top of the list. Food and beer just naturally go together, and if we're going to eat something along with the beer we drove 45 minutes to get, we want it to be able to keep up.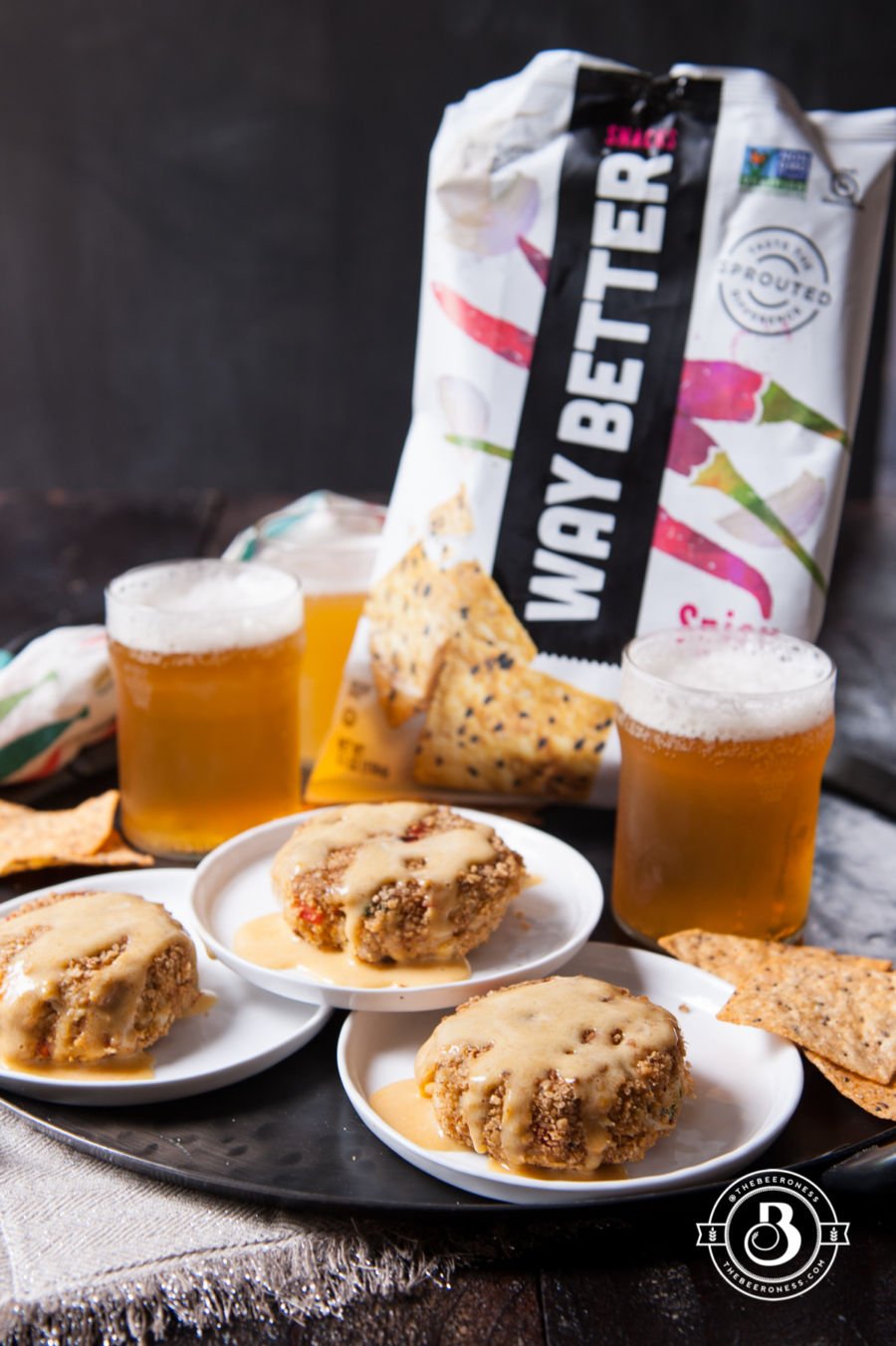 I threw an artisan pizza party a few weeks ago with a chip and beer pairing appetizer. I picked Way Better Snacks chips and asked my guest to choose which beer paired best with each chip. Here were the winners, in no particular order:
Sweet potato + Belgian Dubbel
Nacho + Stout
Sweet Chili + Saison
Multigrain + Brown Ale
Spicy Sriracha + IPA
I had two stand-out favorites: Sweet Chili + Saison, and Spicy Sriracha + IPA. I, of course, had to take this one step further by creating a recipe that also celebrated this pairing. A recipe that I already have plans to make again with the last bag of Way Better Snacks Spicy Sriracha Tortilla chips. That is if I can resist just eating the bag of chips and drinking the beer before I'm able to go the store for more crab.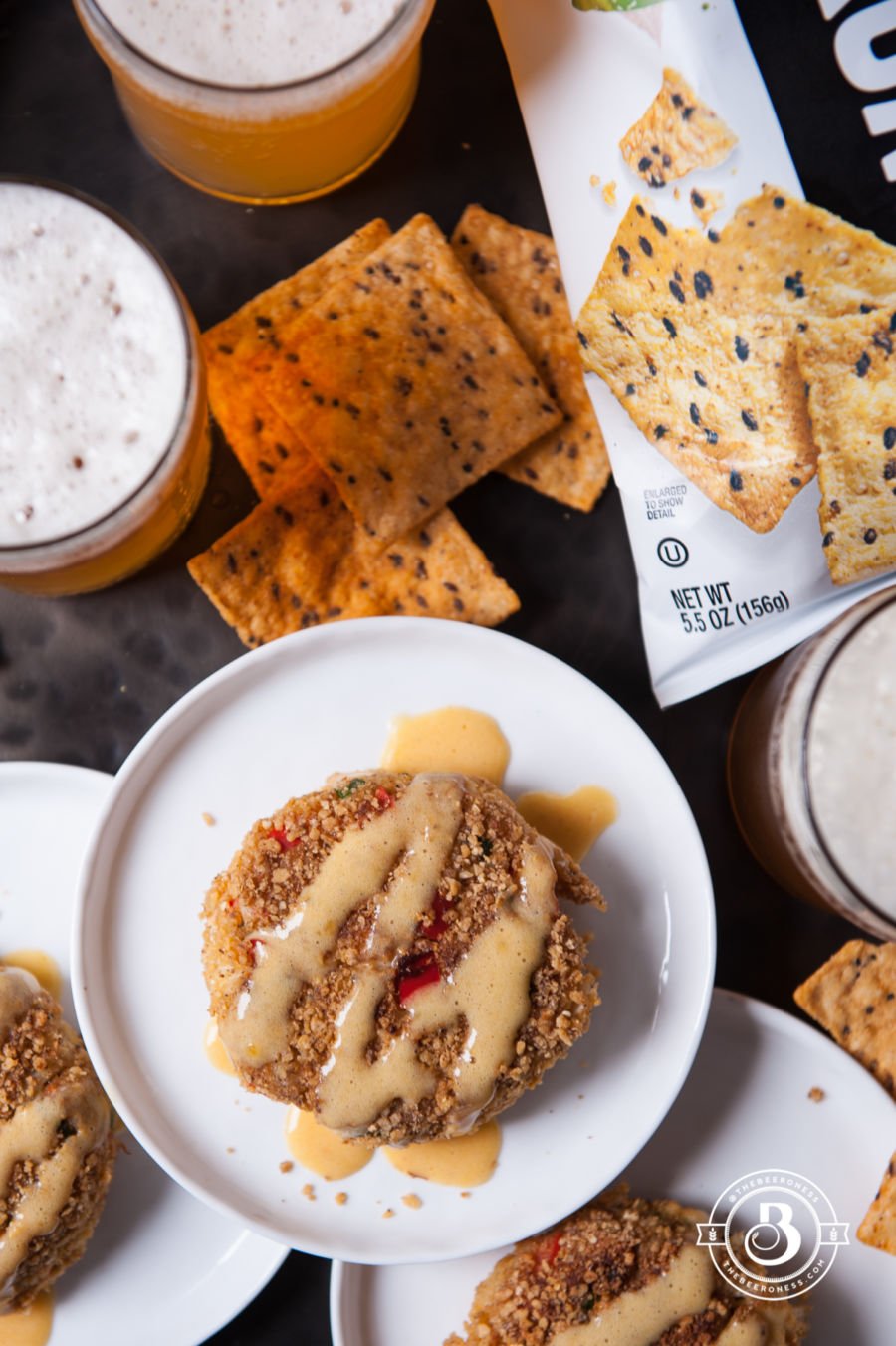 Sriracha Chip Crab Cakes with Spicy IPA Hollandaise
Ingredients
4

wt oz Way Better Snacks Spicy Sriracha tortilla chips

1

egg

2

tablespoon

green onions

chopped

1/4

cup

red pepper

chopped

8

oz

lump crab meat

1/4

teaspoon

salt

1/2

teaspoon

pepper

pinch

cayenne

1/4

teaspoon

Old Bay seasoning

1

tablespoon

unsalted butter

For the Hollandaise:

3

egg yolks

2

tablespoons

IPA beer

2

tablespoons

melted butter

clarified

1

teaspoon

sriracha

½

teaspoon

lemon juice

pinch

salt
Instructions
Add the chips to a food processor and process until just crumbs remain, you should have 1 cup of crumbs.

Add half of the crumbs (1/2 cup) to a bowl along with the remaining crab cake ingredients (except the butter), mix to combine. Form into 4 patties, about 1 inch thick. Place remaining chip crumbs in a bowl.

One at a time, place the patties in the Panko and press until well coated on all sides with chip crumbs.

Melt the butter in a large skillet over medium high heat. Cook the crab cakes on both sides until golden brown, about 3 minutes per side.

In the top of a double boiler (off heat) whisk together the egg yolks, and beer vigorously until frothy and doubled in volume. Add the double boiler to heat until the water is gently simmering, whisking until the egg yolks start to thicken. Slowly add the butter while whisking continuously until the sauce has thickened. Stir in the sriracha, lemon juice and salt.

Plate the crab cakes, drizzle with sauce, serve immediately.
This post was sponsored by Way Better Snacks. Partnerships with The Beeroness and outside companies are rare and only occur when the company's ideas, quality, and standards meet mine. All ideas and opinions are my own.