Spinach Artichoke Dip Stuffed Beer Steamed Mushrooms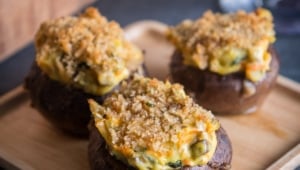 Spinach Artichoke Dip Stuffed Beer Steamed Mushrooms (perfect appetizer for thanksgiving or vegetarian main!)
You guys, it's here. IT. IS. HERE!!
After two years of working and waiting I finally have an actual, real-life, physical copy of my book LUSH in my grubby little paws. It's gorgeous and by far my favorite book I've ever written, I hope you love it as much as I do.
Wanna get a beer with me and celebrate? The answer is yes. YES, YOU DO! Are you going to be in Seattle or New York in October? Then you have no excuses, not one.
To entice you into joining me I've made you some stuffed mushrooms. I will, however, eat all of them before either event so don't be counting on eating any, they're all mine. But you should make them for yourself. Especially as an appetizer for Thanksgiving. Or a Halloween party. Or just a Tuesday because you feel like it.
Stuffed mushrooms was one of the first recipes I ever developed on my own and I still love them. Do you have a veg-head coming over for Thanksgiving and are at a loss for what to serve them as a main? Just swap the 24 cremini mushrooms with 8 portobello mushrooms and they will have more than enough food to be as stuffed as the rest of us.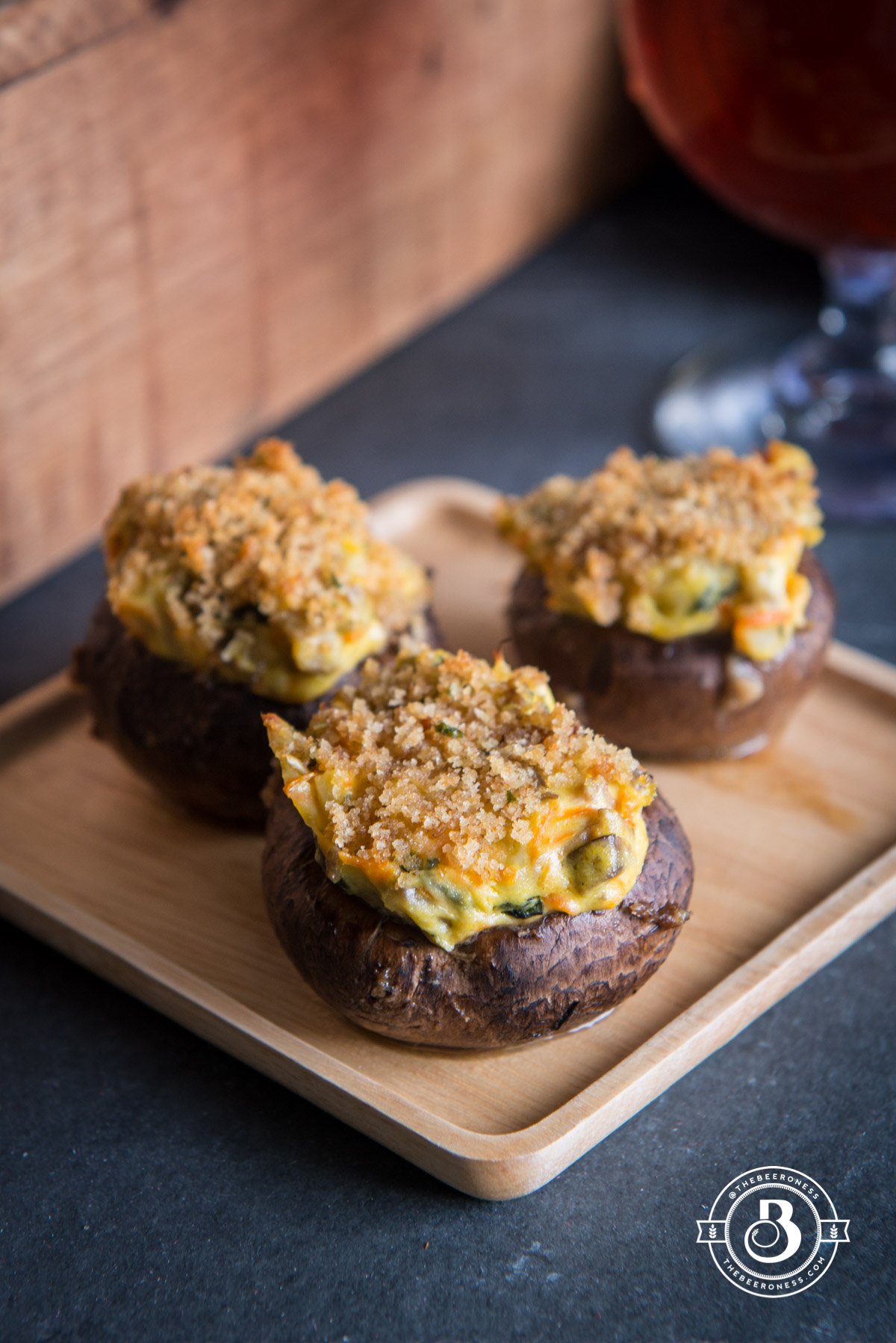 So there you have it. A perfect appetizer that doubles as a vegetarian main dish, and you've already decided to come out and have a beer with me next month. Not a bad Thursday.
Spinach Artichoke Dip Stuffed Beer Steamed Mushrooms
Ingredients
24

cremini mushrooms

baby bellas

2

tablespoons

(28g) olive oil

1

cup

chopped white onions

3

cloves

garlic

minced

1

teaspoon

(6g) salt

1

teaspoon

black pepper

3g

1

cup

(50g) chopped fresh spinach, packed

½

cup

(120g) marinated artichokes, chopped

¼

cup (2oz)

plus 1 cup beer (8oz)

Oktoberfest, Marzen, brown ale, divided

4

oz

cream cheese

½

cup

(56g) shredded mozzarella

1

tablespoon

(14g) butter, melted

1/3

cup

(30g) Italian bread crumbs
Instructions
Preheat the oven to 400°F.

Wash the mushrooms well, removing the stems. Chop the stems, set aside. Add the mushroom caps, hole side up, to a baking dish (or dishes).

Heat the olive oil in a pan over medium-high heat. Add the chopped mushroom stems and onions, cooking until onions and mushroom pieces have softened. Stir in the salt and pepper.

Stir in the garlic, then add the spinach, cooking until the spinach has softened and wilted, stir in ¼ cup beer and the artichokes.

Add the cream cheese, stirring until it has melted and combined with the rest of the filling ingredients. Stir in the cheese until melted.

Add heaping spoonfuls into the holes in the mushrooms.

Stir together the melted butter and breadcrumbs. Add a teaspoon or so to the top of each mushroom.

Add the beer to the pan around the mushrooms (if using two pans, divide the beer between the pans).

Cover the pan and bake for 18 minutes, remove the cover and cook for an additional 10 minutes or until the top has browned.
Notes
To make this entree-sized portions, substitute the cremini mushrooms for 8 portobello mushrooms. 
To make in advance, stop at step seven (right before you pour the beer into the pan, just drink it instead!), cover and refrigerate for up to 36 hours.