Spinach Artichoke Dip Grill Pan Pizza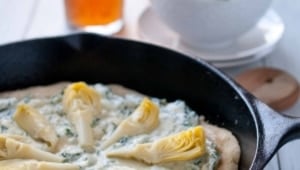 Grill pan pizza!
Have you done this yet? It's amazing, you need to add this to your weeknight meal ideas. Outside of the dough, which you can buy at markets like Trader Joe's and Fresh & Easy, it takes about 10 minutes and it's amazing. Pizza in your grill pan!
If you don't have a grill pan, use your cast iron skillet, of you don't have a cast iron skillet run (don't walk!) out and buy one right now. Without question it's my favorite, most versatile cooking device. With it I've made brownies, bacon fat biscuits, chorizo egg breakfast skillet, countless chicken recipes, the perfect roasted potatoes, queso dip, bread, and now here we are with this fabulous pizza.
I own a cast iron grill pan (above) that was quite spendy, as well as a $9 10-inch cast iron skillet from Target. Both perform about the same. As much as many companies would love for me to tell you to run out and buy that $125 one (which, let's be honest, I totally want), that $9 Target one has been a work horse.
Once you get your grill pan, check out Megan's advice on How to Care for a Cast Iron Skillet.
But lets talk about that dough for a moment. This takes about a half of a standard pizza dough recipe, which usually yields one pound of dough. Which means you can make two pizzas (thats the Joey Special for all you FRIENDS fans) or save the other half for another night.
My favorite pizza dough recipe takes about a day to make, but Averie has a one hour pizza dough recipe that looks awesome. I've also had fairly good luck with dough from Trader Joe's.
This is my favorite way to make a pizza right now. Pizza stones are great, but I always seem to have some struggles getting the raw pizza from the peel to the stone. The cast iron gives it that nice bubbly, crispy and slightly charred tasted of grilled pizza and it only takes ten minutes.
Spinach Artichoke Dip Grill Pan Pizza
Prep Time: 5 minutes
Cook Time: 7 minutes
Ingredients
½ lb pizza dough*
4 ounces cream cheese, softened
¼ cup sour cream
½ cup frozen spinach, thawed and drained
½ tsp garlic powder
¼ tsp salt
¼ tsp pepper
dash red pepper sauce (like Sriracha, Cholula)
¼ cup shaved parmesan or shredded mozzarealla
4 ounces artichoke hearts, quartered
Instructions
In a medium bowl, sitr together the cream cheese, sour cream, spinach, garlic powder, salt, peper and red pepper sauce, set aside.
On a lightly floured surface, roll the dough out to about a 9-inch circle.
Lightly brush a 9-inch grill pan with vegetable oil. Heat over high heat until just starting to smoke. Add the dough circle to the pan. Cook until browned on the bottom, about 2 minutes. Flip and immediately spread with the spinach dip. Sprinkle with cheese, top with artichoke hearts+. Cook until the cheese has started to melt and the bottom of the dough has browned, about 3 to 5 minutes.
Notes
*Note: Most dough recipes or store bought dough yield 1lb, use half of that for one pizza. +Note: Covering the pan with a large lid or another skillet after you put the cheese on will help the cheese to melt faster