Spinach Artichoke Dip Grill Pan Pizza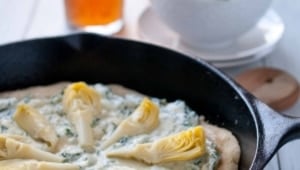 Grill pan pizza!
Have you done this yet? It's amazing, you need to add this to your weeknight meal ideas. Outside of the dough, which you can buy at markets like Trader Joe's and Fresh & Easy, it takes about 10 minutes and it's amazing. Pizza in your grill pan!
If you don't have a grill pan, use your cast iron skillet, of you don't have a cast iron skillet run (don't walk!) out and buy one right now. Without question it's my favorite, most versatile cooking device. With it I've made brownies, bacon fat biscuits, chorizo egg breakfast skillet, countless chicken recipes, the perfect roasted potatoes, queso dip, bread, and now here we are with this fabulous pizza.
I own a cast iron grill pan (above) that was quite spendy, as well as a $9 10-inch cast iron skillet from Target. Both perform about the same. As much as many companies would love for me to tell you to run out and buy that $125 one (which, let's be honest, I totally want), that $9 Target one has been a work horse.
Once you get your grill pan, check out Megan's advice on How to Care for a Cast Iron Skillet.
But lets talk about that dough for a moment. This takes about a half of a standard pizza dough recipe, which usually yields one pound of dough. Which means you can make two pizzas (thats the Joey Special for all you FRIENDS fans) or save the other half for another night.
My favorite pizza dough recipe takes about a day to make, but Averie has a one hour pizza dough recipe that looks awesome. I've also had fairly good luck with dough from Trader Joe's.
This is my favorite way to make a pizza right now. Pizza stones are great, but I always seem to have some struggles getting the raw pizza from the peel to the stone. The cast iron gives it that nice bubbly, crispy and slightly charred tasted of grilled pizza and it only takes ten minutes.
Ingredients
¾ cup white sugar
4 tbs butter
2 large eggs plus 1 yolk
¼ cup stout beer
1 tsp vanilla extract
½ tsp almond extract
2 ¼ cup all purpose flour
½ cup cocoa powder
1 ½ tsp baking powder
1 tsp cornstarch
1 tsp espresso powder
¼ tsp salt
½ cup hazelnuts
1/3 cup coca nibs
Directions
Preheat oven to 350.
In the bowl of a stand mixer, add the sugar and butter. Beat on medium high speed until well creamed.
Add the eggs and yolk, mix until mixture is pale and fluffy.
Add the stout, vanilla and almond, mix until well combined.
In a separate bowl whisk together the flour, cocoa powder, baking powder, corn starch, espresso powder and salt.
Sprinkle the dry ingredients over the butter mixture, mix on low until just incorporated. Stir in the hazelnuts and cocoa nibs.
Scoop half of the dough onto a baking sheet that has been covered with a Silpat or parchment paper that has been sprayed with cooking spray.
Shape into a log that is about 8 inches long and 2 inches wide. Repeat with the other half of the dough.
Bake at 350 for 30 minutes or until slightly firm to the touch. Cool for about 5 minutes. Cut diagonally into ¾ inch slices. Return to the baking sheet, cut side up.
Bake until slightly crispy, about ten minutes.
Cool on a wire rack.
Biscotti can be made up to three days ahead of time and taste the best 24 hours after baking. Store in an air tight container.
https://domesticfits.com/spinach-artichoke-dip-grill-pan-pizza/
Copyright �© TheBeeroness.com