Spinach Artichoke Beer Cheese Crostini
This is necessary.
Putting dip on bread. Serving it on a silver platter. Acting fancy.
It's the same amalgamation of ingredients as that dip you serve in that Pyrex bowl surrounded by bread slices, relatively similar process, but the result is the ability to use the Italian word for "little toast" whilst talking about beer cheese dip.
It also allows for your unruly party guests to grab a portable portion of dip and move along, avoiding a traffic jam around the dip section and promoting harmonious party mingling.
Or you could just serve it in a bowl surrounded by bread like a normal person.  But you'll miss out on being able to say Italian words like a boss.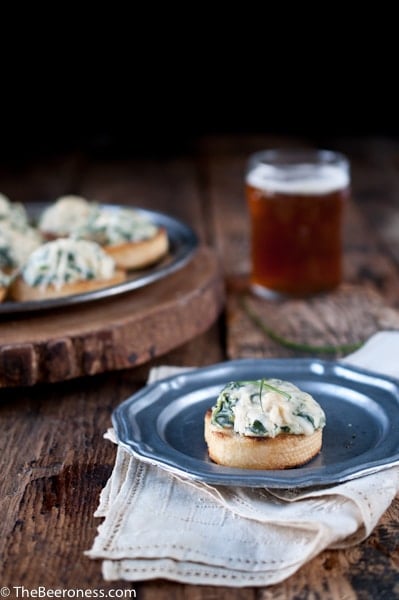 Spinach Artichoke Beer Cheese Crostini
Ingredients
1

French baguette

sliced into 1 inch slices

¼

cup

olive oil

salt and pepper

8

oz

cream cheese

¼

cup

sour cream

3

wt oz parmesan

about 1 cup

3

wt oz mozzarella cheese

(about 1 cup) divide in half

5

wt oz frozen chopped spinach

about 1 cup, thawed & wrung dry

1

tbs

cornstarch

½

cup

IPA beer

1

tsp

red chili sauce

such as sriracha

½

tsp

garlic powder

14

wt oz quartered artichoke hearts
Instructions
Preheat oven to 375.

Arrange the baguette slices on a baking sheet. Brush both sides with olive oil, sprinkle with salt and pepper.

Bake for ten minutes. Turn slices over, bake for ten more minutes or until golden brown.

While the bread cooks, make the cheese dip.

Add the cream cheese, sour cream, parmesan, half the mozzarella, spinach, cornstarch, beer, chili sauce and garlic powder, process until well combined.

Add to a saucepan over medium heat along with the artichoke hearts. Cook, stirring frequently, until hot and bubbly.

Spoon cheese dip onto the toasted bread, sprinkle with remaining cheese. Return to the oven and bake until the cheese has melted, about 5 minutes.

Serve warm.