Spicy Miso Stout Udon Noodle Soup
Spicy Miso Stout Udon Noodles Soup. Only Takes twenty minutes.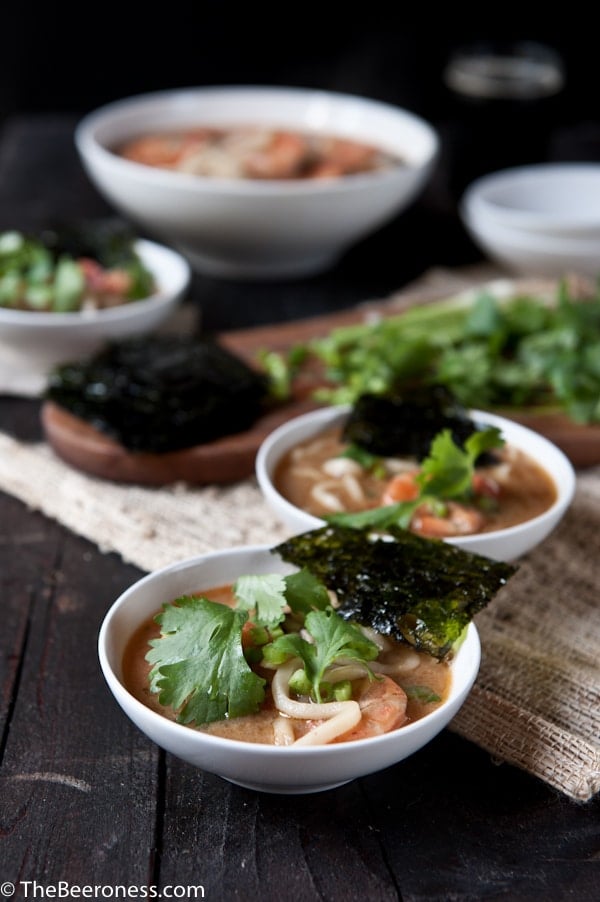 I once got beligerantly drunk at a cafe in Spain and asaulted a waiter.
That's probably a bit of an exaggeration, unless you ask the waiter. My sister and I had been traveling south from Madrid on our way to Morocco and stopped for a few nights in Tarifa. My sister is a fantastic traveling companion, mostly because when I get a few drinks in her she giggles like she can't speak English. She was one of the youngest attorneys in the State, passing the BAR at 22-years-old, she's one of the smartest people I know and she turns into a school girl when she has a glass of wine, which is fantastic.
We'd ordered sangria (they'd brought us a giant pitcher to share), calamari, and a tortilla espanola. About half way through the sangria, both of us giggling so loudly we officially became "Those Damn Americans" at the back of the resturant. I was starving and it had been 45 minutes since we'd ordered and the food portion of our order hadn't arrived, the empty stomach giving the Sangria more power than it should have had.
I stumbled through the resrutant looking for the waiter, completely unsure of how to ask about my food with my limited Spanish skills.
I finally find him by the bar, loading a tray of martinis. "ummm….¿Dónde está mi comida?"
"¿Que?"
I wasn't sure if it was the Spanish slaughtering that he was confused by or the food order.
"Mi Comdia….Tango hambre." Which, due to the alcohol and lack of Spanish skills, turned into me telling him that I was a man, or a hamburger. This made him more confused, and it made me more frustrated. Which, any man who is trying to feed his hungry girlfriend can tell you, the combination of tired, hungry and drunk does not bring out the best qualities in an otherwise lovely girl.
"Necesito comida!"
He frowned, shoved a menu in my face "¿Qué quieres, SENORITA!?"
I should have been worried about the result of badgering the person who brings me food, but I was too hungry. A few minutes later a plate of food was literally thrown on the table, fried squid falling onto the floor. He didn't even stop walking when he handed off the comida. Which of course made my sister and I burst out laughing, in a ridiculous display of drunk girl bi-polar emotions. The food was fantastic, and on the way back to our hotel we were chase by a couple "mal chicos" who were trying to sell us cocaine. But that's a story for another day.
When you find yourself on the recieving end of a hangry woman who  "Necesito comida!" this is the perfect soup. It's full of flavor and warmth, and it only takes 20 minutes. Just don't throw it at her, she's not herself when she's hungry.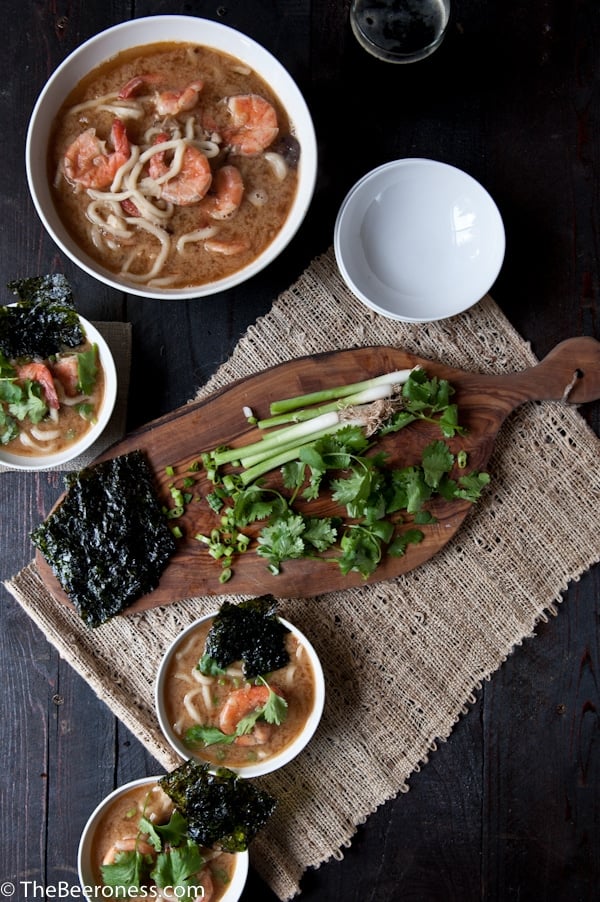 And we apologized by leaving a giant tip, we might be unreasonable when we're drunk and hungry, but we aren't bad people.
Spicy Miso Stout Udon Noodle Soup
Ingredients
1 tbs sesame oil
2 tbs chopped shallots
2 wt oz shitake mushrooms
1 clove garlic, minced
3/4 cup stout beer
3 cups chicken broth
1/3 cup yellow miso
1 tbs garlic chili sauce (I use the Huy Fong version)
2 tsp fish sauce
1 tsp red chili flakes
1 lbs raw shrimp
7 wt oz Udon noodles
¼ cup chopped cilantro
¼ cup chopped green onions
8 sheets roasted Nori, chopped
Instructions
Heat the sesame oil in a pot over medium high heat. Add the shallots, cook until softened, about five minutes. Add the mushrooms, cook until softened. Stir in the garlic then add the stout beer. Add the chicken broth, miso, garlic chili sauce, fish sauce and red chili flakes. Bring to a simmer.
Add the shrimp and noodles, simmer until shrimp is cooked through, about 3 minutes.
Ladle into bowls, top with cilantro, green onions and nori.
https://domesticfits.com/spicy-miso-stout-udon-noodle-soup/
I use this Chili Garlic Sauce
, it's fantastic, I go through about a bottle a month. (affiliate link)