Spicy Beer Shrimp with Smokey Creamy Saison Polenta and Lime Crema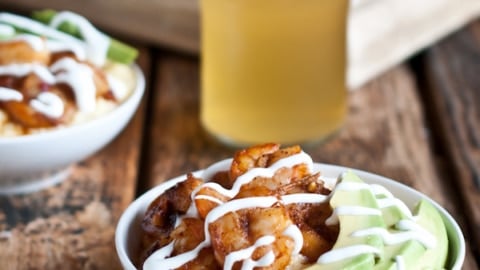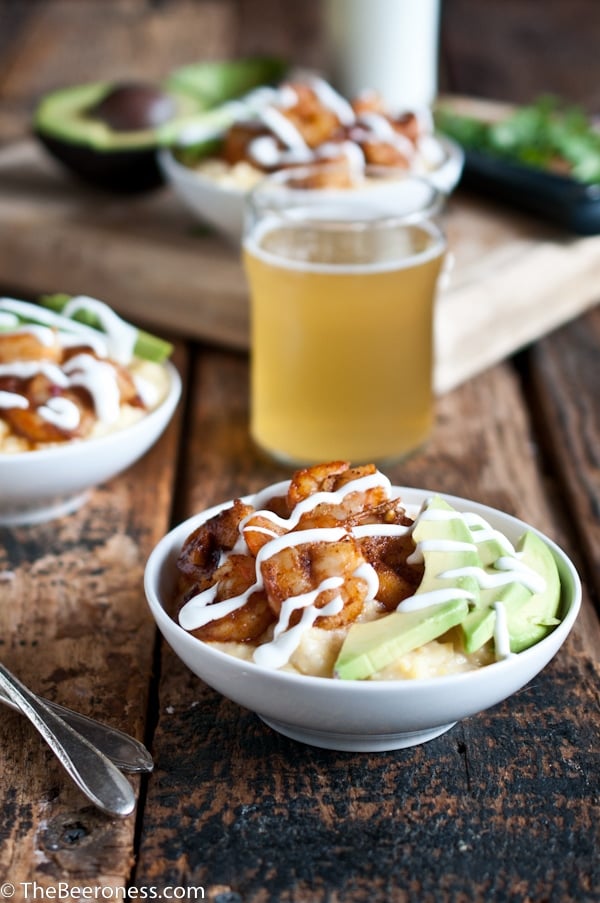 I'm still in shock.
A few days ago I was given word that I'm a finalist for a Saveur award for BEST Original Recipes. Best on the entire internet and in the entire world. Out of the millions of food blogs out there and out of the 30,000 they considered, they chose The Beeroness as one of the six best.
 I'd love to tell you that I feel justified, or vindicated. But really, I feel humbled. I feel honored. I even feel a little overwhelmed.
I want you to like what I'm doing. I want you to make my recipes for your family, I want them to become your recipes, for these recipes to be a great excuse to explore craft beer. But I never really needed it to be more than that, more than just me and you making some beer food and sharing it over a few pints.
And the Saveur goes and makes me want this too. I want to win it, for us, for the love of beer food.
So take a second and vote for The Beeroness for the Best Original Recipes. 
Because beer food really is the best.
Spicy Beer Shrimp with Smokey Creamy Saison Polenta and Lime Crema
Ingredients
For the Polenta:
2

cups

chicken broth

1

cup

water

1

cup

Saison beer

1

cup

dry polenta

corn grits

3

tbs

butter

3

wt oz smoked gouda

shredded

Salt and pepper
For the Shrimp:
1

tsp

chili powder

1

tsp

garlic powder

1

tsp

onion powder

½

tsp

red chili flake

½

tsp

smoked paprika

¼

tsp

salt

1

lb

raw shrimp

peeled and deveined

2

tbs

butter

3

clives garlic

minced

½

cup

saison beer
For the Crema:
½

cup

Mexican crema

2

tbs

fresh lime juice

1

avocado

sliced
Instructions
Heat the chicken broth, water and beer in a pot over medium heat. Add the polenta and cook over a low simmer, stirring occasionally, until creamy. About 30 minutes. Stir in the butter and cheese, add salt and pepper to taste.

While the polenta is cooking, make the shrimp.

In a small bowl stir together the chili powder, garlic powder, onion powder, red chili flavors, smoked paprika and salt, set aside.

Melt the 2 tablespoons of butter in a skillet over medium high heat. Add the garlic and stir until fragrant, about 30 seconds. Stir in the beer.

Add the shrimp, sprinkle with seasonings.

Cook the shrimp until pink, remove from heat.

In a small bowl stir together the crema and lime.

Plate the polenta, top with shrimp and avocado slices, drizzle with crema.
I use Bob's Red Mill Polenta (affiliate link), it's non-GMO, organic, very consistent and really high quality.