Spaghetti Squash Alfredo: 125 Calories
I eat a lot of food.
A lot of high calorie food and beer that can leave me feeling like I want to take a nap in some kale. I tend to pendulum swing between wanting really bad for me food and really good for me food but I want it all to taste good.
So I've developed a fixation with produce. And how to manipulate it into tasting like that other side of the coin that leads me down a path far away from my skinny jeans.
So here you have my version of a pasta dish, made up mostly of vegetables, and a hefty serving weighs in at only 125 calories.
In fact, if you ate the entire batch it would only be 500 calories.
And you would be very full.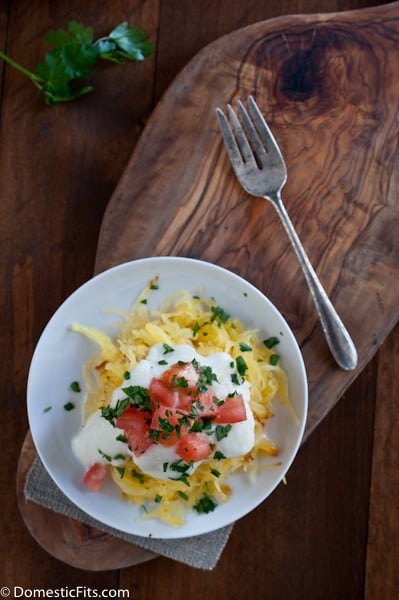 Pumpkin Ale Muffins with Graham Cracker Streusel Topping
Ingredients
For The Muffins

2 cups flour
1/2 cup brown sugar
1/4 cup white sugar
2 tsp baking powder
1 tsp baking soda
1 tsp salt
2 tsp cinnamon
¼ tsp nutmeg
1/2 tsp ground allspice
¼ tsp ground ginger
¾ cup pumpkin puree
2/3 cup pumpkin ale
2 egg
1 tsp vanilla extract
¼ cup melted butter
¼ cup canola oil

For the Topping:

5 standard sized graham cracker sheets
2 tbs all purpose flour
1 tbs brown sugar
pinch salt
3 tbs melted butter
Directions
Preheat oven to 350.
In a large bowl sort together the flour, brown sugar, white sugar, baking soda, baking powder, salt cinnamon, nutmeg, allspice, and ginger.
In a small bowl stir together the pumpkin puree, pumpkin ale, eggs, vanilla extract, melted butter and canola oil.
Add the wet ingredients to the dry ingredients and stir until just combined.
Spray 12 muffin tins with cooking spray.
Scoop the batter into the well of a muffin tin to about 2/3 full.
In a food processor, add the graham crackers and process until reduced to just crumbs.
Add the flour, brown sugar and salt, pulse to combine.
Add the melted butter and process until well combines.
Scoop about 1-2 tbs graham cracker mixture on top of the muffin batter.
Bake at 350 for 18-22 minutes or until top spring back when lightly touched.
Notes
Optional add in's (stir in the batter just before pouring into the muffin tins): 2/3 cup raisins, 2/3 cup chocolate chips, 2/3 cup dried cranberries or cherries, 1/2 cup chopped pecans
https://domesticfits.com/spaghetti-squash-alfredo-125-calories/
Copyright �© TheBeeroness.com