Southwest Beer Cheese Dip + The Definitive Beer to Pair with The Super Bowl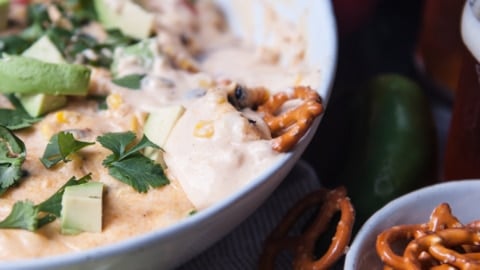 Southwest Beer Cheese Dip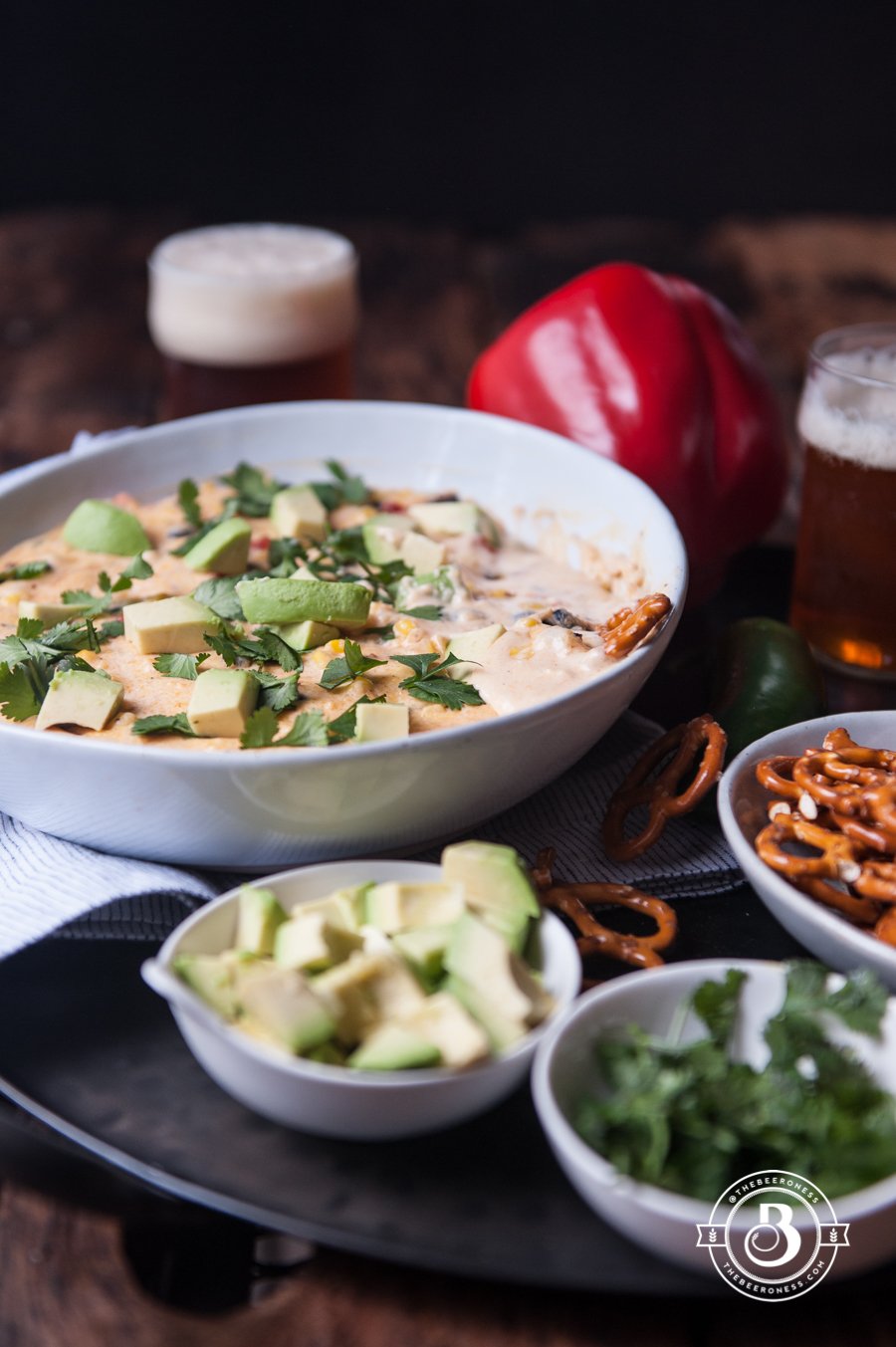 We talk a lot of pairing beer and food. About the sensory experiences of flavors, textures, and ingredients that compliment each other. We've known since the accidental and unfortunate childhood pairing of toothpaste and orange juice that some flavors are a combative train wreck once they comingle in our mouth.  We know that espresso and chocolate cake are magical in partnership, and that greasy cheese pizza is made that much better with a highly carbonated pale ale.
What we don't talk enough about is pairing beer and experiences. Because if you and I are in a deep fireside chat, late in the evening, warming our bones near the fire of a ski lodge, I'd want to share a barrel aged beer with you, the boozier the better. But if we're hiking through the woods on a hot August afternoon, tank tops sticking to our backs and dust from the trials clinging to our legs, a crisp Kolsch would be awesome (but the boozy bourbony beer would not).
We are right around the corner from a shared experience that most of us will take part in one way or another. Football lover, casual fan, or just along for the commercials and the food table, you'll likely find yourself in a room with sports fans screaming at the TV on Super Bowl Sunday. I have just the beer for you, sports fan, wagering enthusiast or just-there-for-lack-of-anything-better-to-do guy.
This is a day filled with intense emotions, highs, and lows, and the beer should match. You'll also need to take into consideration the food as to avoid the aforementioned combative train wreck possibility. Food at these gatherings tends to be intense as well: hot wings, buffalo beer cheese dip, jalapeno nachos; that sort of primitive bar food that you love more than you'd probably ever admit to. Another consideration: time. You'll be drinking all day, several hours and several beers, and when you're done it won't even be night yet.
In summation, these are the considerations when pairing The Super Bowl with a beer: intense flavor, pairs well with spicy and greasy food, can be consumed for long hours. The conclusion we come to is a session IPA. (Quick Beer 101 lesson: "session" means lower ABV, usually 5% or lower). You'll get the intense flavor to match both the food and the emotions, you'll get the nice carbonation for the greasy cheese and meat, and since the ABV is lower you'll avoid becoming a cautionary tale.
Here are some Session IPA's that will pair well with the Super Bowl. These are a few that I'm personally excited about, let me know what your favorite is.
Southwest Beer Cheese Dip
Ingredients
8

wt oz cream cheese

2

cups

226g cheddar cheese, grated (packed)

1

cup

113g mozzarella (packed)

¾

cup

170g IPA beer

1

tbs

8g cornstarch

½

tsp

2g smoked paprika

½

tsp

2g garlic powder

½

tsp

3g salt

½

tsp

2g pepper

1

cup

172g cooked black beans (rinsed and drained)

1

cup

135 corn kernels

1

cup

140g diced bell pepper

1

small jalapeno

diced (seeds and internal membrane removed for lower heat)

1

avocado

diced

¼

cup

28g cilantro, chopped
Instructions
Preheat oven to 350.

Add the cream cheese, cheddar, mozzarella, beer, cornstarch, smoked paprika, garlic powder, salt and pepper to a blender. Blend until smooth.

Add to a large oven safe bowl, stir in the black beans, corn, bell pepper, and jalapeno.

Bake at 350 for 15 minutes or until warmed through.

Remove from oven, top with avocado and cilantro, serve warm.