Slow Cooker Beer and Brown Sugar Pulled Chicken Sliders
Slow Cooker Beer and Brown Sugar Pulled Chicken Sliders. Perfect for a football game!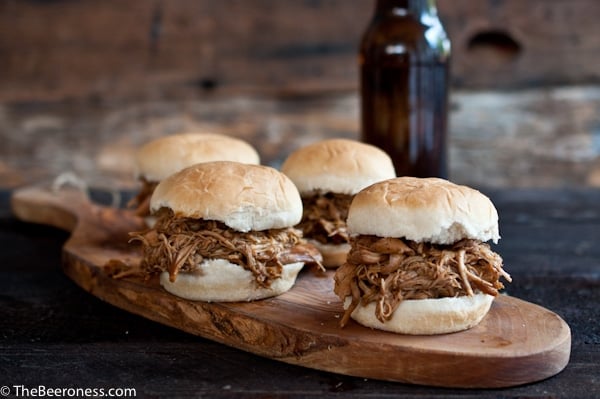 For all of the FanBoy love that seems to be sent to the Slow Cooker, it's my least favorite way to produce a meal. Flavors tend to muddy, its hard to develop layers of flavor, and this culinary contraption seems to render a thinking cook obsolete: dump it in and turn it on.
Meat seems to be the best use, especially when you introduce beer into the mix. Both a low and slow cooking method and the alcohol in beer are meat tenderizers giving you a great final product.
I can concede that it's convenient for those of you who don't prefer to spend all day in the kitchen babying a sauce or teasing a sourdough starter back to life, I tend to favor the high maintenance meals.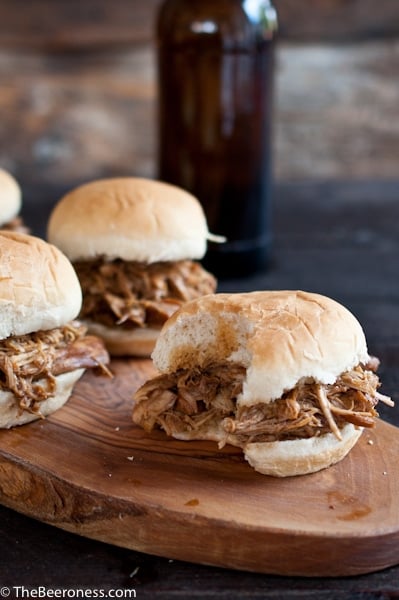 Given my skepticism of a Slow Cooker meal, I was thrilled with how this came out. I made it twice, once with a stout with about 4% ABV (Alcohol By Volume, it should be listed on the label of your beer) and the second time with a porter with 9% ABV.
Because it's the alcohol in the beer that gives it it's tenderizing power, the higher ABV did the best job. Look for a beer that packs a punch, and you'll have a fantastic crowd-pleasing meal that takes only about five minutes of active time.
I'll just have to satisfy my need for involved cooking tasks with homemade beer slider buns.
Slow Cooker Beer and Brown Sugar Pulled Chicken Sliders
Ingredients
¼

cup

tomato paste

3

tbs

soy sauce

3

tbs

balsamic vinegar

1

tbs

Worcestershire sauce

1

tsp

chili powder

1

tsp

smoked paprika

1

tsp

garlic powder

1/3

cup

brown sugar

packed

12

ounces

porter beer

high ABV dark beer works best

6

boneless skinless chicken thigh fillets

18-20

slider buns
Instructions
In a small bowl whisk together the tomato paste, soy sauce, balsamic vinegar, Worcestershire sauce, chili powder, smoked paprika, garlic powder and brown sugar.

Add the sauce, chicken and beer to a slow cooker. Cook on low for 4 hours or until chicken pulls apart easy with a fork.

Using two forks, shred chicken.

Scoop chicken into slider buns.