Skinny Thai Chicken Noodle Soup: 177 Calories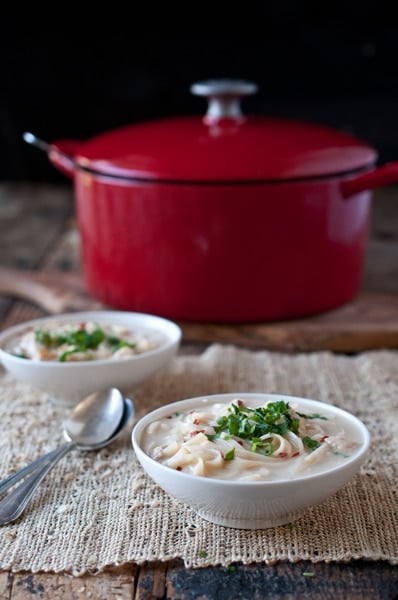 My life has been insane lately. A good insanity from being busy, being asked to do things, be places. It's welcomed and I'm incredibly grateful for the opportunities I've been so blessed with, even on the days when it feels like it's too much. Travel, speaking engagements, book signings, photography jobs, dinners, it's all amazing I've hardly found the self esteem to feel like I even deserve half of it.
Luckily a coping mechanism for me has always been cooking, a double edged sword when you have a propensity to stress eat. So I've had to sublimate my urge to gorge on cheesecake with homemade soup. A fine stand in, especially when it takes 15 minutes and only 177 calories a bowl.
It also makes me feel like I have this all under control, and I'm going to go ahead and let myself think that for a while longer.
Skinny Thai Chicken Noodle Soup
Prep Time: 15 minutes
Yield: 4 servings
Calories per serving: 177
Ingredients
1 tbs olive oil
5 ounces chicken breast, chopped
2 cloves garlic, grated with a microplane
2 cups fat free, low sodium chicken broth
2 tsp fish sauce
3 tbs soy sauce
1 can (13.5 fl oz) lite coconut milk
2 wt oz rice noodles, broken
2 tbs fresh lime juice
1 tbs crushed red pepper
¼ cup cilantro, chopped
¼ cup green onion, chopped
Instructions
In a large pot heat the olive oil. Add the chicken and cook until browned. Stir in the garlic.
Add the chicken broth, fish sauce, soy sauce and coconut milk.
Add the broken rice noodles and simmer until noodles are soft, about 10 minutes.
Stir in the lime juice and red pepper.
Ladle into bowls, garnish with cilantro and green onions.