Short Rib Black Bean Beer Chili
Short Rib Black Bean Beer Chili, SO GOOD. It's eat-it-out-of-the-pot-before-anyone-else-can-have-any good.  
The only food that really comforts me is the food I make myself. The food I serve to people I love, even just one person, in my small kitchen, over an exchanging of words that are hard to speak. I don't want to order a pizza, I want to make bread, watch it rise, smell it baking and know that I did it. I don't want take-out in little white containers, I want a slow cooked bowl of short ribs that I can both laugh and cry over with someone who looks into my heart and likes what he sees. Sure, I love a big steamy bowl of Ramen, or perfectly creamy pile of baked Mac n Cheese, but it doesn't comfort the same way as when I lose myself in the process of making it. I'll look for recipes that take a while, that give me the excuse to stay in my kitchen for a few hours, recipes that aren't hard but take some time to bring out the best of what they can do. That's comfort food. A beer and a few pint glasses doesn't hurt the situation either.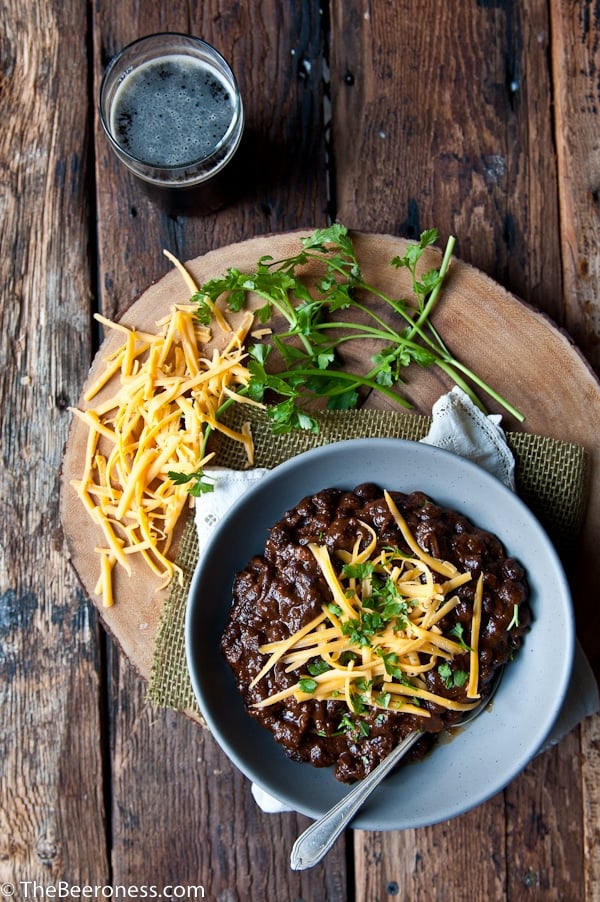 Short Rib Black Bean Beer Chili
Ingredients
2 tbs olive oil
3 lbs beef short ribs
salt and pepper
2 white onions, diced
6 wt oz tomato paste
1 tsp onion powder
1 tsp garlic powder
½ tsp cumin powder
½ tsp smoked paprika
2 dried ancho chili pod (stem and seeds removed, torn into pieces)
2 chipotle chilies in adobo
12 ounces coffee stout
2 cups beef broth
2 cans black beans, drained
½ cup cilantro, chopped
1 cup shredded cheddar cheese
Directions
Preheat the oven to 325.
Heat the olive oil in a large Dutch oven.
Sprinkle the ribs with salt and pepper on all sides. Sear ribs in the pan until golden brown, remove from the pan, set aside.
Low heat to medium, add the onions, cooking until starting to caramelize, about 15 minutes.
Add the onions, tomato paste, onion powder, garlic powder, cumin, smoked paprika, dried chili pod, chipotles and ¼ cup beer to a blender or food processor. Process until smooth.
Return the pot to heat, add the remaining beer, scraping to deglaze the pot.
Stir in the broth, chili paste mixture from the blender and beans. Add the ribs back in the pot.
Cover and cook in the oven for 3 hours or until the ribs are tender and falling off the bone.
Using two forks shred the ribs, remove any large pieces of fat and the bones.
Serve the chili topped with cilantro and cheese.
https://domesticfits.com/short-rib-black-bean-beer-chili/
Copyright �© TheBeeroness.com