Sheet Pan Sweet Chili Glazed Beer Chicken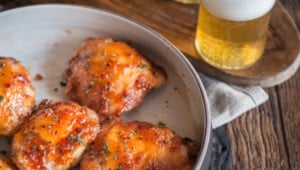 Sheet Pan Sweet Chili Glazed Beer Chicken
Do you ever wonder how long you'd live in a zombie apocalypse? Everyone imagines themselves surviving far into the future of the new world, rebuilding alongside fellow badass humans who have managed to evade bitey undead soldiers. But, most people are wrong. The only people whom I have full confidence in thriving in a zombie infestation are Jason Moma and this good friend of mine. Other than that, you're all probably doomed.
Me? I think I'd be a solid medium. Due to my mostly feral upbringing, I have outstanding problem-solving skills that would carry me farther than most, but I'm also careless and disorganized. I'd leave the door open, or forget to grab my knife, or accidentally set off the car alarm. That would take me down.
But my tribe would miss me because I would be the one would could cook an edible meal with just pantry scraps and questionable meat. That's really my only useful post-apocalyptic skill. I can't grow things, or shoot things, or build things, but I can cook things. So, give me a fire and anything even edible adjacent, and I can work some magic. As long as someone else is looking after the locks and the loud noises.
Maybe it's because I'm re-watching The Walking Dead on the treadmill this week (it legit makes me run faster), but that's what came to mind when I decided to just use what I had on hand to make this. What can I make without going to the store? WHAT IF THERE WAS NO STORE?! I'M STILL MAD ABOUT CARL!!
So I bring you this chicken made with stuff you should always have on hand, as well as meaningless rambling, you're welcome.
Also, how long would you last if the zombies took over?
Sheet Pan Sweet Chili Glazed Beer Chicken
Ingredients
2

lbs

chicken thighs or chicken legs

(bone in, skin on)

1

teaspoon

salt

1

tablespoon

cornstarch

1/3

cup

pale ale

1

teaspoon

red chili flakes

1/2

teaspoon

chili powder

2/3

cup

Thai sweet chili sauce*

2

tablespoons

sriracha

2

tablespoons

chopped green onions
Instructions
Add a wire rack over a baking sheet, spray with cooking spray. Add the chicken, skin side up, on the rack. Sprinkle liberally with salt.

Place in the oven, then set the temperature to 300°F, set a timer for 25 minutes (allowing the chicken to cook in the oven while it preheats helps to render fat and make the skin crispier).

Add the cornstarch and beer to a saucepan, whisk until combined. Stir in the chili flakes, chili powder, sweet chili sauce, and sriracha.

Bring the mixture to a simmer over medium-high heat, stirring frequently until thickened, about 5 minutes.

After 25 minutes, remove the chicken from the oven, raise the heat to 400°F. Brush the chicken with glaze. Bake for 20 minutes.

Brush again with glaze, turn on the oven broiler.

Place the chicken under the broiler for 2-3 minutes or until the sauce starts to caramelize.

Remove from oven, add to a serving platter, sprinkle with green onions.
Notes
Thai sweet chili sauce is found in the Asian section of the grocery store. I tend to favor a brand called Mae Ploy that can be found everywhere from Whole Foods to Target. But if you want to make it from scratch, I suggest this Sweet Chili Sauce recipe from Serious Eats.