Rum Soaked Pineapple Pops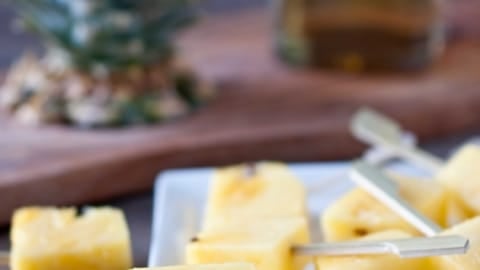 Pineapple season is here! Although it's still a tad colder here in the US than in the tropics, it's still completely acceptable to soak your vacation-related produce in booze. My hard liquor consumption is fairly infrequent, but lately booze has worked it's way into my kitchen. I'm much more of a beer and wine kind of girl, but rum has some beautiful flavors that pair nicely with pineapples.
Although this would make an excellent blended drink, there is something that feels special about eating liquor right off a stick.
Just soak
Skewer
and freeze
Rum Soaked Pineapple Pops
Ingredients
3/4 cup granulated sugar
3/4 cup water
1 cup rum
1 large pineapple, peeled and cut into bite sized pieces
Instructions
In a pot over medium high heat, add the water and sugar. Stir until all the sugar has dissolved, remove from heat. Allow to cool to room temperature, stir in the rum.
Add the pineapple pieces to a 9×13 inch baking dish, pour rum syrup over the pineapple and allow to soak at room temperature for 30 to 45 minutes.
Remove pineapples from soak, skewer with toothpicks or small skewers.
Place on a baking dish that has been covered with aluminum foil.
Freese pineapple for 1 to 2 hours, serve immediately.