Roasted Garlic and Potato Beer Cheese Soup
Roasted Garlic and Potato Beer Cheese Soup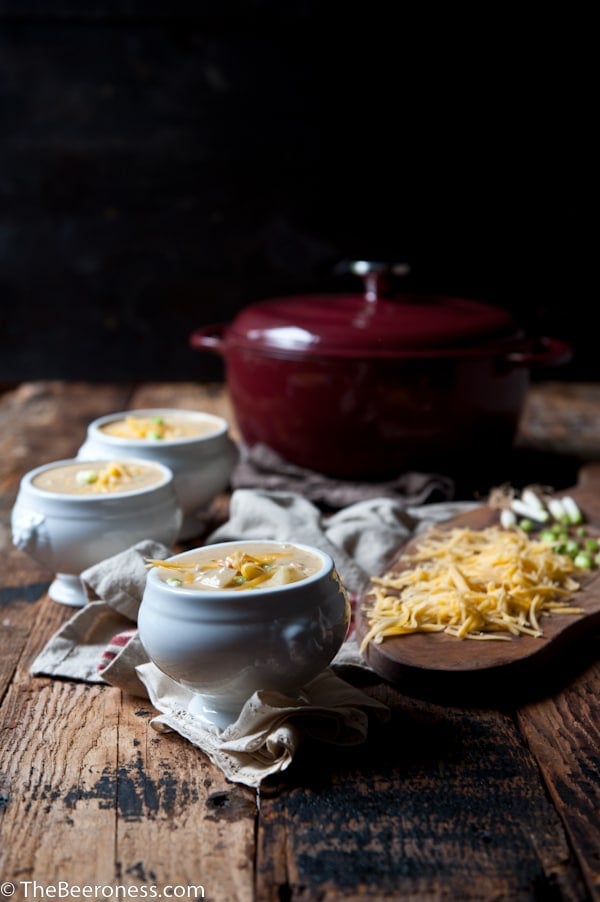 I'm a bit of a free spirit, an outside the box person. The thought of taking a cruise makes me feel panicked and trapped, as does the thought of living in a tract house, or working in a cubicle. These are all things that people want, right? To feel safe, secure, solid. There comes a day when these "things we should want" lose the gilded film of social pressure and we start to ask: but did I ever really want these things in the first place? Maybe you do, but maybe you don't, neither authenticates your personhood.
I've had more experiences than I should legally be allowed for someone my age, at least twice what I'd ever admit to. I've told you about teaching anger management to gang members in South Central Los Angeles, I've told you about Italy, Spain, and almost dying in Morocco, and then there are the years I spent with the marginally famous in Hollywood (which I probably won't ever tell you about unless you get me drunk enough), but there is one thing that I've learned that I know for sure: most decision, if made correctly, come down to a quality of life issue. And it is certain that another persons idea of a great life, and whether or not I have it, doesn't raise that quality. This is freeing. I can wear what I want, live where I want, work how I want, and learn to ignore the social and Pinterest pressure to behave otherwise.
It takes some time for this all to sink in, and you'll have some question to answer over (and over) again, but it's a better way.
I like it, it always seems to fit.
Roasted Garlic and Potato Beer Cheese Soup
Ingredients
1

head garlic

1

tbs

olive oil

2

tbs

unsalted butter

½

cup

chopped carrots

½

cup

white onions

chopped

2

tbs

flour

2

tbs

cornstarch

2

cups

chicken or vegetable broth

12

ounces

pale ale

wheat beer or pale lager

½

tsp

dried basil

½

tsp

chili powder

1

large russet potato

about ¾ lbs, peeled and chopped into small cubes

½

cup

heavy cream

2

cups

shredded cheddar

½

cup

shredded parmesan

salt and pepper to taste
Instructions
Preheat oven to 425.

Cut the top tip of the head garlic off, just enough to expose all of the cloves. Place garlic on a piece of tin foil. Drizzle with olive oil and seal the foil around the garlic.

Place garlic packet on a baking sheet or baking dish. Roast in the oven for 30 minutes. Remove from oven and allow to cool. Once it has cooled, squeeze the head to remove the cloves, chop/smash the garlic into a paste.

Melt the butter in a large pot or Dutch oven. Add the carrots and onions, cooking until softened. Sprinkle with flour and cornstarch, stir until thickened.

Add the broth, beer, basil, roasted garlic paste and chili powder, bring to a low simmer.

Add the potatoes and cook until softened, about 15 minutes.

Stir in the cream. About ¼ cup at a time, add the cheese, stirring well between additions.

Salt and pepper to taste.