Roasted Corn, Pale Ale and Coconut Curry Chowder with Brûléed Avocados
I brûléed some avocados, which, let me be honest, is sort of strange. But it gave this soup a campfirey, smoky flavor that I loved so I'm standing behind the decisions. A decision that was largely based on the fact that I've had this brulee torch for over two months and haven't used it yet.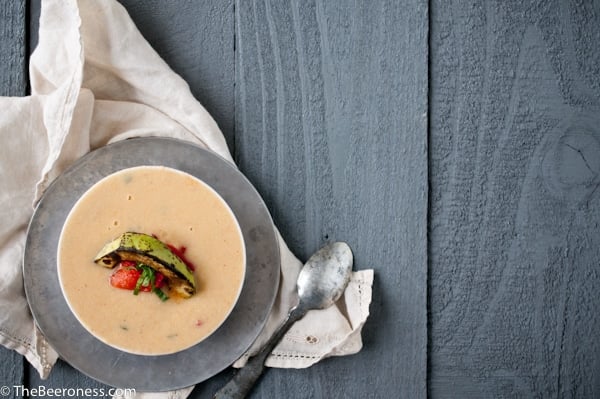 Now I'm sort of hooked on the idea of wielding a kitchen torch this powerful, it completely smokes (pun intended) the one I previously owned that I now see as fairly pathetic. The new one is beast, I think it might belong in the tool shed out back (I don't actually have a tool shed, so I guess it'll stay in the kitchen).
But you really don't HAVE to brulee avocados, just cutting them up and adding them to the soup like a normal person is just fine.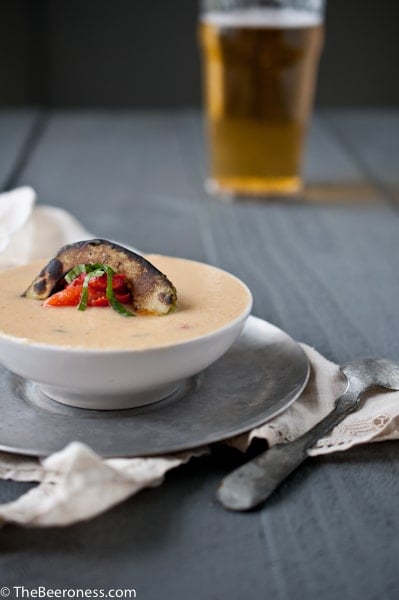 About this soup, it's vegan, which clearly I am not. But I love vegan food because it puts the emphasis on produce, which I adore. Corn is just coming into the season, and so are the avocados I abused, but the weather in most parts of the country is still soup worthy. But you have to remember that I'm also the girl that likes to drink stout and eat soup in August.
I also prefer to eat ice cream in December. Which all may add up to my rampant non-normalness that forced me to take a kitchen torch to those perfectly lovely avocados.
Roasted Corn, Pale Ale and Coconut Curry Chowder with Brûléed Avocados
Ingredients
3

large ears sweet corn

2

tbs

olive oil

½

white onion

chopped

3

cloves

garlic

chopped

2/3

cup

pale ale

½

tsp

salt

¼

tsp

pepper

2

cups

vegetable broth

chicken will work as well

1

can

13.5 ounces full fat coconut milk

2

tsp

red curry paste

pinch

cayenne

5

large leaves basil

thinly sliced

1

large red pepper

roasted

1

large avocado

ripe but firm, too soft will not work

1

lemon
Instructions
Preheat oven to 400.

Trim off any silk that is sticking out of the husk of the corn ears.

Place on a baking sheet, roast for 20 minutes. Remove from oven and allow to cool enough to handle. Cut the kernels off the corn, set aside.

In a sauce pan over medium high heat, sauté the onions in olive oil until soft, about 5 minutes. Add the garlic, cook for 30 seconds. Add the beer, salt, pepper, and vegetable broth, coconut milk, curry paste, corn kernels, and cayenne. Bring to a simmer. Cook for 5 minutes.

Using an immersion blender, puree until smooth.

Stir in the basil and the red pepper.

To brûlée the avocados, slice into ¼ inch slices, sprinkle with lemon juice. Place on a heat proof surface like a baking sheet. brûlée with a kitchen torch until browned, use tongs to flip over and brûlée the other side.

Pour soup into bowls, top with avocados.

This post contains affiliate links.