Ridiculously Good Stout Vegan Brownies (with no weird ingredients)
Ridiculously Good Stout Vegan Brownies (with no weird ingredients), just some things you probably already have in your pantry. And these brownies are legit!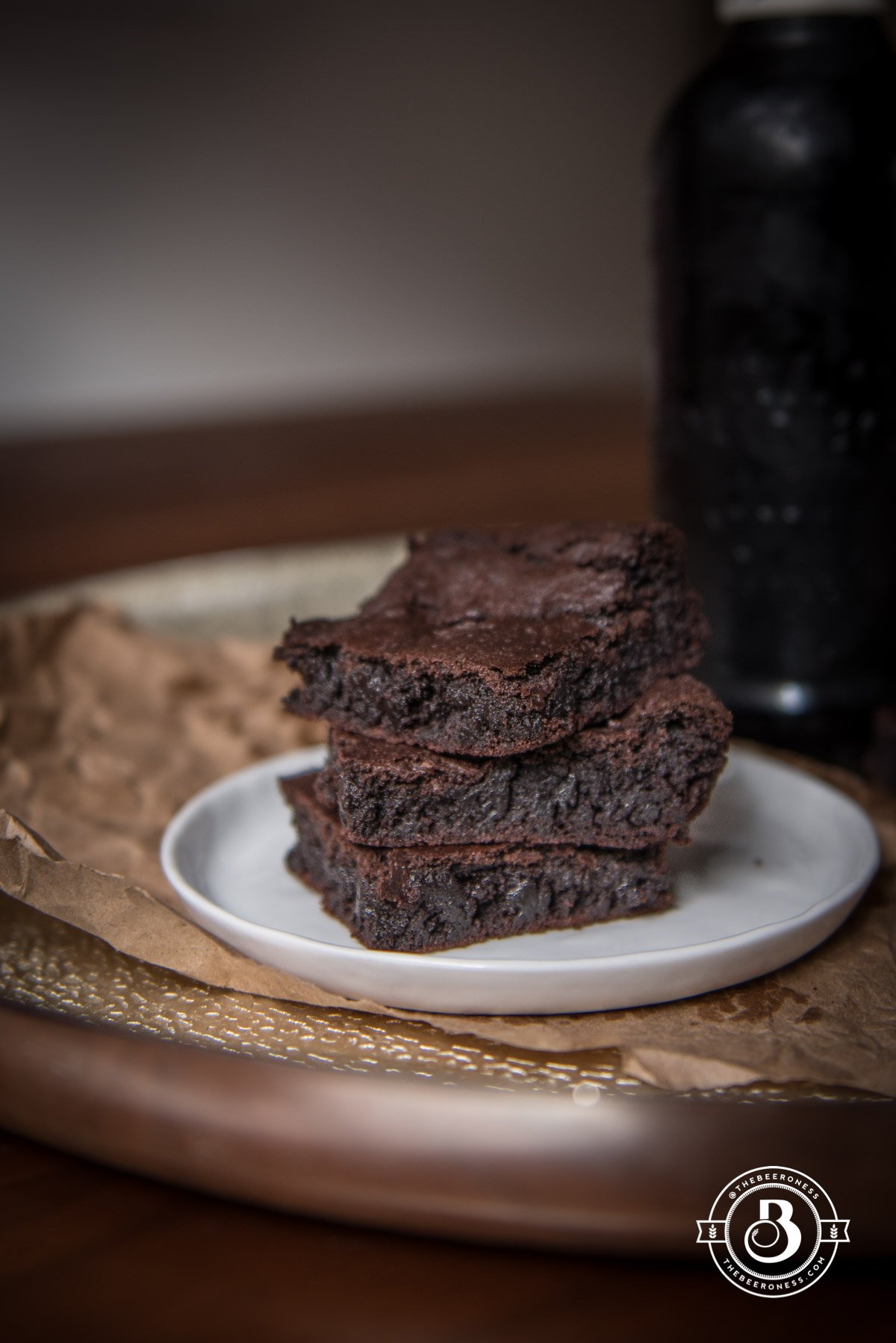 It's not so much that flax-eggs are weird. Or guar gum. Or agar agar. It's not the "weirdness" of the ingredients I kept seeing in vegan brownie recipes, but rather the fact that I don't own them. And outside of an online shopping trip, I have no idea where to procure such things in my neighborhood. I'm more of a vegan food enthusiast rather than an actual vegan.
What I really needed was a brownie recipe using just what I had in my pantry, because there is a good chance you'll also have the same things in your pantry. They also needed to be actual brownies, not shiny-top cake squares (an issue with some recipes that don't include eggs and butter).
I have a few rules and requirements when it comes to brownies: the absolute necessity of the crunchy top, they need to be chewy, and only psychopaths put nuts in a brownie. I like a fudgy, dense, chocolatey, chewy, crispy top brownie.
I tested the recipe over and over, making minor tweaks to fix the things I didn't love, until it came out exactly the way I like my vegan food: shockingly vegan. As in, "serve it to meat-eaters and astound them". Or "Bring them to a dinner party and people ask for the recipe because they have no idea what it does not contain."
It's also a great recipe for those of us who always want to bake right before we realize that we are out of everything and don't want to go to the store.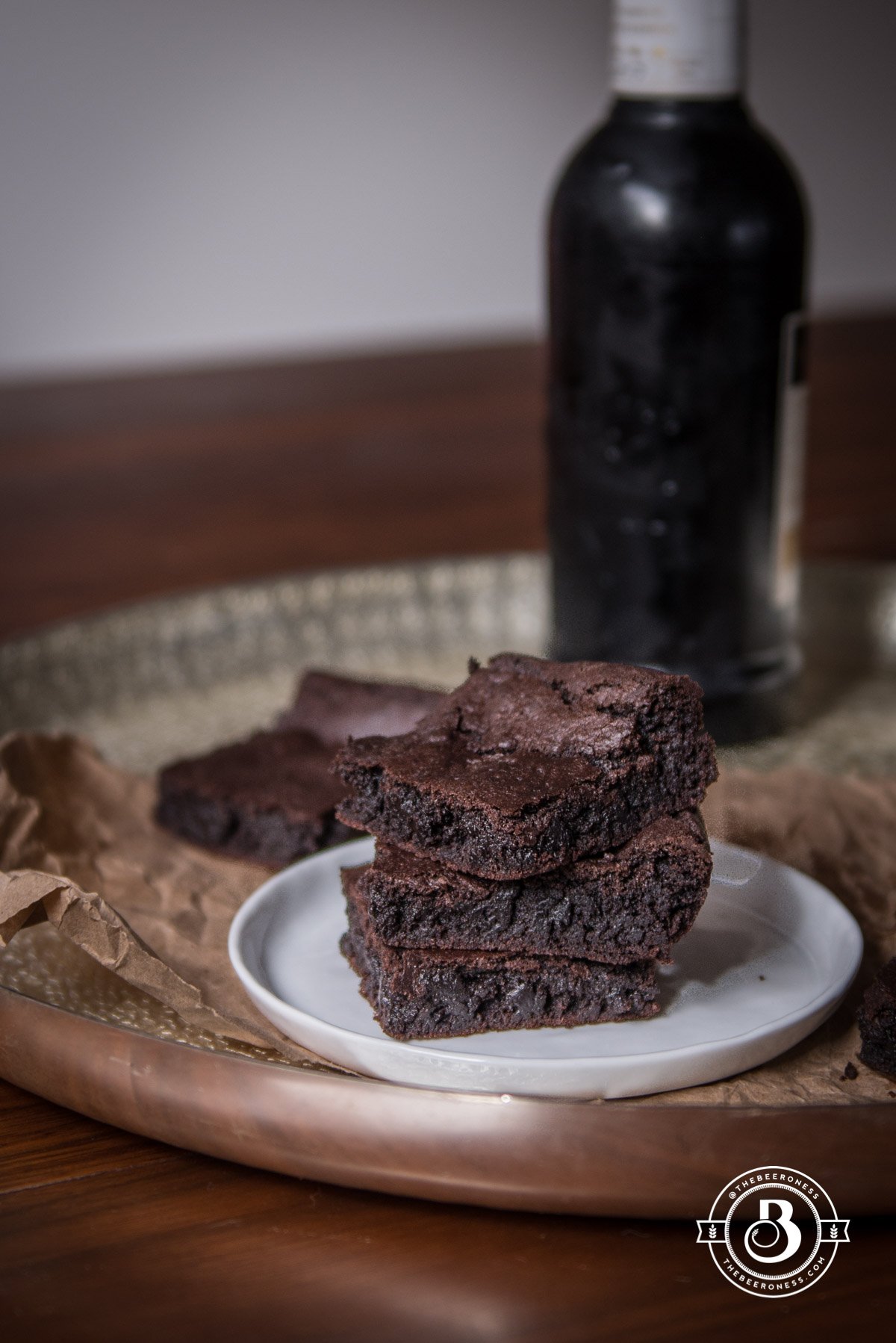 Want to check and see if your beer is vegan? Branivore can help.
Ridiculously Good Stout Vegan Brownies (with no weird ingredients)
Ingredients
1 cup (200g) sugar
¼ cup (56g) coconut oil (not melted)
2 tablespoons (30mL) vegetable oil
1 teaspoon vanilla extract
1 ½ teaspoon baking soda
1 tablespoon apple cider vinegar
1/3 cup (74g) stout beer
½ cup (60g) unsweetened cocoa powder
1 ¼ cup (150g) bread flour
2 tablespoons cornstarch
½ teaspoon salt
2 teaspoons espresso powder
Instructions
Preheat oven to 350°F
Add the sugar and coconut oil to a mixer fitted with a paddle attachment. Beat on medium until well combined. Slowly add the oil and vanilla, beating on high until the mixture resembles frosting.
Add the baking soda and vinegar, beat again until well combined.
Stir in the beer.
In a mixing bowl stir together the cocoa powder, flour, cornstarch, salt, and espresso powder.
Gently stir the dry ingredients into the wet ingredients until just combined, mixture will be thick.
Add in an even layer to a greased 8x8 pan, press flat.
Bake for 22 minutes. Allow to cool before cutting into squares.
https://domesticfits.com/ridiculously-good-stout-vegan-brownies-no-weird-ingredients/