Red Rover Blood Orange and Bourbon Cocktail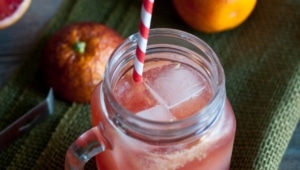 I've never liked ginger, it always just served as a bit of color on my sushi plate, or the stuff I would pick out of a salad.And then this cocktail happened, and I decided to fall in love with ginger when it's mixed with bourbon.
My husband invented this beautiful drink, and it's amazing in that get-this-away-from-me-or-I-will-drink-an-entire-pitcher kind of way. The bourbon, blood orange and ginger just meld in a perfect way that makes you wonder where this drink has been your whole life. To be honest, I cringed a bit when my husband started to grate the fresh ginger into the glass. But paired with the bourbon, it has more of a ginger ale taste that is really lovely, completely compliments and brings together all the other flavors.
Beer and Butter Poached Lobster with Saison Risotto
Ingredients
For the Risotto

2 ½ cups chicken broth
3 tbsp unsalted butter
1 tbs chopped shallots
2 cloves of garlic, minced
¾ cups arborio rice
1 Tbsp vegetable oil
½ cup Saison Beer, plus 2 tbs, divided
¼ cup grated Parmesan cheese
2 tbs heavy cream
½ tsp black pepper
¼ tsp salt
2 tbs chopped chives

For The Lobster:

2 ½ cups unsalted butter
12 ounces (1 1/2 cups) Saison beer
2 fresh lobster tails
Directions
Place the chicken broth in a saucepan and bring to a mild simmer, keeping to warm, but not boiling.
In a separate pot, add the butter and allow to melt over medium heat. Add the shallots and cook until softened, but don't allow to brown. Add the garlic and cook until you can smell them, about 20 seconds
Stir in the rice, (if pan is dry, add the oil) cooking until the rice is completely coated with butter and it smells slightly nutty, don't allow to brown. About 2 minutes.
Add ½ cup of the beer and cook until the pan begins to dry, stirring frequently. About 6 minutes.
Add about ½ cup of broth into the rice. Stir frequently until the rice is almost dry, and then add another ½ cup and repeat. This process should take about 20 minutes. Don't leave the risotto while it's cooking, the rice on the bottom of the pan burns easily. (if you run out of broth, just use hot water the same way you would broth)
Once your risotto is cooked through (taste it to verify that the rice is cooked and not crunchy), turn heat to low and add the cheese, cream, remaining 2 tbs beer and salt and pepper to taste. Risotto should be soft and wet, not dry like typical rice. It should be firm enough to be served as a side on a plate, but soft enough to jiggle when the plate is shaken.
While the risotto is cooking, start working on the lobster. Using a sharp pair of kitchen sheers, cut a straight line down the tail shell, carefully remove the tail meat in one piece.
In a small sauce pan (if the pan is too big, the lobster will not be covered by the butter and beer), melt the butter. Don't allow to brown or simmer.
Add the beer and clip a cooking thermometer on the side of pan, making sure to maintain a temperature between 160 and 180 degrees. Do not boil or even simmer the poaching liquid.
Once the poaching liquid has reached the proper temperature, add the tails. Cook until the tails have turned red and the meat is just opaque, about 6 to 8 minutes. Don't overcook or tails will be rubbery.
Divide the risotto between two plates, sprinkle with chives.
Top with lobster tails, serve immediately.
https://domesticfits.com/red-rover-blood-orange-and-bourbon-cocktail/
Copyright �© TheBeeroness.com