Red Rover Blood Orange and Bourbon Cocktail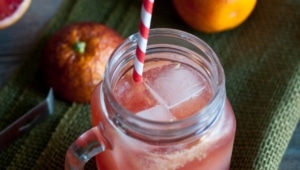 I've never liked ginger, it always just served as a bit of color on my sushi plate, or the stuff I would pick out of a salad.And then this cocktail happened, and I decided to fall in love with ginger when it's mixed with bourbon.
My husband invented this beautiful drink, and it's amazing in that get-this-away-from-me-or-I-will-drink-an-entire-pitcher kind of way. The bourbon, blood orange and ginger just meld in a perfect way that makes you wonder where this drink has been your whole life. To be honest, I cringed a bit when my husband started to grate the fresh ginger into the glass. But paired with the bourbon, it has more of a ginger ale taste that is really lovely, completely compliments and brings together all the other flavors.
Red Rover
Makes one cocktail, but you'll want to make more
Ingredients
2 oz burbon
1 ½ oz blood orange juice
½ lemon juice
1 ¼ simple syrup
4 oz ginger ale
Garnish with fresh ginger, grated with a microplane or zester
Instructions
Add bourbon, blood orange juice, lemon juice and simple syrup to a cocktail shaker, shake gently.
Add ginger ale and stir to combine.
Pour into a glass filled with ice. Garnish with fresh ginger (don't be shy, it's really good)