Punk in Drublic Beer Battered Buffalo Cauliflower (vegan)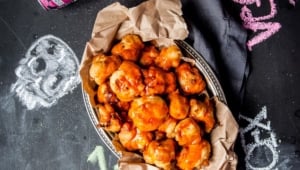 Punk in Drublic Beer Battered Buffalo Cauliflower (vegan)
You know what's punk rock? Beer. NOFX. Making a beer with NOFX. Pouring beer into your food. Deep frying things you aren't supposed to deep fry. Fat Mike wearing brewing clamps as handcuffs.
You know else? Punk in Drublic—the dirty bastard child that resulted from the union of Stone Brewing and the NOFX guys—is really damn great.
And not just when you eat it with deep fried stuff. It's an awesome beer that just so happens to be awesome with deep fried stuff. And buffalo sauce. And loud music.
But don't take my word for it, crank up "The Separation of Church and Skate" so loud someone calls the cops, open some of that hoppy goodness, and find out for yourself.
Punk in Drublic Beer Battered Buffalo Cauliflower (vegan)
Ingredients
Canola oil for frying

2

cups

all purpose flour

½

teaspoon

salt

½

teaspoon

garlic powder

½

teaspoon

black pepper

1

teaspoon

cornstarch

12

ounces

Stone Punk in Drublic beer

3

cups

cauliflower florets

stems removed

½

cup

buffalo sauce

2

tablespoons

butter or vegan margarine

melted
Instructions
Heat 4 inches of canola oil in a pot over medium high heat. Clip a deep fry thermometer on the side and bring oil to 350F, adjust heat to maintain this temperature.

In a large bowl whisk together the flour, salt, garlic powder and cornstarch.

Pour two tablespoons of the beer into a small container, set aside. Add the remaining beer to the flour bowl along with 2 tablespoons water, whisk until combined adding additional water to thin until the batter is the thickness of pancake batter.

Turn the oven to 175F. Place a wire rack over a baking sheet, add the baking sheet to the oven.

One at a time dip the florets into the batter until well coated, then add to the hot oil. Fry until golden brown on all sides, about 4 minutes, then transfer to the baking sheet in the oven to keep warm until all cauliflower is done.

Stir together the reserved beer, buffalo sauce, and butter.

Add the deep fried cauliflower to a bowl, drizzle with sauce, toss until well coated, serve immediately.
This post was a paid partnership with Stone Brewing. Partnerships with The Beeroness and outside companies only occur when the company's products are ones I use and enjoy myself. All ideas and opinions are my own