Pumpkin Ale Muffins with Graham Cracker Streusel Topping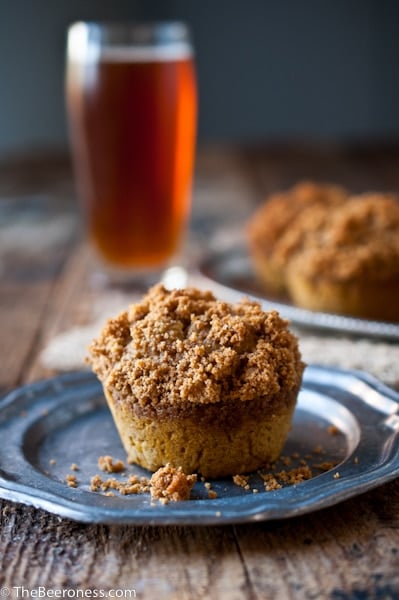 Don't judge me for this.
It's obligatory. After all, I am a blogger, and it is pumpkin season. And as the beer-food blogging hybrid beast that I am, pumpkin season means two things. First, there is the food blog trend of Pumpkin All The Things that I must participate in. Second, there are the most highly anticipated of all seasonal beers: The Pumpkin Ale.
So naturally, I couldn't let this season slip away without presenting you with a few pumpkined items, roll your pumpkin weary eyes if you will, but it's not over yet.
I will now further assault you with a list of Must Try Pumpkin Beers, In no particular order. Are you sick of list? I hope not, I am quite the list maker, so sit tight, it's about to get real.
1. Souther, Tier Pumpking. This has been on my list for a while, but being a West Coaster, it's not available to me anywhere near my current longitude. It's only because of This Girl and her new Husband that I was able to try it a few months ago in Boston. It's fantastic. An epic example of Pumpkin Done Right. If you're on the East Coast, it's fairly mandatory that you pick one up.
2. Shipyard, Smashed Pumpkin. This is what you grab if you want to be punch in the mouth with some pumpkin, it's not subtle, as Shipyard rarely is. It's full force pumpkin in your face.
3. Elysian, Night Owl Pumpkin Ale. A nice, low ABV (I like the low alcohol beers, it means I can drink more) pumpkin pie tasting treat. More subtle than others, with a nice maltyness.
4. Avery, Rumpkin. This guy is a beast. If there was a Pumpkin Ale School Yard Bully, it's this guy. Not only did Avery make a pumpkin ale that demands attention, they went and aged it in rum barrels (!!!!) to give you a monster ale with monster flavor and monster ABV. Be prepared to share, or at least call a cab.
5. Cigar City Brewing, Good Gourd Imperial Pumpkin Ale. This is what happens when your pumpkin beer takes a Caribbean vacation. Unique spices that come from Jamaica give you a new take, completely worth seeking out.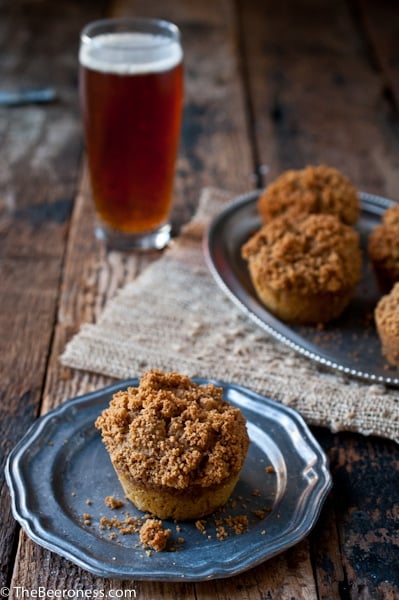 Pumpkin Ale Muffins with Graham Cracker Streusel Topping
Ingredients
For The Muffins

2 cups flour
1/2 cup brown sugar
1/4 cup white sugar
2 tsp baking powder
1 tsp baking soda
1 tsp salt
2 tsp cinnamon
¼ tsp nutmeg
1/2 tsp ground allspice
¼ tsp ground ginger
¾ cup pumpkin puree
2/3 cup pumpkin ale
2 egg
1 tsp vanilla extract
¼ cup melted butter
¼ cup canola oil

For the Topping:

5 standard sized graham cracker sheets
2 tbs all purpose flour
1 tbs brown sugar
pinch salt
3 tbs melted butter
Directions
Preheat oven to 350.
In a large bowl sort together the flour, brown sugar, white sugar, baking soda, baking powder, salt cinnamon, nutmeg, allspice, and ginger.
In a small bowl stir together the pumpkin puree, pumpkin ale, eggs, vanilla extract, melted butter and canola oil.
Add the wet ingredients to the dry ingredients and stir until just combined.
Spray 12 muffin tins with cooking spray.
Scoop the batter into the well of a muffin tin to about 2/3 full.
In a food processor, add the graham crackers and process until reduced to just crumbs.
Add the flour, brown sugar and salt, pulse to combine.
Add the melted butter and process until well combines.
Scoop about 1-2 tbs graham cracker mixture on top of the muffin batter.
Bake at 350 for 18-22 minutes or until top spring back when lightly touched.
Notes
Optional add in's (stir in the batter just before pouring into the muffin tins): 2/3 cup raisins, 2/3 cup chocolate chips, 2/3 cup dried cranberries or cherries, 1/2 cup chopped pecans
https://domesticfits.com/pumpkin-ale-muffins-with-graham-cracker-streusel-topping/
Copyright �© TheBeeroness.com