Potato Artichoke and Goat Cheese Gratin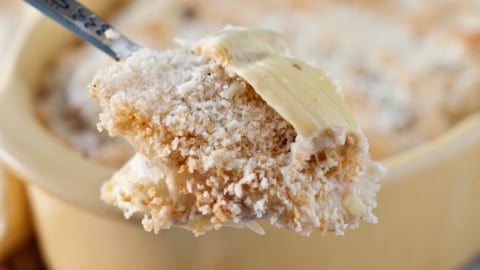 I think I need to buy a goat. And some chickens.
Although I grew up on a farm, and at the time I found very little of our remote, sequestered-from-civilization-and-my-friends, life very appealing, I now want a little bit of that back. Not all of it. I want to live in the city, a big, huge, full of energy, and excitement, city but with a goat and a couple chickens.
I hope that can someday be possible.
Maybe I'll move from food blogging to creating lofts in downtown LA with rooftop chicken/goat farms. I think people would be into it.
Until then, I have to settle for putting goat cheese in everything.
I did just find out about Redwood Hill. A goat cheese farm in Sebastopol, CA that is 100% solar powdered and nearly landfil-free, reusing and recycling as much as they can. As well as giving all employees & their families members great health benefits, this is a company I can give my full support. Along with being a pioneer in the humane treatment of animals (they love the crap out of their goats, even the old ones who are past the milk giving prime) they were eco-friendly and free range before it was hipster chic. I love places like this. I love being able to tell you about them.
I hope they will let me visit, feed me cheese and let me pet their goats.
Potato Artichoke and Goat Cheese Gratin
Ingredients
2 tbs butter
1 large leek, chopped (white and very light green parts only)
2 cups Sunchokes, also called Jerusalem Artichokes, peeled and sliced into 1/8 inch slices (can sub peeled red potatoes)
4 cups red potatoes, peeled and sliced into 1/8 inch slices
1/2 tsp salt
1/2 tsp pepper
14 ounces artichoke heats, quartered
1 cup heavy cream
6oz parmesan cheese
6 oz goat cheese, crumbled
2/3 cup panko bread crumbs
Instructions
Preheat oven to 400.
In a large skillet with a lid, melt the butter. Add leeks and sauté until softened, about 3 minutes. Add the Sunchokes and the potatoes and toss to coat. Reduce heat to medium, cover and allow to cook, stirring occasionally, until potatoes are fork tender, about 12-15 minutes.
Remove from heat. Add the cream, artichoke hearts and the parmesan, stir until combined.
Transfer to a 2 litter baking dish.
Sprinkle the goat cheese on top, cover evenly with panko.
Cover with aluminum foil and bake at 400 for 20 minutes. (To make ahead, you can stop here. Return to the oven the following day and cook uncovered for 20 minutes or until warmed through and browned.)
Remove foil and bake until panko has browned, about 15-20 additional minutes.