Porter Pulled Duck Burger with Beer Pickled Onions + A Rebrew in Copenhagen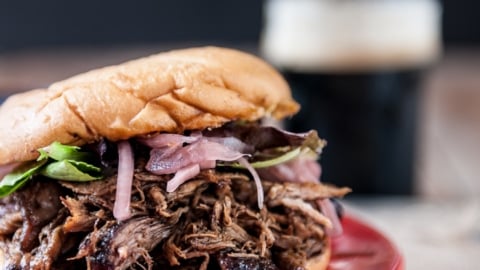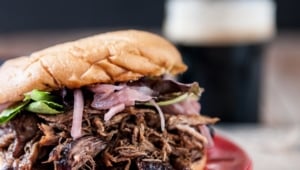 Porter Pulled Duck Burger with Beer Pickled Onions
"If you're expecting a new craft beer, with a fist of strong hoppy notes, you would be disappointed," says Erik Lund, the head brewer from Carlsberg, who shifts his tall, lanky frame on a couch across from me. We're in a back room of a building in Denmark that could be older than the City I live in, discussing the beer he spent two years developing. A brewing project that, in actuality, started before any of us were born.
133-years-ago Carlsberg brewed a batch of beer, bottled it and distributed it to the people of Denmark.131-years later three of those bottles were discovered in the belly of the ever-expanding Carlsberg campus just outside Copenhagen. Dusty and forgotten, they still held the key to what beer tasted like more than a century ago.
One of those bottles was carefully opened in the Carlsberg lab in an attempt to see if it still contained viable brewers yeast. It begs pausing to give a moment of realization for how damn magical yeast is.
133-years-later, it's still there, waiting to continue its work for the brewers but only if they know how to tease and tame the beast. With that yeast, a century-old record for grain purchases, floor malting procedures of the day, barley grown to mimic that which was available at the time, and a visit to a far away cooperage, the brewers attempted to recreate the beer as it was the day it went into the bottle, 133-years-ago.
A beer that hoped to give us a small window into what beer tasted like in 1883, when Carlsberg was making groundbreaking strides in the world of beer and the business of yeast wrangling. We know a lot of what happened at the dawn of commercial beer, we know how beer was sold, when it was first bottled, who was brewing and where. We can write books on the first pilsner, or how lager yeast was discovered, but—what did it TASTE like?
The rumor in the press meeting —the one that nearly no one actually swallowed whole —was that neither Erik, or any of the other Carlsberg staff, had sampled this beer until they invited beer press from across the globe to witness the inaugural cask tapping.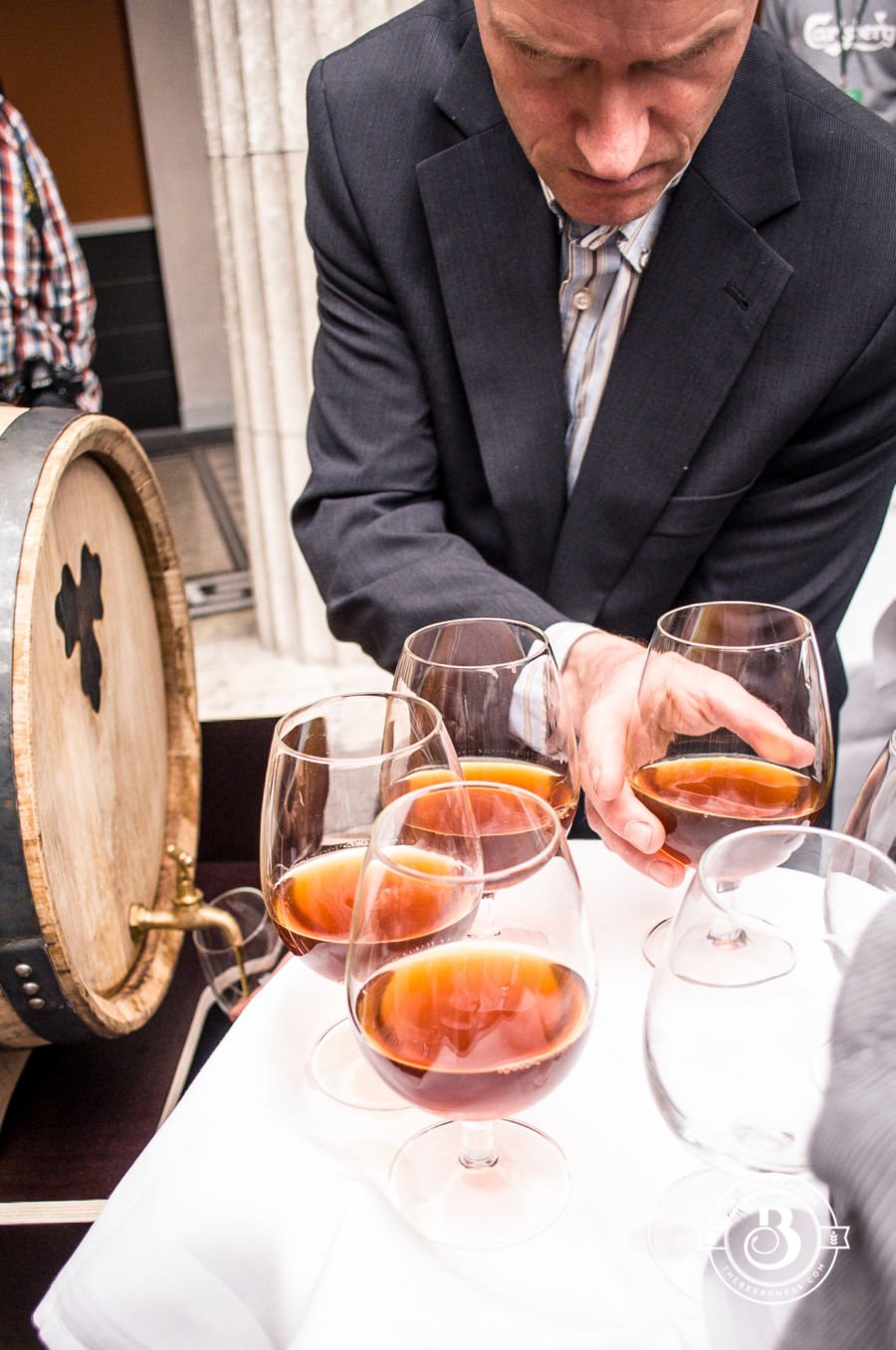 I stand in a cluster of beer writers, brewers, and well-respected authors to await my turn at sampling the past. "Is it good?" isn't the point. It was a moment in beer history – an immensely important building block that allowed us to be where we are in craft beer.
Of course, it won't be the most innovative beer you've ever had because at the time the innovation wasn't the taste. The innovation was the fact that brewers figured out how to purify yeast to prevent it from making people sick. The innovation was figuring out to malt grain without growing mold, and how to brew with JUST the yeast you intend.
The innovation was brewing for mass distribution. Those strides allowed us to climb the beer hierarchy of needs to indulge in the innovation of flavors. So the taste wasn't really as important as what beer did 1000-years-ago, 500-years-ago and 133-years-ago, as a building block for what we can do now.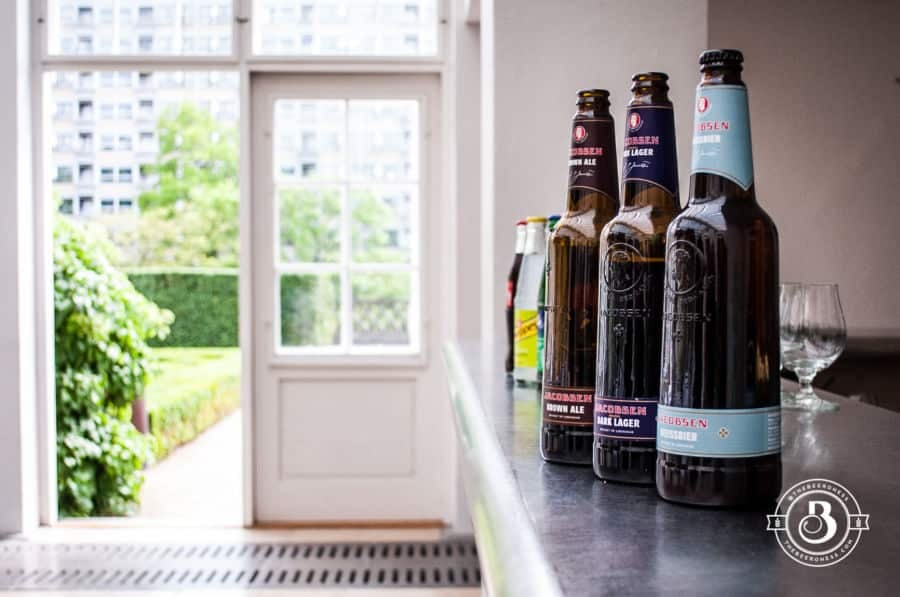 Erik's apology for the beer is followed by a reminder that the beer did what it was supposed to do—allow us a taste of 1883. This "taste" was merely a step on the evolutionary ladder of beer, and was a building block that allowed us to throw fists full of hops into our brew kettles. Allowed us the brain space to figure out how to work blood oranges into a gose, and how to make a beer that tastes like marshmallows and campfire. We don't even have to like it, but we should respect it. For what it did for us.
My first night in Copenhagen I battled jet lag and rush hour to make it over to a market for this. I've recreated the recipe for you, not in the labor-intensive process that Carlsberg used to recreate their beer, but as an homage to what they did.
The Pulled Duck Burger was fantastic and will always remind me of that first night in Denmark.
Porter Pulled Duck Burger with Beer Pickled Onions
Ingredients
For the red onions:
12

oz

of IPA beer

1

cup

apple cider vinegar

1

tablespoon

sugar

2

tablespoon

salt

1

tablespoon

black peppercorns

1

red onion

thinly sliced
For the Sandwiches:
2

lbs

duck breast

1 ½

tablespoon

salt

1

teaspoon

onion powder

1

teaspoon

garlic powder

1

teaspoon

brown sugar

½

teaspoon

paprika

1

cup

porter or stout beer

4

buns

toasted

spring greens
Instructions
In a pot over medium high heat add the beer, vinegar, sugar, salt and peppercorns. Bring to a simmer, stirring just until the sugar and salt dissolve, remove from heat.

Add the onions to a jar or storage container. Pour brine over the onions. Allow to sit at room temperate until cooled, cover and refrigerate until chilled. Can be made several days in advance.

Preheat oven to 325.

Sprinkle the duck on all sides with salt. Allow to sit at room temperate for about 15 minutes.

Combine the onion powder, garlic powder, brown sugar and paprika in a small bowl, set aside.

Place duck in a Dutch oven off heat, skin side down (this will help render more fat than adding the duck to a hot pan.)

Cook until the skin is browned and most of the fat is rendered. Sprinkle with spice mixture turn over to sear on the other side.

Pour out most of the fat that has collected in the pan, reserve for an alternate use.

Pour the beer into the pot, cover and bake for 1 ½ to 2 hours or until meat easily flakes with a fork.

Remove the duck, shred with two forks, remove the skin. Return the meat to the braising liquid, allow to sit for ten minutes in the liquid (to make ahead, store the meat in the braising liquid in an air tight container in the fridge. Will keep for four days. Warm before serving).

Fill the buns with meat, top with pickled onions and greens.