Porter Date Jam Crostini with Prosciutto, Arugula and Goat Cheese
If there was any doubt about how much I like self-torture, you can defer to this: I'm writing another cookbook.
My first cookbook, The Craft Beer Cookbook took four months and most of my sanity to write. And here I am, doing it again. Maybe it's the post publisher amnesia, maybe it's that I had such a great time on the book tour, or maybe it's that I like self inflicted torment.
Either way I'm nearing the half way point of writing my second cookbook. The topic this time is appetizers and party food. Craft beer lends itself to party food. The community of people that beer draws, and the flavors of the great beer that those craft beer people create just have to be shared. A book about food that's at the center of a gathering of good beer and great people is therapeutic for me right now. It's a reminder of the good parts of these lives we live, that the Quality of Life that we all strive for has more to do with who we share it with any other peripheral accessories that the world can offer.
A book about food that's meant to be shared with people we love, I can't think of anything I'd rather spend my time creating.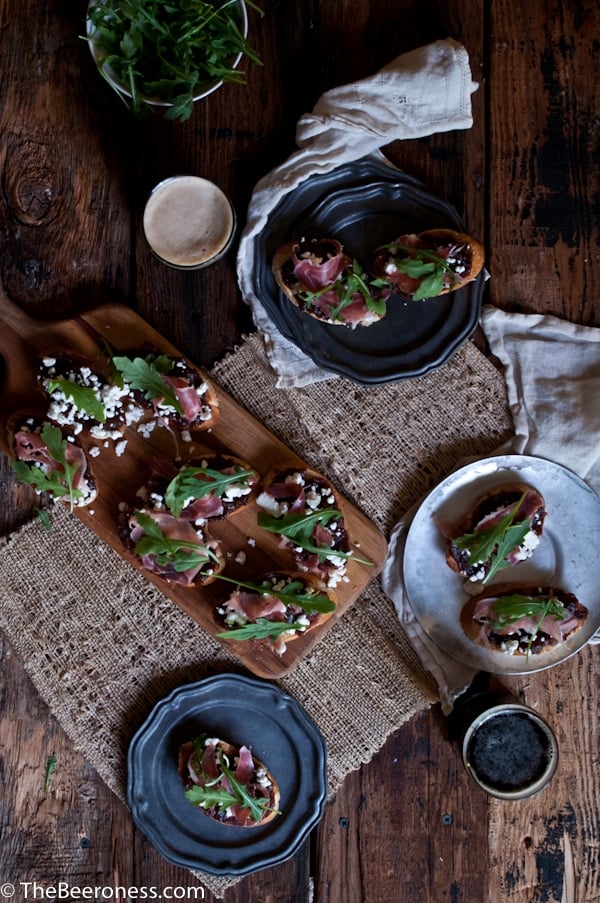 Porter Date Jam Crostini with Prosciutto, Arugula and Goat Cheese
Ingredients
2

tbs

olive oil

½

cup

white onions

2

cloves

garlic

minced

1

cup

smoked porter

¼

cup

balsamic vinegar

1

tbs

molasses

not black strap

15

madjool dates

about 8 wt oz, pitted and chopped

1

long french baguette

4

wt oz goat cheese

crumbled

4

wt oz prosciutto

sliced

1/3

cup

baby arugula leaves
Instructions
Heat the olive oil in a pot over medium heat. Cook the onions until soft. Stir in the garlic, then the porter, vinegar, molasses and dates.

Simmer until the dates have softened and broken down and the beer has reduced, about 10 minutes. Remove from heat and allow to cool for about ten minutes.

Add to a food processor and process until mostly smooth.

Preheat broiler. Cut the baguette into 24, 1-inch slices. Arrange bread slices on a baking sheet. Place under the broiler until golden brown. Flip the slices over and place back under the broiler until golden brown on the other side.

Spread each slice with porter date jam, top with crumbled goat cheese, prosciutto and arugula.