Porter Caramelized Onion, Roasted Tomato and Goat Cheese Bites + Best Beer Trends of 2015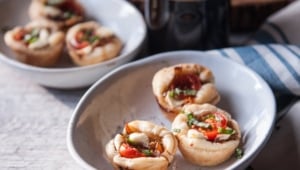 Porter Caramelized Onion, Roasted Tomato and Goat Cheese Bites
 Best Beer Trends of 2015
Grapefruit: Grapefruit became the new bacon in 2015 making its way into nearly all styles of beer from IPA's to sours. The tart-sour-slightly-sweet ingredient pairs perfectly with hops making it no surprise that brewers became fascinated with the citrusy addition. I expect this to continue into 2016 but probably not to the fervor that we felt in 2015.
Randalls: Imagine a clear cylinder that sits between the keg and the tap on the draft lines. Now imagine it's filled with something, it could be chai tea, or fresh hops, or chilies, or even Sour Patch Kids candy. Now imagine your beer passes through the cylinder of tasty ingredients before it gets poured into your glass, infusing the brew with a new and exciting flavor. This is a Randall. It's becoming more and more common to see one, two or even three of these in use in hard core tap rooms and beer bars. If you see a beer on Randall, order it. It's always fun to see what combinations talented beer pairing pros come up with. In Seattle Fremont Brewing and Reuben's Brews have fantastic Randalls. I expect this trend not only to continue into 2016 but to grow even more mainstream.

Glassware:

Even on my journey to South America I saw proper glassware being used in beer bars serious about what they are serving. With the emergence of the Teku glass (regarded by some to be the best beer glass on the market) people who respect their beer are putting aside the horrid use of mason jars in favor of glassware that showcase the beer their brewers have devoted so much time and effort to creating. If beer wishes to compete in the same space with wine, this is a non-negotiable. Wine bars don't serve merlot in a champagne flute let alone a coffee mug, good beer shouldn't be served in a device intended to store Grandma's jam. Beer is important and should be served in a way that respects it. I pray to baby Jesus this trends growth is exponential  in 2016.

Balanced sours:

Sours are the cool kid at the craft beer table right now. Several breweries just brew sours, spending all their yeast wrangling powers focused on wild fermentation. This is even more difficult than it sounds and often the end result isn't what the original intent was. Brewers are incredibly talented and the past year has given us sours that are  the best the world has ever seen. The 2015 sours have richer more balanced flavors without sacrificing the funk we love. I expect this to continue into 2016 but, as things always go, the pendulum will swing and a new beer style will be the new cool kid soon enough.
Fresh hop: Fresh hop is in no way new. Hop harvest comes once a year giving brewers that live within driving distance of a brewery one shot to brew a beer made with fresh-from-the-bine hops (hops are typically dried for storage and used to brew the rest of the year as dried hops or hop pellets). This past year saw a huge rise in the use of fresh hops in more than just IPA's, and breweries that live outside the Hop Harvest Bubble spent countless dollars overnight shipping hops to their southern state breweries. This is one of my favorite beer seasons of the entire year, and I hope that it grows even more common in 2016.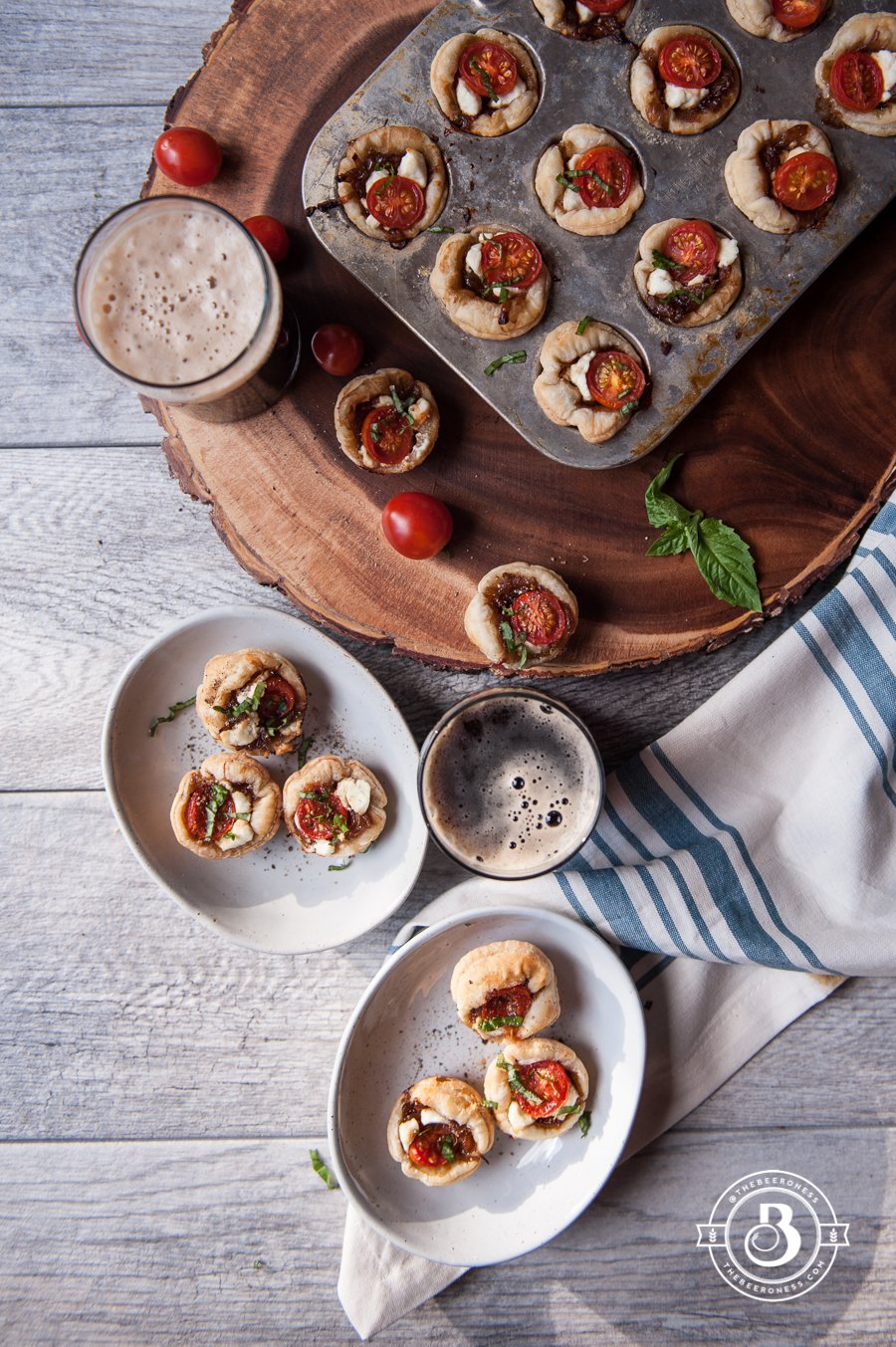 Porter Caramelized Onion, Roasted Tomato and Goat Cheese Bites
Ingredients
1.5 lbs (2 large or three small) sweet onions (Maui, Walla Walla Sweet, or Vidalias)
2 tbs (28g) unsalted butter
1 tbs (12g) olive oil
1 tbs (12g) packed brown sugar
1 cup (226g) porter or stout beer
2 sheet Puff pastry, thawed
24 cherry or grape tomatoes, cut in half
2 oz goat cheese
6 basil leaves, thinly chiffonade
fresh cracked black pepper
Instructions
Thinly slice the onions.
In a saucepan over medium heat add the onions, butter, olive oil and sugar. Cook, stirring occasionally until dark golden brown. This will take about 45 minutes. Keep the heat low to medium to prevent the onions from burning.
Add the beer allow to simmer, stiring occasionally, until the beer is mostly gone, about 15 minutes. Remove from heat. Can be made three days in advance, store in an airtight container in the fridge until ready to use.
Preheat the oven to 400.
One at a time roll the puff pastry out on a lightly floured surface.
Using a two-inch biscuit cutter, cut out 48 circles (if you don't have a 2 inch biscuit cutter, try a metal measuring cup or a small glass with a thin edge).
Press the circles into the wells of a mini-muffin tin, poke a fork into the bottom of each.
Fill with a small amount of caramelized onions, top with one half a grape tomato, sprinkle with goat cheese.**
Bake for 15-18 minutes or until golden brown. Add to a serving platter, sprinkle with basil and black pepper.
Notes
**To make these ahead, complete every step until baking. Cover the unbaked mini muffin tins and store in the fridge until ready to serve. Bake just prior to serving. (can be made two days in advance)
https://domesticfits.com/porter-caramelized-onion-roasted-tomato-and-goat-cheese-bites-best-beer-trends-of-2015/