Porter Caramelized Onion Flatbreads with Smoked Gouda and Roasted Tomatoes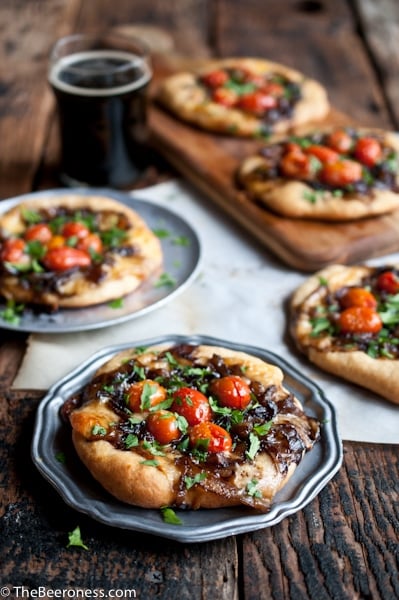 A few years ago I decided that I need unbiased proof that I was actually good at this recipe development thing. That my recipes were good, not because the photos were pretty, or because they sounded good, or because some guy on twitter said he wanted to marry me.
But that an unbiased panel of experts thought they were good.
My solution to my self-esteem crisis was to enter recipe contests. The second one I entered was a chicken cook-off. Of course I choose chicken thights, and added a chipotle béarnaise and a few months later I got a call: I was in the finals. The unbiased panel of experts had chosen my recipe, along with 4 others, out of thousands of recipes that were submitted as the best that were entered. A few weeks later they shipped me off to San Diego to compete in a Chicken Challenge that ended with a giant foam core check with my name on it. I'd won.
Of course the $1000 check and trip to San Diego was a great prize, but the real trophy was the validation that I was actually good at this thing I want to dedicate my life to. At a post Winner Winner Chicken Dinner press conference I'd asked one of the chefs who had been a part of the original selection process what he looked for in a recipe, clearly he didn't make all thousand submitted recipes.
He told me that all great entree recipes have these elements: fat, acid, protein, and a fresh herb. That's what he looked for. Maybe that's why I always reach from something green to sprinkle on top of the entrees I make.
Although he didn't say anything about beer. Maybe he should re think his strategy.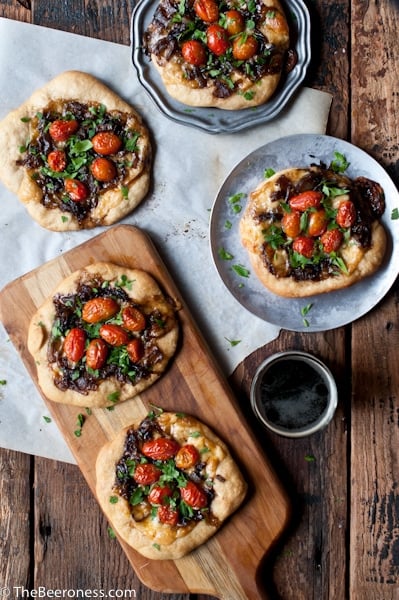 Porter Caramelized Onion Flatbreads with Smoked Gouda and Roasted Tomatoes
Ingredients
For the Crust:
1 ¾

cups

flour

1

envelope yeast

1

tsp

white sugar

½

tsp

garlic salt

2/3

cup

malty beer

brown ale, beligan ale, etc
For the Onions:
2

tbs

unsalted butter

2

tbs

olive oil

2

sweet white onions

sliced

pinch

salt

pinch

white sugar

1

cup

porter beer
For the Toppings:
4

wt oz smoked gouda cheese

sliced

1

cup

grape tomatoes

2

tbs

olive oil

½

tsp

sea salt

½

tsp

pepper

2

tbs

flat leaf parsley

chopped
Instructions
In the bowl of a stand mixer fitted with a dough hook attachment, add the flour, yeast, sugar and garlic salt. Mix until combined.

In a microwave safe bowl add the beer. Microwave on high for 20 seconds, test temperature with a cooking thermometer and repeat until temperature reaches between 120 and 125 degrees Fahrenheit.

Add the beer to the stand mixer and mix on medium speed until most of the flour has been moistened.

Turn speed to high and beat until dough is smooth and elastic, about 8 minutes.

Transfer dough to a lightly oiled bowl, tightly wrap with plastic wrap. Allow to sit in a warm room until doubled in size, about 45 to 60 minutes (while the dough rises, start the onions).

Remove from bowl and add to a lightly floured surface. Knead several times, cut into 6 equal sized pieces.

One at a time form the dough into 6 inch circles. Place on a baking sheet that has been covered with parchment paper.

While the dough is rising, make the onions. In a saucepan or Dutch oven melt the butter with the olive oil over medium heat. Add the onions with a pinch of salt and sugar, cook until softened, about 10 minutes. Add beer and cook, stirring occasionally, until the beer has mostly evaporated and turned to a glaze about 20 minutes. Make sure to keep the heat low or the onions will burn before they caramelize.

Preheat the oven to 400.

Add the tomatoes to a small bowl. Toss with olive oil, salt and pepper, set aside.

Top the 6 flatbreads with slices of Gouda, then add about ¼ cup of caramelized onions, then tomatoes.

Brush exposed crust with olive oil.

Bake at 400 for 12-15 minutes or until crust has turned golden brown.

Sprinkle with parsley just before serving.