Pineapple Pale Ale Cream Cheese Tart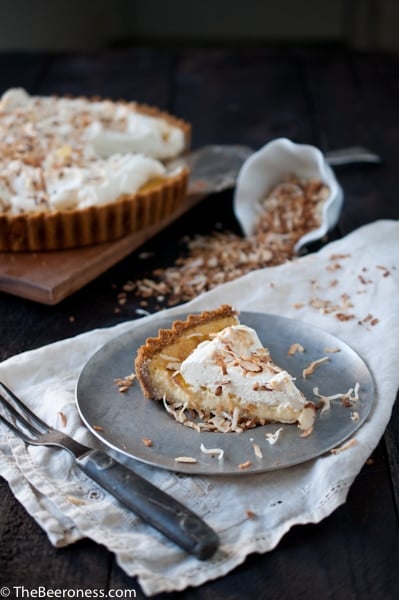 Really, this pie was a necessity. I love the way those banana cream pies look, but I have such a deep loathing for those yellow peeled devils I can't even bring myself to try one. But they look amazing, so creamy and fluffy, but with the foul stench of banana lurking beneath all that fabulous whipped cream. (Banana Council should accept my sincere apologies, I completely support the consumption of such a healthy fruit, as long as I don't have to do the consuming. And said consuming does not happen in my near vicinity).
But unlike my mint aversion, this hatred was not triggered by a traumatic event. Nor do I have a desire to fix the issue, I'm cool with a banana free existence.
That's because I have other fantastic yellow fruits, like pineapple, to pick up the slack. although, I will admit, banana's do make a much more convenient grab-and-go snack, be it not for the inconvenience of the inevitable projectile vomiting that would ensue if I were forced to eat one. (I may be the only person that has used the term "projectile vomiting" while trying to get you to make a pie).
Pineapple picks up quite a bit of slack in the tropical fruit department, I love them. I was in Costa Rica a few years ago and ordered "Pina y Agua" smoothies several times a day for weeks and never got sick of them. I've fully admitted my bias already, but I really think pineapple pie is the new banana pie. And I added beer to try and get you on my side.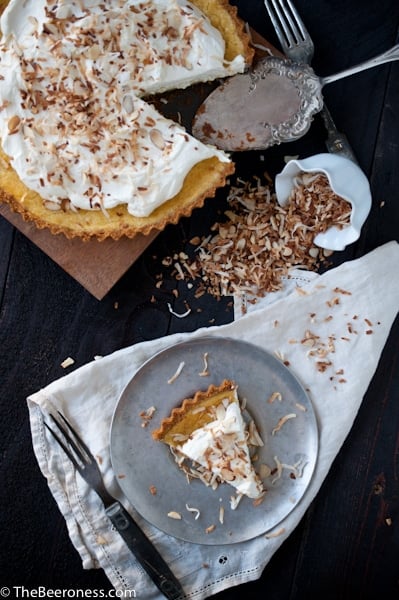 Pineapple Pale Ale Cream Cheese Tart
Ingredients
For the Crust:
9

standard sized graham crackers

2

tbs

brown sugar

pinch

salt

4

tbs

melted butter
For the Filling:
1 ¾

cups

pineapple chunks

3

tbs

cornstarch

6

ounces

cream cheese

softened

2/3

cup

granulated sugar

3

eggs

2/3

cup

pale ale
For the Topping:
1

cup

whipped cream

½

cup

powdered sugar

2

tbs

pale ale

¼

cup

sweetened coconut flake

¼

cup

almond slices
Instructions
Preheat oven to 350.

In a food processor add the graham crackers, brown sugar, and salt process until only crumbs remain.

While the food processor is still running add the melted butter, process until it resembles wet sand.

Dump into the bottom of a 9-inch tart pan. Starting with the sides, press the crust evenly into the tart pan.

Put the pineapple chunks in the food processor, sprinkle with cornstarch, and process until smooth.

In the bowl of a stand mixer beat the cream cheese with the sugar until well combined. Add the eggs, one at a time, beating well between additions. Mix in the pineapple puree. Add the beer, mix until well combined. Pour into the tart shell.

Bake at 350 for 55 to 60 minutes or until the top of the tart turns golden brown. Allow to cool at room temperature for ten minutes. Refrigerate until set and chilled, about 3 hours.

In the bowl of a stand mixer, add the whipped cream, powdered sugar and pale ale. Beat on high until soft peaks form. Add to the top of the cooled tart. Chill tart until ready to serve.

Add the coconut and almonds to a dry pan. Add to medium high heat, toss continually until toasted, about 5 minutes. Top the tart with toasted coconut and almonds just prior to serving (it will get soggy if it sits on the tart too long. If you want to make the tart ahead of time, store toasted topping separate, garnish just prior to serving).