Pineapple Hefeweizen French Toast Bake with Rum Whipped Cream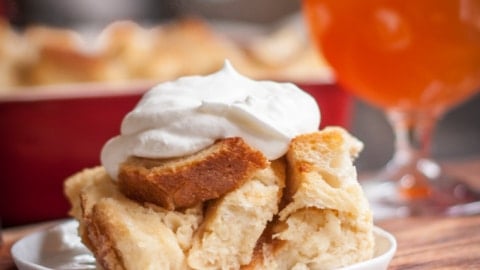 Pineapple Hefeweizen French Toast Bake with Rum Whipped Cream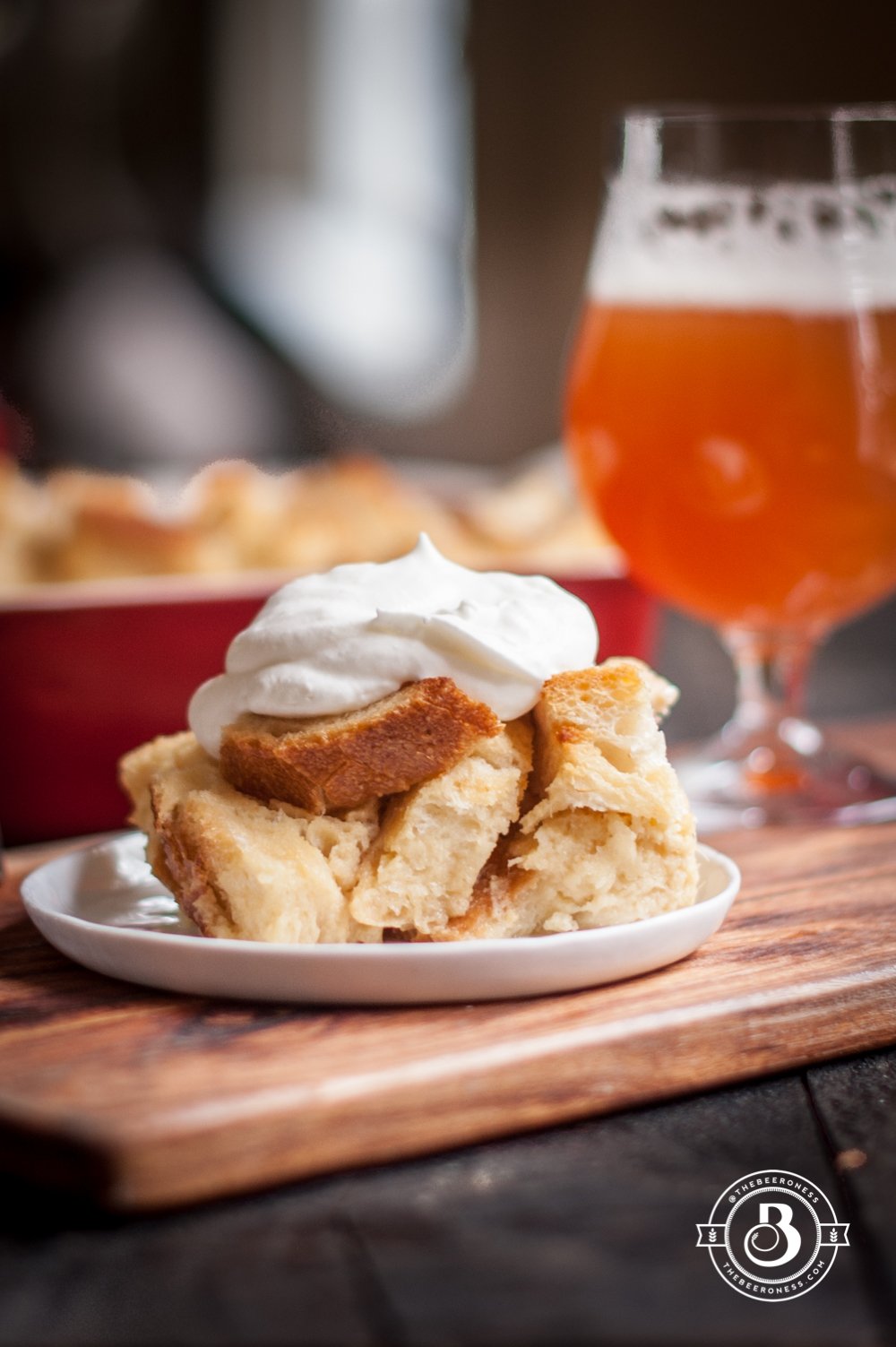 This is how we lie to ourselves. And we're really good at it, aren't we? This is dessert, we know that. It carries all the hallmarks of a post-dinner treat, but we ignore them and call it breakfast. Because we don't want to wait all day to actually eat it, we don't have time for that. So we serve it with coffee in the pre-noon hours and call it breakfast. Or maybe we make ourselves a mimosa and call it brunch. Let's brunch! It's not an indulgence, it's an activity!
That's ok, we're honest with ourselves about enough, we can afford this lie to make our morning just a wee bit better. Because that's how we live our best life. We eat dessert first, open a beer before noon, maybe invite a friend over to be that bad influence we know we are.
Mostly because if we eat our dessertfast with a friend, it's not a bad habit, it's a social engagement. And that's good. There's no way to make this meal healthy, but we can share it with others who love us and call it "mental health food," which is what we all need right now, amiright?
Pineapple Hefeweizen French Toast Bake
Ingredients
For the French toast:
1

round loaf

1lbs sourdough bread

½

cup

4oz wheat beer

1

cup

200g brown sugar

½

cup

100g white sugar

1

cup

230g pineapple chunks

1 ½

cups

367g half and half

3

large eggs

1

teaspoon

vanilla extract

½

teaspoon

salt
For the whipped cream:
2

cups

heavy cream

¼

cup

powdered sugar

1

tablespoon

rum

1

teaspoon

vanilla extract
Instructions
Cut the bread into bite-sized pieces. Add to a greased 8X8 baking dish.

In a blender add the wheat beer, brown sugar, white sugar, pineapple, half and half, eggs, salt, and vanilla. Blend until smooth.

Pour the mixture over the bread, pressing to make sure all the bread cubes are submerged. Allow to sit at room temperature for 30 minutes to allow the bread to absorb the liquid, or cover and refrigerate overnight.


Preheat the oven to 350°F. Bake, uncovered, for 35-40 minutes or until the center has puffed and the bread has started to toast on the top. (you can also make in 6 individual ramekins, start checking for doneness after 18 minutes)

Add all the whipped cream ingredients to the bowl of a stand mixer, beat on high until soft peaks form. Serve the French toast topped with whipped cream.