Pineapple Beer Jalapeño Ice Cream
Pineapple Beer Jalapeño Ice Cream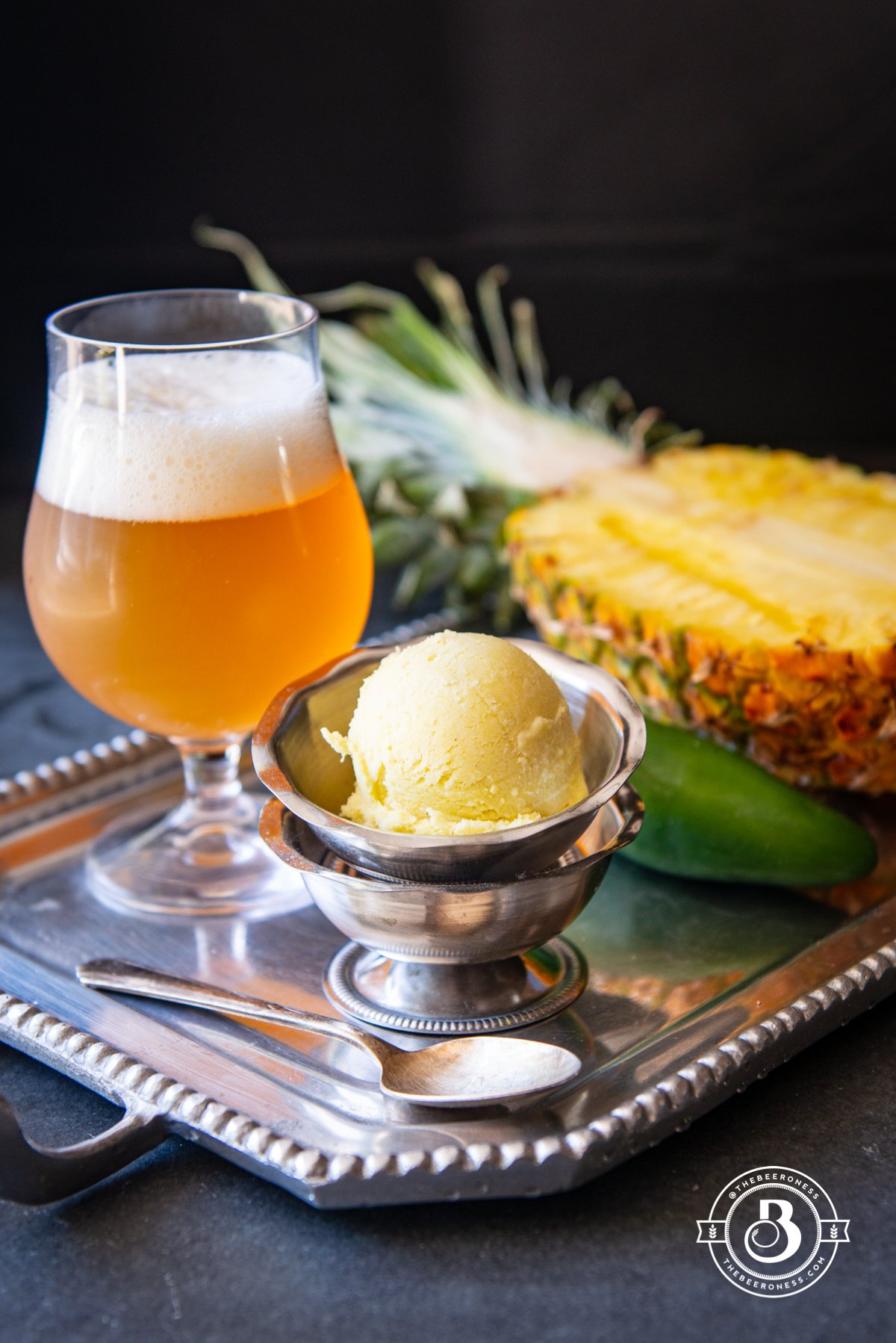 So, I did the thing. That thing where I tell you about a recipe but don't actually give it to you. Because apparently quarantine has made me into an asshole. Or at the very least, unaware of life outside my little bubble of beer and making all the things.
As a way to make amends for telling you about Pineapple Jalapeño Ice cream without actually giving you the recipe, I'm giving you the recipe.
As a side note, it makes an excellent beer milkshake if you blender a few scoops of it with a gose or an IPA. It's like two recipes in one, and it opens new ways to enjoy a cold beer on a hot day. See, I'm not THAT big of an asshole.
Pineapple Beer Jalapeño Ice Cream
Ingredients
2 ½

cups

(520g) fresh pineapple, peeled and cored

1

tablespoon

diced fresh jalapeño

seeds removed

1

tablespoon

lemon juice

½

cup

(114g) IPA beer

2

eggs

2

egg yolks

1

cup

(200g) granulated sugar

½

cup

(100g) brown sugar

1/4

teaspoon

salt

1 1/3

cups

(310g) heavy cream

½

cup

(114g) whole milk
Instructions
Add the pineapple, jalapeno, lemon juice, and beer to a blender. Blend on high until well pulverized. Pass through a strainer to remove all the fibers, return to the blender (without straining the fibers, the ice cream can taste a little vegetal).

Add the eggs, yolks, salt and both kinds of sugar to the blender, blend on high until well combined.

Add the cream and milk to a saucepan over medium heat. Heat until it starts to bubble around the edges. While the mixer is running, add the hot cream to the mixer.

Return the mixture to the pot. Simmer until slightly thickened, about 5 minutes.

Add to an airtight container. Refrigerate until chilled, about 3 hours.

Churn in an ice cream maker according to manufactures specifications.