Peanut Butter Belgian Ale Waffles with Blackberry Gose Syrup + Four Secrets to the Perfect Waffles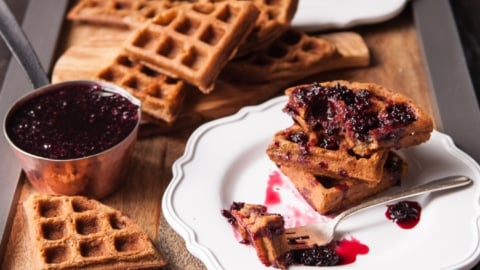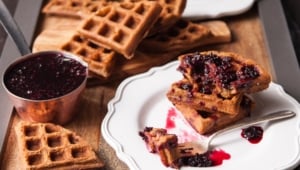 Peanut Butter Belgian Ale Waffles with Blackberry Gose Syrup + Four Secrets to the Perfect Waffles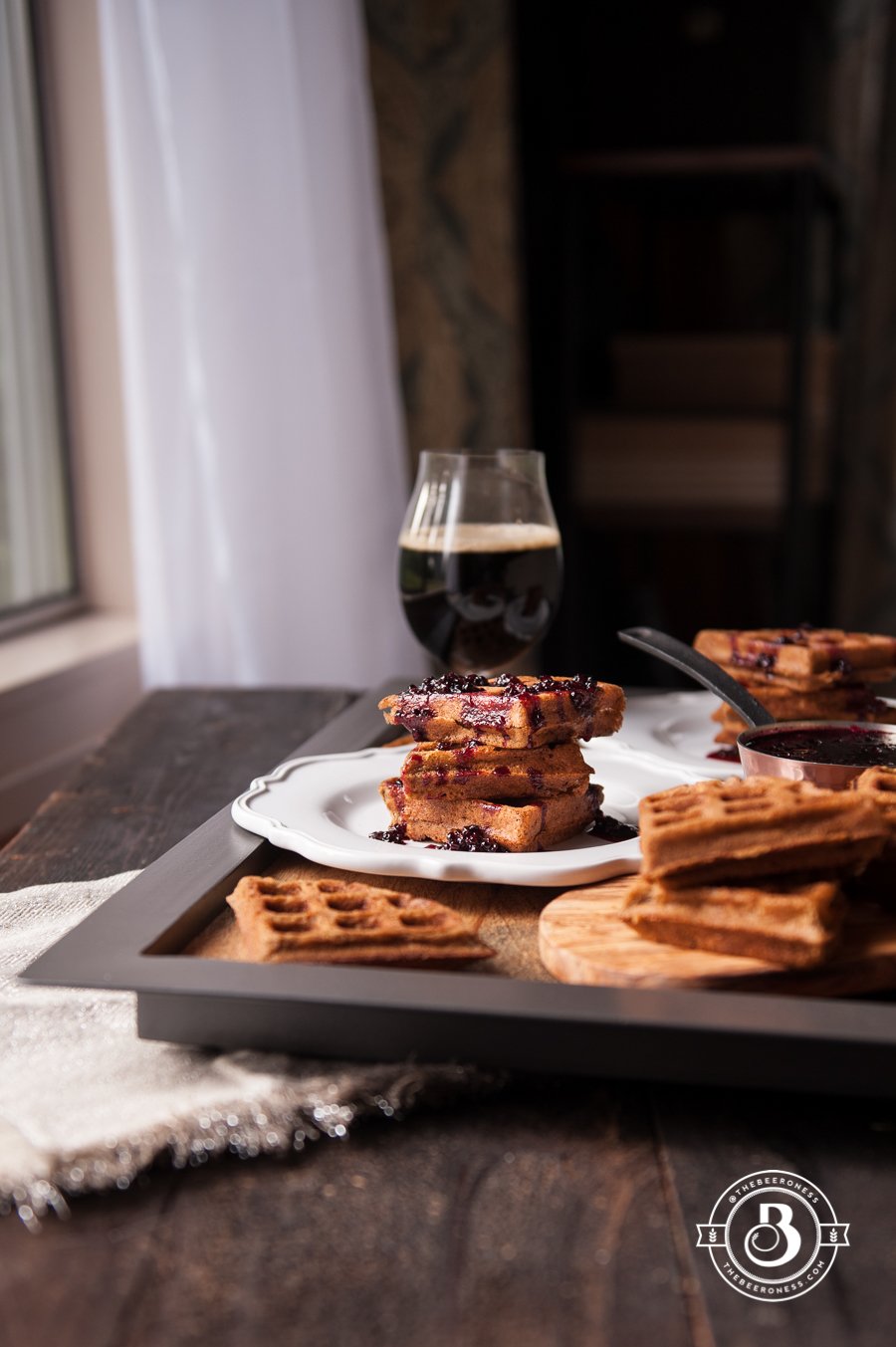 I have a couple waffle secrets to share with you.
Because I like you and my obsessive food geek research should be of some use to someone other than me.
Carbonation. This isn't a closely held secret, it's been used for years to make tempura batter light and pancakes rise a bit higher. Lucky of us, beer is a wealth of carbonation with a little kick of yeast for good measure.
For the beer, look for something with a nice level of carbonation and more malt than hops (think brown ale flavor rather than IPA hoppiness). For best results with your carbonation secret, make sure the carbonated liquid (even if you decide to forgo the beer and use seltzer water) is ice cold.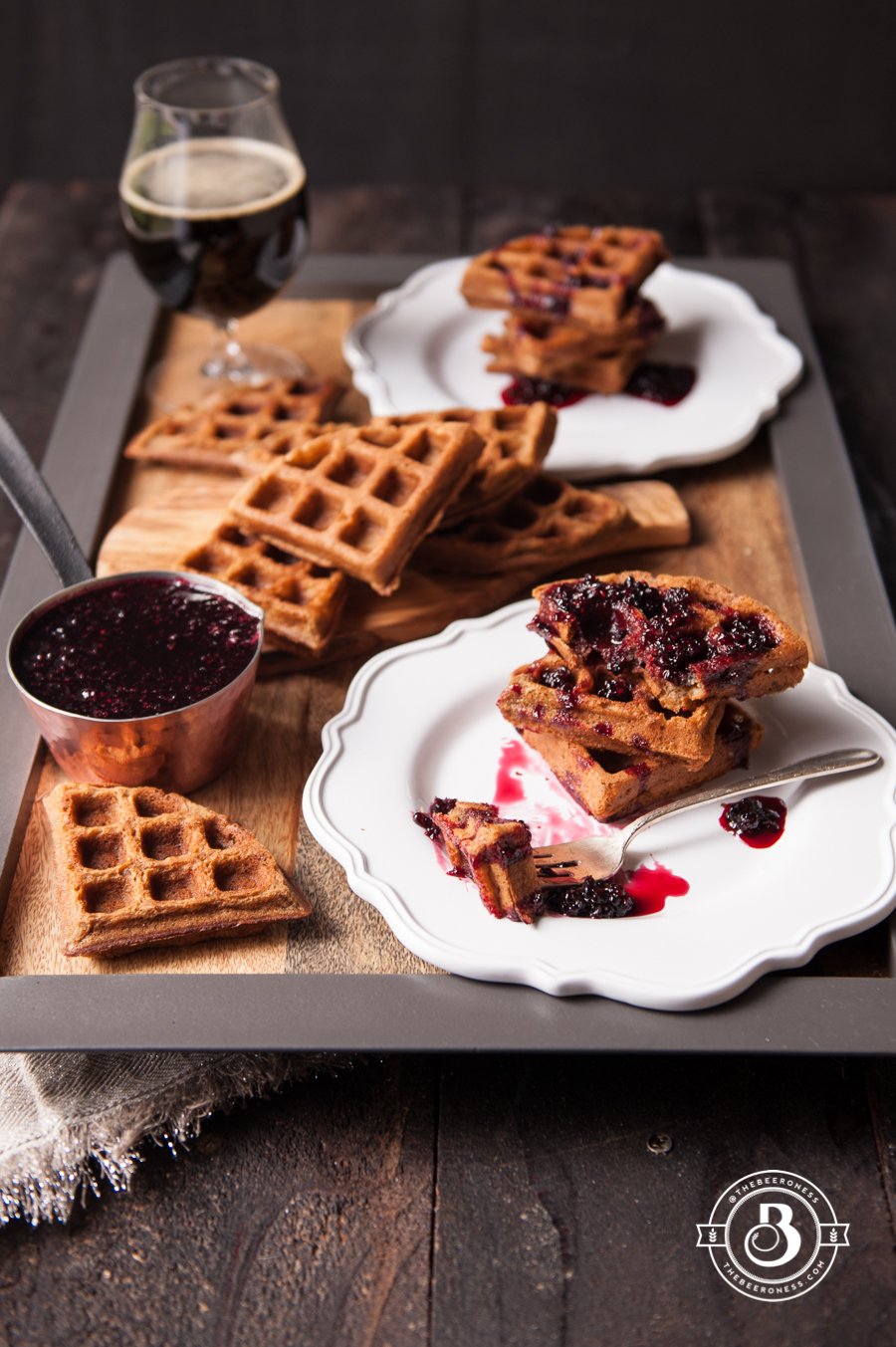 Cornstarch. This one came from well respected recipe developer Pam Anderson (no Baywatch jokes please, she's heard 'em all). I've long been a fan of how cornstarch thickens my sauces, adds amazing texture to chocolate chip cookies, as well as keeps my beer cheese sauce velvety and prevents it from separating, now we have a new reason to stock the cabinets with this magical secret ingredient. It makes your waffles crisp on the outside while the inside stays light and tender.
 Meringue (egg whites PLUS sugar). Whipping egg whites separate from the batter and folding them in has long been a staple of the perfect waffle. If you don't take the time for this extra step you're just making pancake batter.
Which results in soggy dense waffles, so you might as well just make pancakes. As I'm sure you've noticed egg whites deflate in seconds, meringue doesn't. Add some sugar to those whipped whites and you'll have something that holds up.
Oven resting. If you're making breakfast for a crowd there is a good chance there will be a long delay between the first waffle being born and the last. Preheat the oven to 200, add the cooked waffles to a baking sheet and keep them warm in the oven while you finish making the feast. It will also help to keep the waffles crisp.
There you go, all the beer-geek-waffle-knowledge you can handle on a Monday morning. Now go out there, open a beer, and make yourself some crispy waffles.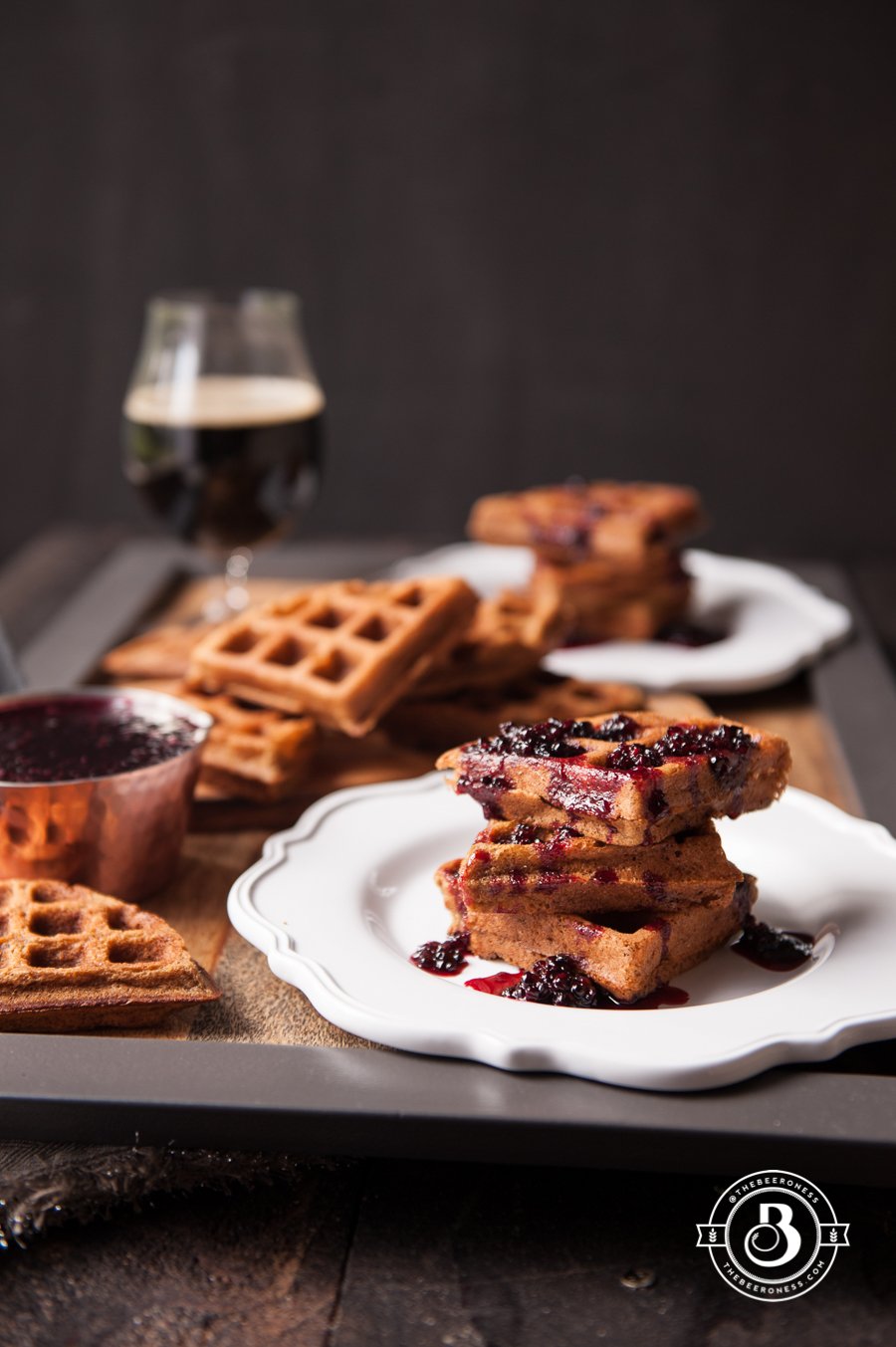 For the blackberry syrup I used Brombeere Blackberry Gose from Odell brewing. I love this beer, it accomplishes something very few other sours can: balance. It hits that perfect mark that gives you the beautiful funk you look for in a sour while still rounding out the flavors with a bit of malt and grain that often get lost with wild ales.
You can taste the berries nicely but it's dry rather than sweet, giving it an insane drinkability.
Peanut Butter Stout Waffles with Blackberry Gose Syrup
Ingredients
Syrup
2

cups

230g frozen blackberries

1

cup

200g sugar

12

ounces

sour ale

gose, lambic, wild ale, Flanders
Waffles:
1 ¾

210g cups all-purpose flour

½

cup

100g sugar, divided

2

tsp

8g baking powder

1

tsp

4g baking soda

½

3g tsp salt

2

tbs

1 oz cornstarch

1/4

cup

56g unsalted butter, melted, plus more for waffle iron

1/3

cup

85g creamy peanut butter

1

cup

240 buttermilk

1

cup

226 Belgian ale beer (see note)

1

tsp

4g vanilla extract

2

large eggs
Instructions
Add the blackberries, sugar, and sour ale to a large pot (larger than you think you'll need, it will bubble to 4X it's volume) and boil, stirring frequently until slightly thickened and the blackberries have broken down, about 10 minutes. Allow to cool slightly. (if jam is too thick once it has cooled add more beer and simmer until it has loosened up). Jam can be made several days in advance.

Preheat a waffle iron.

Set out three bowls, one large and two small.

In the large bowl stir together the flour, half the sugar, baking powder, baking soda, salt and cornstarch.

In one of the small bowls add the melted butter and peanut butter, stir until smooth (microwave slightly if this is difficult). Add the buttermilk, beer and vanilla, stir until well combined.

Separate the eggs putting the yolks to the peanut butter bowl and the whites to the third bowl. Stir the yolks into the peanut butter until well combined.

Whip the egg whites until stiff peaks form, addd the remaining sugar and continue to whip until speaks return.

Make a well in the dry ingredients, add the peanut butter mixture, stir until just combined. Gently fold in the egg whites.

Brush the waffle iron with melted butter, add the batter and cook according to manufactures specifications. Place in a 200 degree oven to keep warm until ready to serve.

Serve warm with syrup.
Notes
Look for a beer that is fairly malty but with some nice carbonation like an Abby ale or Farmhouse ale or a Dubbel. Stay away from IPA's or high hop beers. A malty pale ale will work as well, or a well carbonated brown ale..