Peaches and Cream Ale Pie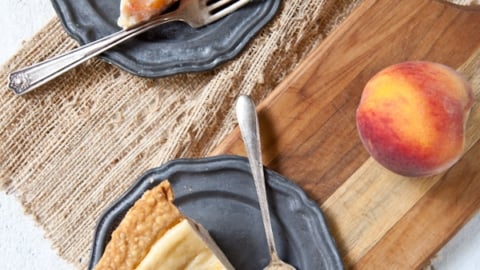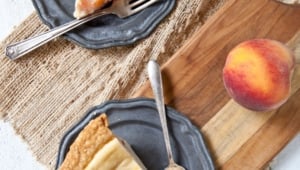 Cream ales found their way into the American beer system during prohibition, an ironic time for many great alcoholic beverages to have gotten their start. The name is a bit misleading, cream isn't involved in the brewing process, but the taste is smooth and even a bit creamy which is where the name comes from.
As we hurdle towards summer, and events which center around our tub of craft beer offerings, cream ales are a great style to include when trying to satisfy the masses. These are easy to drink beers that have low hop character, smooth crispy flavors and some hints of fruit.
I used a cream ale from the Pacific Northwest, from a brewery that has become a mainstay in my fridge since I moved north. Nuptiale from Ninkasi is a great beer to stock up on for those summer get togethers, it's what I refer to as a Gateway Beer. Perfect for the craft beer snobs, and just what a craft beer newbie needs to get hooked.
Peaches and Cream Ale Pie
Ingredients
For the cream layer:
16

wt oz cream cheese

2/3

cup

white sugar

½

tsp

salt

1

egg

2/3

cup

cream ale

1

tsp

vanilla extract

2

tbs

cornstarch

2

tbs

all purpose flour
For the peaches:
1 ½

lbs

peaches

pitted and sliced

2

tbs

cornstarch

½

cup

sugar

2

tbs

butter

¾

cup

cream ale
Instructions
Preheat the oven to 325.

Roll the pie crust out on a flat surface, line a deep dish 9.5 inch pie pan, trim the excess.

In a blender or a food processor add the cream cheese, 2/3 cup sugar, salt, egg, 2/3 cup cream ale, vanilla, flour and 2 tablespoons cornstarch. Blend until smooth, pour into pie crust.

In a sauce pan over medium high heat, add the peaches, cornstarch, sugar, butter and cream ale. Simmer until thickened, about ten minutes.

Pour the peaches over the cream cheese.

Bake until the crust is golden brown and the edges of the filling has set but the center still jiggles when shaken, about 40 minutes.

Chill until set, about 4 hours.
Notes
This requires a very deep dish pie pan. 9 1/2 inches, 1.8 to 2 qt.
If you use a small pie pan you will have far too much filling.