Passover Dessert: Toasted Coconut Pavlova with Cocoa Pudding and Caramel Sauce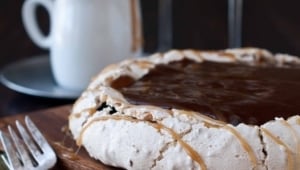 Do you ever watch Chopped on the Food Network? It's a food competition that involves a "mystery basket" of food.  The contestants are required to use every item in the basket to come up with the best dish they can. I love Chopped, and always try to think up a dish I would make, if I was in that position with those Mystery Items (think of a dish with: gummy bears, avocados and dried beans!). Culinary challenges to me, are like Scrabble to other people. I love trying to figure out what I can come up with.
When Tori asked me to contribute to her Passover Potluck, it felt a bit like Chopped in reverse, an entire basket of things you can't use. I was excited for the challenge, and to be back again this year on Tori's Passover Potluck (to be honest, I was hoping she would ask), but it took me a while, and a few texts to Tori, to get all the Passover Cooking rules down. You can't use flour, or most grains, no corn, rice or peanuts. You also can't mix meat and dairy, so if you have meat at dinner, you can't eat dairy for dessert. I wanted to come up with a dairy free dessert so that anyone could eat it during Passover, I love an inclusive meal. I also wanted it to be great, something that didn't feel like it would have been better with flour or milk, but something that was great without feeling like it had been created with limitations.
I love Pavlovas, so elegant and pretty, but really simple to make. It also tastes like a gigantic Girl Scout Samoa cookie. It's gluten free, dairy free and I hope you love it as much as I do.
Get the recipe on Tori's Site, The Shiksa In The Kitchen!
Happy Passover!
Click for the recipe:
Parve Passover Dessert: Toasted Coconut Pavlova with Cocoa Pudding and Caramel Sauce