Paprika Shrimp and Sausage Quinoa Paella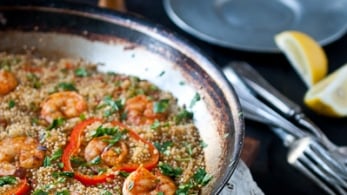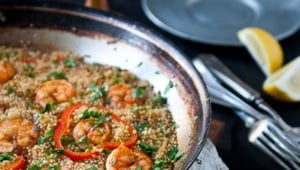 Life's funny, isn't it? One minute you're sitting there enjoying a nice Mother's Day breakfast that your husband made you, and the next minute you're talking to The Today Show and agreeing to take a last minute flight to JFK so that you can stand behind a podium for 3 minutes and pretty much say zero words on National Television. Something like that.
Photo credit: Erwin Laureano
The real prize in this competition was the journey. I flew to New York on Tuesday, was able to have dinner with my new friend Ashely, and drinks with my old friend David. You could pretty much preface any request with, "wanna a free trip to New York and have dinner and drinks with some friends?" and I'd pretty much say yes to whatever followed.
Wednesday morning I was taken to NBC Studios at 30 Rockefeller Plaza, through the celebrity filled green room, and into hair and make up. Then up to a tiny studio that they referred to as The Spa, which included no studio audience, just lots of producers, cameras and a beautiful camera friendly kitchen. This was all for Joy Bauers Joy-full Cook Off. She wanted healthy one pot meals that where easy and family friendly. She choose my dish, along with two other amazing dishes to be taste tested on live TV by Kathie Lee and Hoda, who would choose the winner.
The other dishes were amazing, and to be honest, I didn't really care who won. I'd already collected my prize of flight to New York, hotel room, and dinner and drinks with friends, I was all set. But it turns out, Kathie Lee and Hoda are huge fans of skinny shrimp dishes and choose mine. I won!
Here's clip of me saying pretty much nothing on the Today Show and winning a basket of NBC related swag:
And here is the winning dish, 380 calories per serving, gluten free, dairy free, 20 minutes, one pot.
Paprika Shrimp and Sausage Quinoa Paella
Yield: yield: 4 servings
Calories per serving: 380 calories
Ingredients
12 large shrimp, peeled and devined
¼ tsp sweet paprika
¼ tsp smoked paprika, plus ¼ tsp, divided
¼ tsp onion powder, plus ¼ tsp, divided
2 tbs olive oil
8 ounces pre-cooked low fat chicken sausage, sliced
½ cup diced onion
1 large red bell pepper, chopped
1 large yellow bell pepper, chopped
3 cloves garlic, minced
1 large beefsteak tomato, chopped (about 1 cup)
1 tbs tomato paste
pinch saffron (about 10 threads)
½ tsp salt
½ tsp pepper
1 2/3 cups chicken broth
½ cup peas (frozen is fine)
1 cup quinoa, rinsed and drained
1/4 cup flat leaf parsly, chopped
Instructions
Place shrimp in a small bowl, sprinkle with ¼ tsp sweet paprika, ¼ tsp smoked paprika and ¼ tsp onion powder, toss to coat.
Heat olive oil in a 12-inch skillet (with a lid) over medium high heat, cook shrimp until seared, about 3 minutes per side (don't over cook). Remove from pan, set aside.
Add chicken sausage, cook until browned, remove from pan, set aside.
Add the onion and bell peppers, cook, stirring frequently, until onions and peppers have softened, about 6-8 minutes.
Add garlic, tomatoes and tomato paste, stir until combined.
Add saffron, salt, pepper, remaining smoked paprika, and onion powder, chicken broth and peas, bring to a simmer. Add quinoa stir and evenly distribute quinoa. Add the lid to the pan at a vent, adjust heat to maintain a simmer. Cook without stirring for 16-18 minutes or until the quinoa is cooked through and the liquid has absorbed.
Place the shrimp and sausage on top, replace lid and cook for 1 minute or until shrimp and sausage is warmed.
Sprinkle with parsley just prior to serving.