Paprika Shrimp and Sausage Quinoa Paella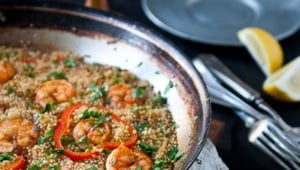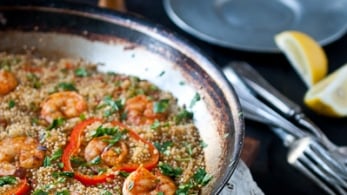 Life's funny, isn't it? One minute you're sitting there enjoying a nice Mother's Day breakfast that your husband made you, and the next minute you're talking to The Today Show and agreeing to take a last minute flight to JFK so that you can stand behind a podium for 3 minutes and pretty much say zero words on National Television. Something like that.
Photo credit: Erwin Laureano
The real prize in this competition was the journey. I flew to New York on Tuesday, was able to have dinner with my new friend Ashely, and drinks with my old friend David. You could pretty much preface any request with, "wanna a free trip to New York and have dinner and drinks with some friends?" and I'd pretty much say yes to whatever followed.
Wednesday morning I was taken to NBC Studios at 30 Rockefeller Plaza, through the celebrity filled green room, and into hair and make up. Then up to a tiny studio that they referred to as The Spa, which included no studio audience, just lots of producers, cameras and a beautiful camera friendly kitchen. This was all for Joy Bauers Joy-full Cook Off. She wanted healthy one pot meals that where easy and family friendly. She choose my dish, along with two other amazing dishes to be taste tested on live TV by Kathie Lee and Hoda, who would choose the winner.
The other dishes were amazing, and to be honest, I didn't really care who won. I'd already collected my prize of flight to New York, hotel room, and dinner and drinks with friends, I was all set. But it turns out, Kathie Lee and Hoda are huge fans of skinny shrimp dishes and choose mine. I won!
Here's clip of me saying pretty much nothing on the Today Show and winning a basket of NBC related swag:
And here is the winning dish, 380 calories per serving, gluten free, dairy free, 20 minutes, one pot.
Roasted Corn, Pale Ale and Coconut Curry Chowder with Brûléed Avocados
Ingredients
3 large ears sweet corn
2 tbs olive oil
½ white onion, chopped
3 cloves garlic, chopped
2/3 cup pale ale
½ tsp salt
¼ tsp pepper
2 cups vegetable broth (chicken will work as well)
1 can (13.5 ounces) full fat coconut milk
2 tsp red curry paste
pinch cayenne
5 large leaves basil, thinly sliced
1 large red pepper, roasted
1 large avocado (ripe but firm, too soft will not work)
1 lemon
Directions
Preheat oven to 400.
Trim off any silk that is sticking out of the husk of the corn ears.
Place on a baking sheet, roast for 20 minutes. Remove from oven and allow to cool enough to handle. Cut the kernels off the corn, set aside.
In a sauce pan over medium high heat, sauté the onions in olive oil until soft, about 5 minutes. Add the garlic, cook for 30 seconds. Add the beer, salt, pepper, and vegetable broth, coconut milk, curry paste, corn kernels, and cayenne. Bring to a simmer. Cook for 5 minutes.
Using an immersion blender, puree until smooth.
Stir in the basil and the red pepper.
To brûlée the avocados, slice into ¼ inch slices, sprinkle with lemon juice. Place on a heat proof surface like a baking sheet. brûlée with a kitchen torch until browned, use tongs to flip over and brûlée the other side.
Pour soup into bowls, top with avocados.
https://domesticfits.com/paprika-shrimp-and-sausage-quinoa-paella/
Copyright �© TheBeeroness.com