Overnight Bourbon Stout Pecan Croissant French Toast with Blood Orange Mascarpone Cream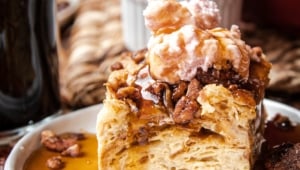 Overnight Bourbon Stout Pecan Croissant French Toast with Blood Orange Mascarpone Cream

I like when we do this. We make what is obviously a dessert (sshhhh!) and serve it for breakfast because if you add syrup and coffee it's for breakfast. Don't worry, I've been here before I know the road.
It also helps to remember that breakfast is the most important meal so it can demand dessert to be called whatever it wants because it's the queen and we must bow. This is also why it's OK to add orange juice to champagne and pretend like it's a breakfast beverage. Or vodka in your V8 is normal pre-noon drinking behavior. Because Breakfast said so and we must all listen.
I am also here to say again for the millionth (but not the last) time that breakfast food needs to be acceptable as dessert foods, we're halfway there. We put icing on some fried ring-shaped cakes and call them breakfast. We pour syrup on bread pudding and call it breakfast. See?! We're so close!
To reverse engineer this feat, just serve breakfast foods after dinner, add some whipped mascarpone, hold the syrup, swap the coffee for beer, and BAM you've got dessert. Everyone will think you're brilliant because you are. And everyone wants to do this they just need you to clear the path. And you can because you're a trendsetter, obviously.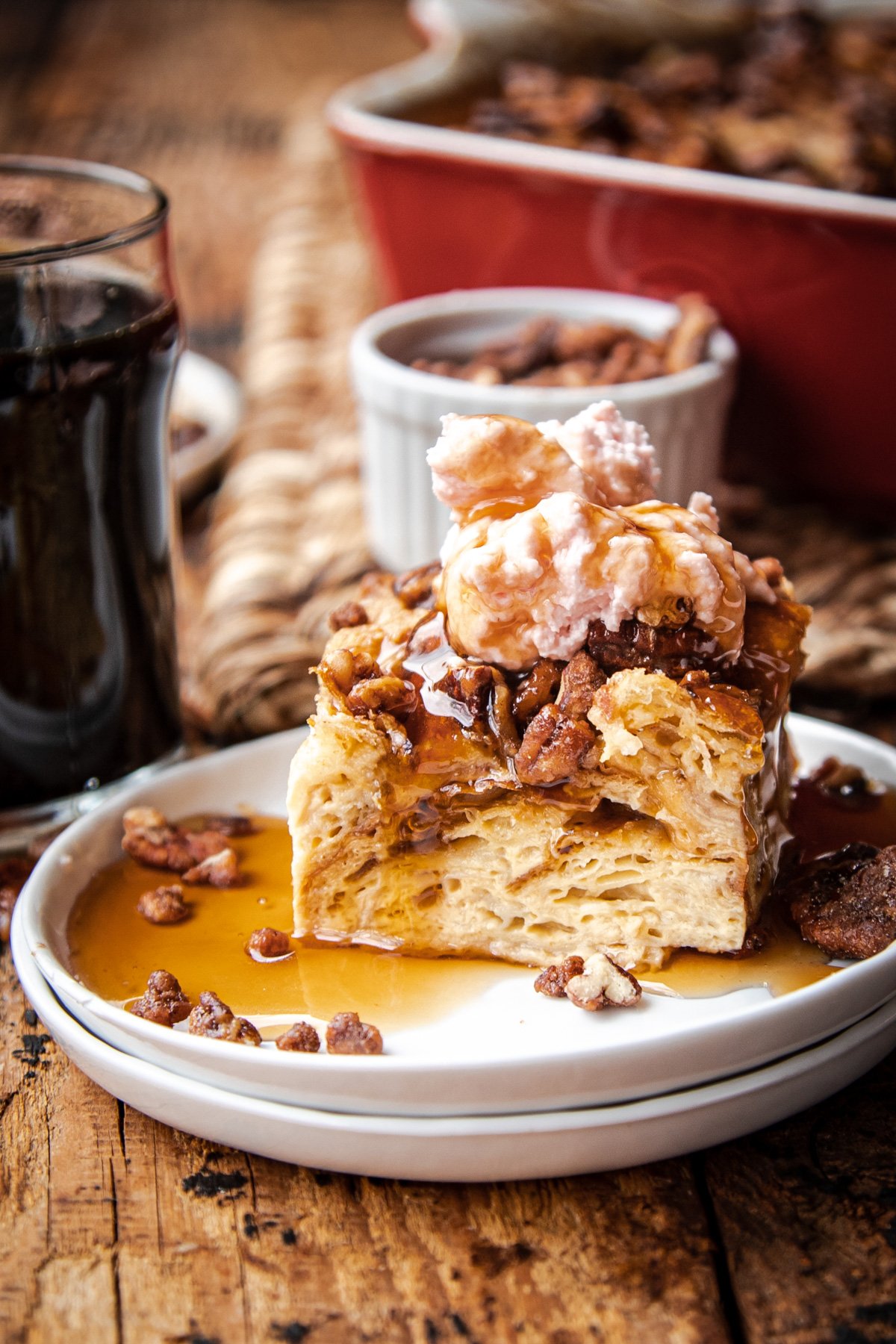 Overnight Bourbon Stout Pecan Croissant French Toast with Blood Orange Mascarpone Cream
Ingredients
For the French Toast:
8

medium-sized croissants

1 lbs total weight

4

large eggs

1 ½

cup

half and half

or ¾ cup whole milk and ¾ cups heavy cream

¼

cup

stout beer

Bourbon barrel aged

2

tablespoons

white granulated sugar

2

tablespoons

brown sugar

1

tablespoon

vanilla extract

½

teaspoon

salt

½

cup

candied pecans
For the Mascarpone Cream:
8

oz

mascarpone

2

tablespoons

half and half or heavy cream

1

tablespoon

blood orange juice

1

teaspoon

vanilla extract

3

tablespoons

powdered sugar
Instructions
Cut the croissants into quarters. Add to a to an 8x8 pan, press firmly into the pan.

In a mixing bowl add the eggs, half and half, beer, both sugars, vanilla, and salt, whisk until well combined.

Pour the mixture over the croissants, sprinkle with pecans. Cover and refrigerate overnight and up to 3 days.

Preheat the oven to 375°F.

Remove the casserole from the fridge while the oven preheats.

Bake uncovered for 45 minutes or until the center has puffed and top is slightly crisp.

Remove from oven, allow to cool slightly, cut into 9 squares.

In a bowl, add the mascarpone and whip with a hand mixer until creamy. Add the heavy cream, beat to combine. Then beat in the orange juice and vanilla, then the powdered sugar.

Serve the casserole with mascarpone cream.