One Hour Rosemary Beer Pizza Dough
I'm a firm believer that the best pizza dough takes at least 24 hours.
I'm also a firm believer that most of us don't usually have that type of forethought. At least it's a rare occurrence for me.
I started making this pita bread dough when I wanted to make a day-of pizza, which morphed into this recipe for one hour pizza dough. Which these days gets cooked on the grill as often as in the oven. Grilled pizza is my new first love of outdoor cooking, especially when topped with grilled vegetables and carne asada. So far I haven't found the restraint to stop eating long enough to photograph such a pizza creation, so no blog posts have been created for that tasty little guy.
But I did manage to get a few hasty pictures of this oven cooked pizza, just look at those glorious bubbles.Pretty damn good for one hour, grilled or oven cooked, it's my new go-to for pizza nights.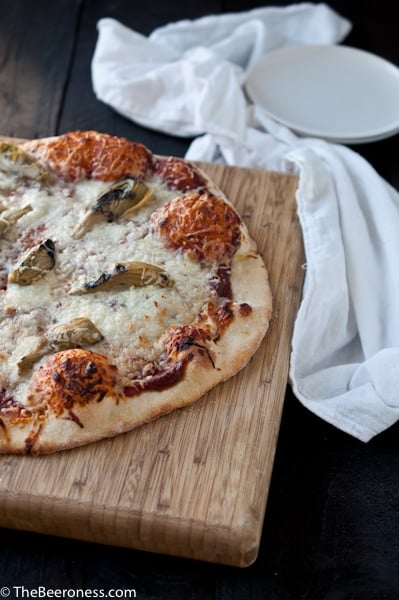 One Hour Rosemary Beer Pizza Dough
Ingredients
2 ½

cups

bread flour

1

envelope rapid rise yeast

½

tsp

garlic powder

1

tsp

fresh rosemary

minced

¾

cup

wheat beer or pale ale

1/2

tsp

kosher salt

¼

cup

olive oil
Instructions
In the bowl of a stand mixer fitted with a dough hook attachment, add the flour, yeast, garlic powder and rosemary.

Mix until combined. In a microwave safe bowl add the beer. Microwave on high for 20 seconds, test temperature with a cooking thermometer and repeat until temperature reaches between 120 and 125 degrees Fahrenheit.

Add the beer to the stand mixer and mix on medium speed. Once most of the flour has been moistened, slowly add the salt and oil while the mixer is still running.

Turn speed to high and beat until dough is smooth and elastic, about 8 minutes. Transfer dough to a lightly oiled bowl, tightly wrap with plastic wrap. Allow to sit in a warm room until doubled in size, about 45 to 60 minutes.

Cook as desired.