One Bowl Chocolate Stout Loaf Cake with Blackberry Frosting
One Bowl Chocolate Stout Loaf Cake with Blackberry Frosting
The first time I was paid to write a story it was about gang members. Gang members who are also bakers.
It was a story I'd pitched to a start up emagazine that asked for submissions and received thousands. I wanted to talk about Homeboy Industries, a non profit that helps get people out of gangs via a bakery they started to employe the unemployable. Maybe it was my guilt I carried with me about leaving the job I had working with gang kids in order to pursue my dream of food writing. Maybe it was just so incredibly impressive that this program actually worked, and worked really well. Or maybe it was the fact that baking could save someones life. I got the assignment.
My first draft read so starry-eyed-in-love with the company that I needed more, I need the reality of it all, the grittiness that sometimes gets lost when mainstream media try to glam up the truth for mass consumption. So I went back to Homeboy Cafe, to talk to Sarah. A woman who had run a very successful chopshop, ran around with gangs since she was 13, sold drugs, and ended up in solitary confinement with bullet holes in her body. It was driving around East Los Angeles with her in my passenger seat, stopped outside the urban garden she was running, that made the biggest impact on me. At least a decade older than me, and several lifetimes more experienced, she seemed so shy, "I brought this for you…" She pulled a crumpled page out of her pocket, "they did a story about me." She showed me the internal newsletter the company prints out for employees, Sarah was the lead story. "It's nice…you know…people talking about you for something good." We sat there for a second, worlds apart in the same car, and I told her she should be so proud. The silence for the next few seconds was about as warm as I've ever felt.
I think about Homeboy sometimes when I bake, how transformative it can be just to do something right and to have people talk about you for something good.
You can read the article about Homeboy, and Sarah, in my Portfolio (scroll down, past the black). To this day, it's one the my favorite articles I've ever written.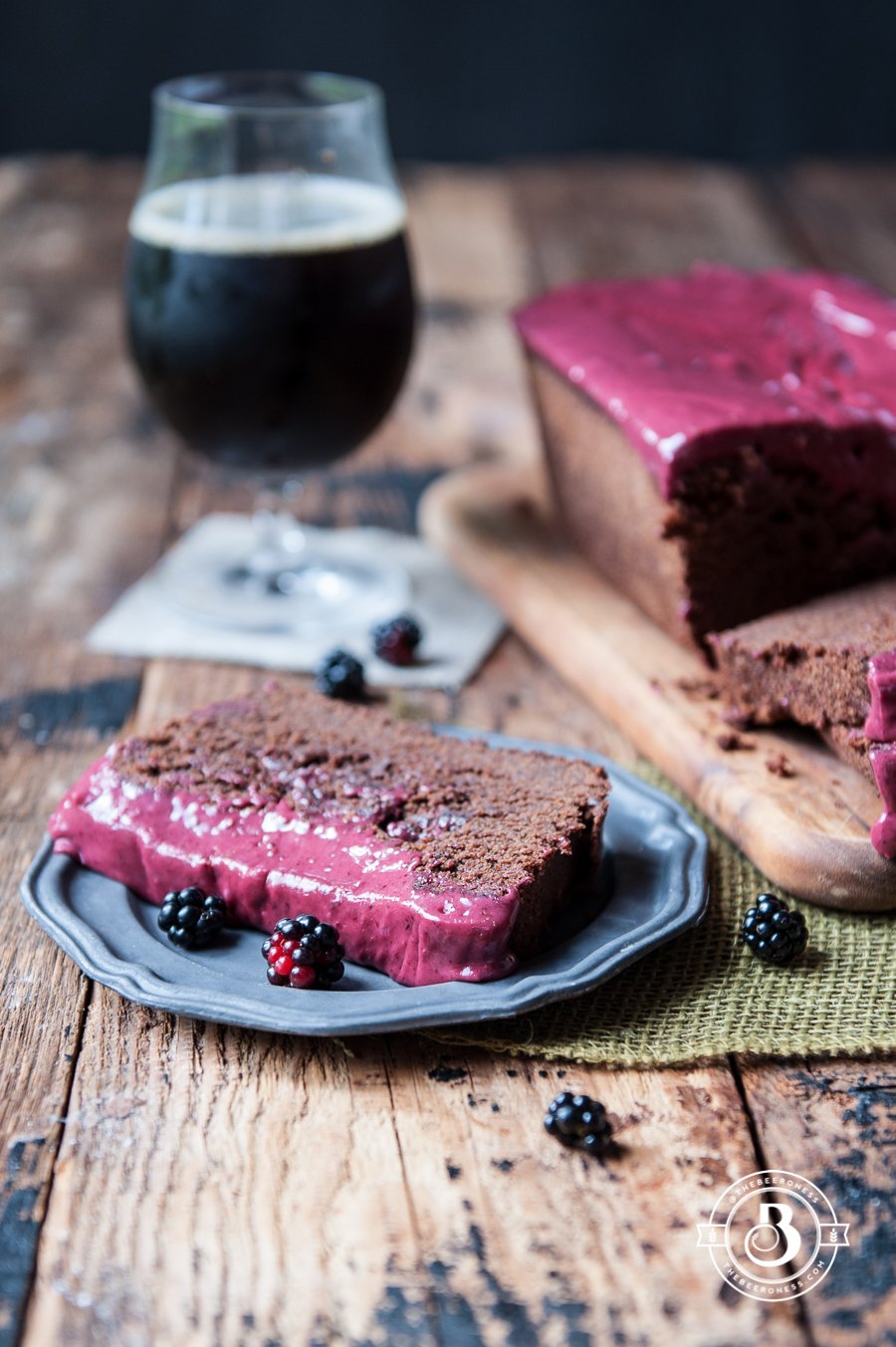 One Bowl Chocolate Stout Loaf Cake with Blackberry Frosting
Ingredients
1/2

cup

unsalted butter

softened

1 1/2

cup

335g granulated sugar

1

large egg

at room temperature

1

teaspoon

7g vanilla extract

¾

cup

170g stout beer

¼

cup

55gvegetable oil

1 1/2

cups

225 g all-purpose flour

3/4

cup

cocoa

60 g powder

1/2

teaspoon

3 g baking soda

1/2

teaspoon

4 g salt

½

cup

130 g blackberries

2

cups

1/2 lbs powdered sugar

1

teaspoon

5g fresh lemon juice

½

teaspoon

3g vanilla extract
Instructions
Preheat oven to 325.

Add the butter and sugar to a bowl. Using a stand mixer, beat until well creamed. Add the egg and vanilla, beat until combined. Stir in the beer, and olive oil.

Sprinkle the flour, cocoa powder, baking soda, and salt. Stir until just combined.

Pour batter into a loaf pan that's been greased and floured.

Bake for 60-65 minutes or until or until a cake tester inserted into the center of the loaf comes out with just a few crumbs.

Remove from oven and allow to cool completely.

In a blender add the blackberries, powdered sugar, lemon juice, and vanilla extract, blend until smooth.

Pour over the top of the cake, chill until set.

Remove from loaf pan and slice prior to serving.