Oatmeal Stout Chocolate Chip Cookie Bars
Oatmeal Stout Chocolate Chip Cookie Bars
A few years ago I had to sell a house. One I'd bought when I was probably too young to do so, and the Los Angeles housing market was angry and hostile. It was only about a year before things started to go south and I knew I needed out.
I had just one open house. The realtor asked me to leave an hour early so that she can get set up, work her house-selling magic. Before I left to wander the city and hope for the best, I baked a huge plate of cookies and left them on the kitchen table for the gawkers and home buying hopefuls to partake in. When I returned a few hours later I had three full-price-or-better offers, and a house that still vaguely smelled of vanilla and caramelized sugars.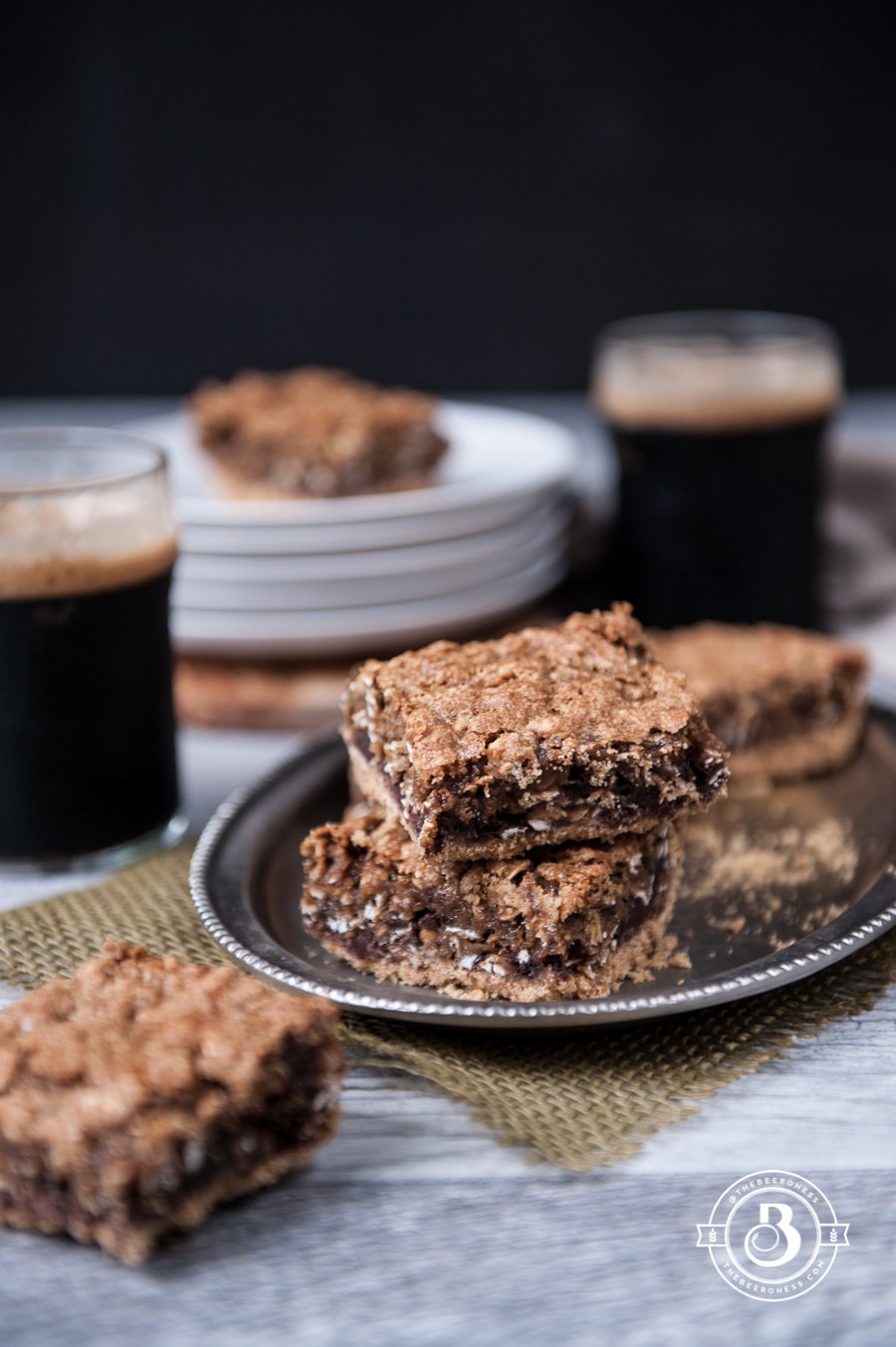 Every offer was accompanied by a letter, and each letter mentioned the cookies. Maybe it was just the smell of freshly baked, chocolate-studded, hand-held desserts. Or maybe there is something about fresh-baked cookies that will transform your house and make people want to live there. Either way, it was the best batch of cookies I've ever baked.
Oatmeal Stout Chocolate Chip Cookie Bars
Ingredients
Crust:
9

graham cracker sheets

147g

2

tbs

39g brown sugar

4

tbs

46g melted butter
Filling:
1 ¼

cups

100g old fashioned oats

1

cup

120g all-purpose flour

½

cup

92g brown sugar

¼

cup

58g white sugar

½

tsp

3g baking soda

1

tsp

6g salt, divided

3

tbs

butter

melted

1/3

cup

90g stout beer

2

egg yolks

1

tsp

vanilla

4

wt oz dark chocolate chunks
Instructions
preheat oven to 350.

Add the graham crackers and brown sugar to a food processor, process until just crumbs remain. While the food processor is running, slowly add the butter until well combined and resembles wet sand.

Press firmly into the bottom of an 8x8 baking dish.

In a large bowl stir together the oats, flour, brown sugar, white sugar, baking soda and 1/2 teaspoon salt.

Make a well in the center, add the melted butter, beer, yolks, and vanilla, stir until just combined.

Add the chocoloate chips in an even layer on top of the crust.

Press the filling into an even layer over the chocolate chips, sprinkle the top with the remaining salt.

Bake at 350 until the top is golden brown, about 22-26 minutes.

Allow to cool completely before cutting.