No-Bake Beer Creme Brûlée in a Peach Cup
No-Bake Beer Creme Brûlée in a Peach Cup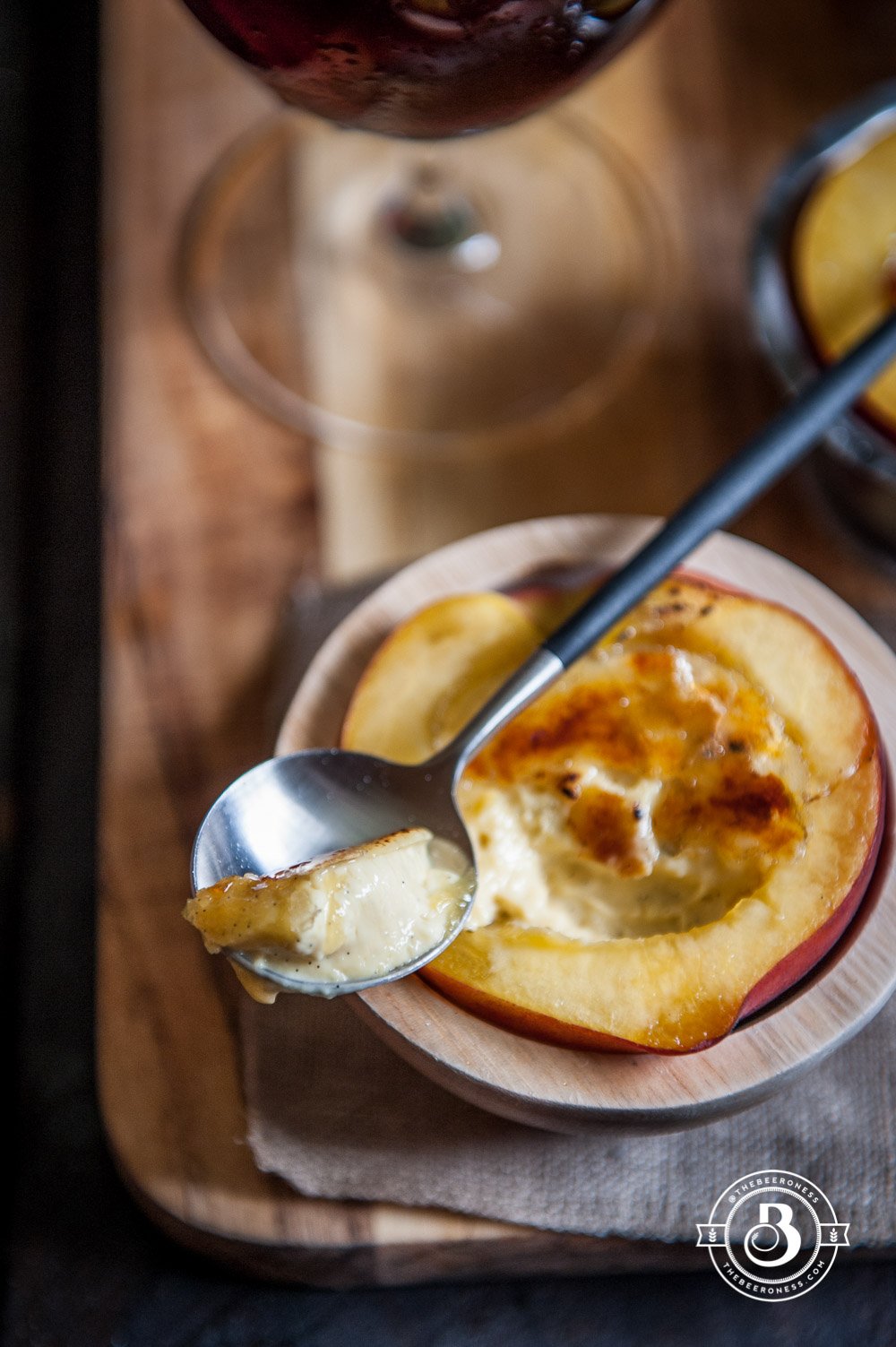 I never really know where my day will take me. One day I'm trying to figure out how to make a bacon rimmed cocktail, the next day I'm trying to find sour cream in Panama (by the way, it's hard to do). Somedays I want to make you something easy, something you'll want to make for dinner. And some days I want to eviscerate a stone fruit and fill it with hot cream as if George R. R. Martin is writing my recipes.
This is falls in the "sounds super fancy and hard but its really easy," which is my all time favorite recipe category. Ever made duck confit? Or rum whipped cream? Then you know these tricks too.
These hollowed out peaches aren't a one trick pony, that can do many, many delicious things. Grill 'em and fill 'em with ice cream. Poach a few and fill with whipped cream. Whatever you do, tell me about it. I can't get enough peaches this time of year.
I used this Kitchen torch, because it's amazing, easily one of my favorite kitchen tools. (affiliate link)

No-Bake Beer Creme Brûlée in a Peach Cup
Ingredients
1 cup heavy cream
2 tablespoons cornstarch
¼ teaspoon salt
1 vanilla bean pod, split and scraped
½ cup beer (Lambic, fruit Gose, Saison, or wheat beer)
5 large egg yolks
1/3 cup sugar
3 large ripe peaches
sugar for brûlée
Instructions
In a saucepan off heat whisk together the cornstarch, salt and cream. Add the vanilla bean pod and the scrapings from the inside. Add to medium heat until bubbles start to appear on the outside, remove from heat.
In a medium sized bowl whisk together the egg yolks, and sugar. Slowly whisk in the warm cream.
Return the mixture to the pot, add the beer, simmer until thickened, stirring frequently.
Cut the peaches in half, remove the seed. Scoop out the center with a melon baller, leaving about ½ inch of peach intact on all sides.
Place the peaches in serving bowls to keep them stable. Pour the mixture into the center of each peach. Refrigerate until set, about 3 hours.
Sprinkle with a thin layer of sugar, Brulee with a kitchen torch until golden brown. Serve immediately.
https://domesticfits.com/no-bake-beer-creme-brulee-in-a-peach-cup/