New York Beer Crumb Cake Muffins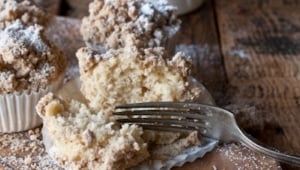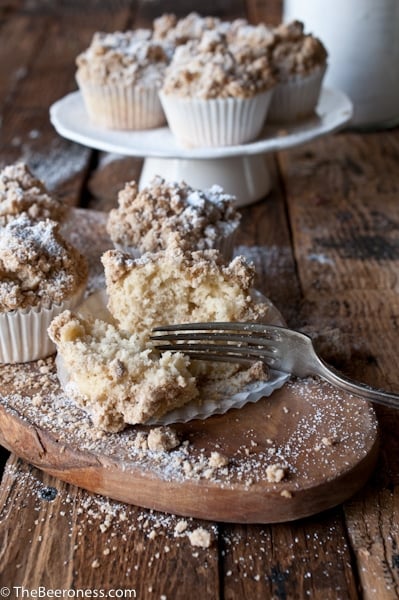 A few years ago I'd had this unfortunate idea that a red eye from LAX to JFK was a great plan. I boarded a plane around 10pm in Los Angeles, alongside a 747 full of business travelers headed for jittery East Coast morning meetings.
It wasn't so much that I irrationally figured that I could sleep on the plane, but I illogically decided that if I don't really sleep well anyway, I might was well be not sleeping well on an airplane. When I arrived in New York 6 hours plus time change later, I hadn't slept for a second. Although the decision to watch The Lovely Bones just after take off probably contributed to my lack of drowsiness.
By the time a subway ride and then a cab deposited me in Chelsea I was tired to catastrophic levels. Which, in the land of most girls means borderline weepy and slightly irrational. Finding out my hotel wasn't ready for check in and realizing that my only option for sleep was cuddling up with the homeless man near the stairwell, I decided coffee was a necessity. And by necessity I quite literally mean as a route to avoid either crying hysterically or falling asleep on top of a man who smells like hot dogs and old cheese.
I stumbled into a coffee shop and begged for coffee. "Anything else?" The husky Brooklyn dweller spat at me from behind the counter.
"Umm, I…need…uh…the…" I did manage to point at a crumb cake.
"You want duh cake? Fuh breakfast?" Thank god it was just judgmental an rhetorical, he didn't expect and answer and I couldn't have given an intelligible one. He thrust it towards me with the coffee. I sat down at the counter, my bag still over my shoulder and started to devour it all. He smiled, one hand on his apron covered hip, "Not bad, huh?"
I nodded, words were still hours away from me.
New York Beer Crumb Cake Muffins
Ingredients
For the Cake:

1 ¼ cups all-purpose flour
1/3 cup granulated sugar
1 tsp baking powder
1/4 tsp salt
1 large egg
½ cup pale ale (or wheat beer)
1 tsp pure vanilla extract
3 tbs vegetable oil

For the topping:

1 ¼ cups flour
½ cup packed light-brown sugar
½ teaspoons ground cinnamon
½ cup unsalted butter, melted
Powdered sugar for dusting
Directions
Preheat oven to 325
Line a 12 cup muffin tin with muffin papers.
Stir together 1 ¼ cups flour, granulated sugar, baking powder and salt in a large bowl. In a separate bowl, whisk together the egg, beer, vanilla and vegetable oil. Stir the wet ingredients into the dry ingredients, batter will be thick.
Add batter to muffin tins, about ½ way full.
Combine the remaining 1 ¼ cups flour, brown sugar, and cinnamon in a bowl. Drizzle with melted butter, stir together until crumbs form.
Add the crumbs onto the top of the muffin batter until cups are slightly mounded.
Bake at 325 for 32-36 minutes or until the top crumbs have just started to turn golden brown. Allow to cool to room temperature, chill until ready to serve. Dust with confectioners sugar prior to serving.
https://domesticfits.com/new-york-beer-crumb-cake-muffins/
Copyright �© TheBeeroness.com