Molasses Stout Glazed Salmon with Herb IPA Mashed Potatoes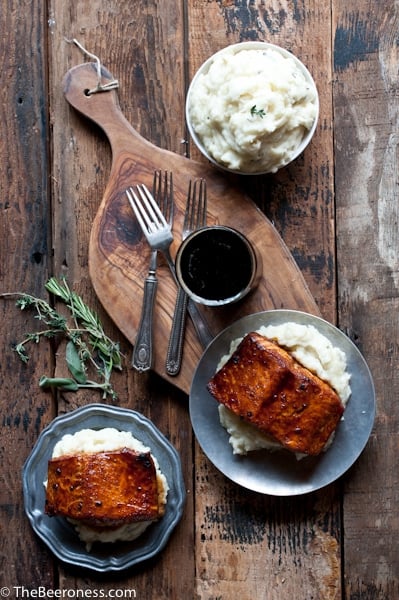 No matter how often you move, there are things that you forget. Every time. You forget that you won't know which drawer to put Sharpie markers and batteries in (they always end up in the same drawer), you'll turn to grab the knife from where is "used to be," you won't know where the Target is, or where to take your dry cleaning, or where to buy the best prosciutto and you can forget about that guy who offered to sharpen your knives for free if you bring him cookies THAT guy doesn't exist in your new land.
I have a gypsy soul, I've never missed my own bed, I don't have the home sick gene, I'm never nervous about new roads or new words or new food. I look forward to building a new database of people and place. But there is a learning curve with a new place. Things I didn't know that I didn't know. I've had to adapt to a new climate, one that was not 80 degrees on Christmas, and involves a near wardrobe change when I need to run out to the car to grab the beer I left in the back.
But the upside is that beer would have been overly warm in my old land, in this place, it was the perfect 43 degrees and ready to drink.
Now I just need to find a guy to trade knife sharpening for baked goods and I'll be half way there.
Molasses Stout Glazed Salmon with Herb IPA Mashed Potatoes
Ingredients
For The Potatoes

2 lbs russet potatoes, peeled and chopped
6 tbs unsalted butter
1/3 cup sour cream
1 tsp salt
½ tsp sage, minced
½ tsp thyme. minced
½ tsp rosemary, minced
3 tbs IPA beer

For the Salmon

1 tbs olive oil
¼ cup shallots
2 tbs soy sauce
1/3 cup stout
2 tbs molasses (not blackstrap)
¼ tsp smoked paprika
¼ tsp chili powder
¼ tsp onion powder
4 (4-6 ounce) Salmon fillets
Directions
To Make the Potatoes:

Add the potatoes to a pot of lightly salted boiling water. Allow to boil until fork tender. Drain and return to pot.
Add the remaining potato ingredients, stir and mash with a potato masher until well combined.

To Make The Salmon:

Preheat oven broiler.
Add the oil to a pot over medium high heat until hot but not smoking.
Add the shallots, cook until softened and slightly browned, about 3 minutes.
Add the soy, stout, molasses, smoked paprika,onion powder and chili powder. Bring to a boil, stirring occasionally until slightly thickened, about 6 minutes.
Line a baking sheet with aluminum foil. Spray lightly with cooking spray (or drizzle with vegetable oil.
Place salmon on the foil, skin side down.
Brush liberally with glaze.
Broil for 3 minutes, re-brush with glaze, and place under the broiler for 3 more minutes. Repeat (re-brushing and broiling) until the salmon is cooked through and flakes easily with a fork.
Serve over potatoes.
https://domesticfits.com/molasses-stout-glazed-salmon-herb-ipa-mashed-potatoes/
Copyright �© TheBeeroness.com