Mini Triple Chocolate Stout Cakes For Two (or four)
Mini Triple Chocolate Stout Cakes For Two (or four), one bowl, no special equipment required. )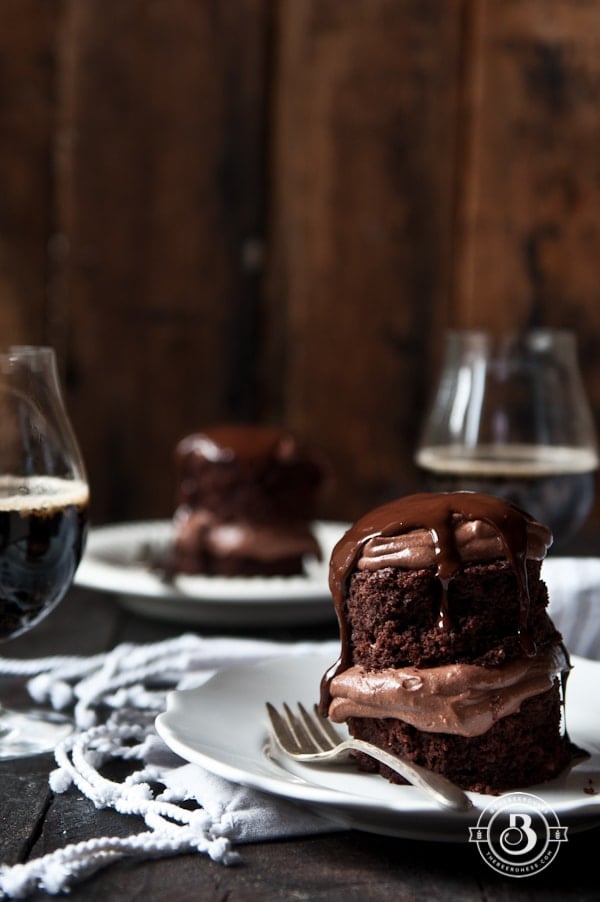 This is ridiculous.
Lets be honest, these should really be four cakes. Even if it is for a romantic dinner, I don't know your life. You could be making a romantic dinner for your cake making self and 3 other people. Or maybe this all for you. In your cake emergency you've found this one bowl, small-ish chocolate cake and decided to make yourself a little treat. Which would make infinitely more sense than romance for four, but that's your call.
On top of the fact that these are easily twice as tall as they should be for normal humans (which doesn't really apply to you and I), these suckers have both chocolate frosting and melted chocolate drizzle. That's crazy, but you get it. You also get that these should be served with a beast of a stout. A barrel aged mother that will punch your face. Because some of us would prefer a face punch to mid-February-obligatory-fifty-shades-of-eff-off-red-velvet-forced-romance.
Some of us.
Just pass me a beer.
Mini Chocolate Stout Cakes For Two (or four)
Ingredients
6 tbs melted butter
¼ cup vegetable oil
¾ cup sugar
½ cup cocoa powder
½ tsp salt
1 large egg
2/3 cup stout beer
1 cup flour
1 tsp baking powder
Frosting:
4 ounces cream cheese, softened
2 tbs butter, softened
2 tbs whole milk or heavy cream
2 tbs unsweetened cocoa powder
1 cup powdered sugar
½ tsp salt
3.5 wt ounces dark chocolate, melted (optional)
Directions
Preheat oven to 350.
In a large bowl add the melted butter, oil, sugar, cocoa powder, and salt mix until well combined. Stir in the egg and beer.
Sprinkle with flour and baking powder, stir until just combined.
Grease and flour an 8x8 baking dish. Pour batter into pan.
Bake at 350 for 25-30 minutes or until a tooth pick inserted in the center returns with a few crumbs attached.
Allow to cool completely, at least 4 hours and up to overnight.
Cover a plate or cutting board with parchment paper. Run a knife around the edges of the pan to loosen the cake, then invert onto the prepared plate or cutting board.
Use a 3-inch biscuit cutter to cut out four circles.
In a large bowl add the cream cheese and butter, beat with an electric mixer until well combined, light and fluffy (this will help avoid lumps in the final product, make sure it's well blended). Add the milk, beat until well combined.
Sprinkle with cocoa powder, powdered sugar and salt. Mix until well combined.
Plate two of the cake circles, top with frosting, add the remaining two cake circles to the top, top with frosting. Drizzle with melted chocolate just before serving.
https://domesticfits.com/mini-triple-chocolate-stout-cakes-for-two-or-four/
Copyright �© TheBeeroness.com