Mini Chocolate Stout Cheesecake with Salted Beer Caramel Sauce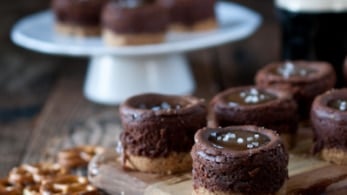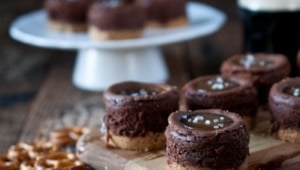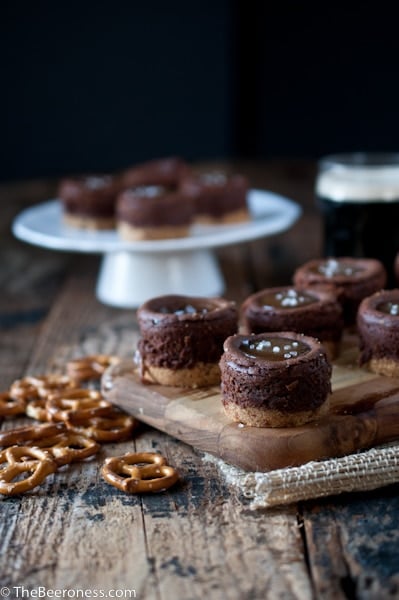 I'm the kind of girl that brings beer to a baby shower.
Which works out well, when it's a digital baby shower for the kind of girl who likes those sorts of things. Like my friend Bev who, in her multi tasking ways, is in the process of growing not one but two tiny humans in her guts. Which, in my book, means that she earned herself a few beers once her womb has been vacated.
The blogging community, much like the beer community, is about collaboration. It's a rising tide lifts all ships, lets compare notes, share resource and support each other environment. We cheer each others successes, grieve with each other, Digital Bake Sale for each other, and throw these online parties to commemorate milestones. It's a great community to be a part of. And I'll never stop being grateful that I've found my way here.
In honor of Bev who is so crafty she makes two people at once, I've made some miniature beer infused cheesecakes. But don't worry, the alcohol has cook off enough to make it safe for Pregnant Lady consumption*.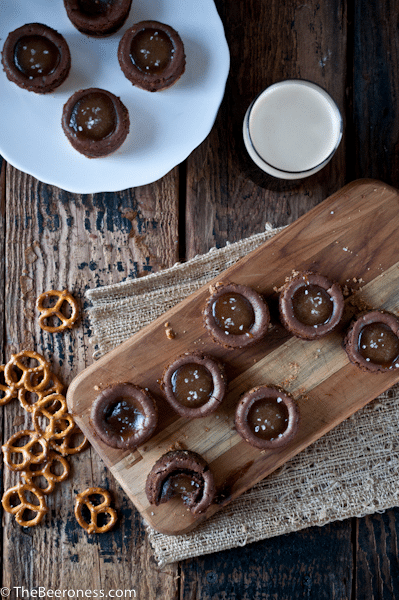 Mini Chocolate Stout Cheesecake with Salted Beer Caramel Sauce
Ingredients
For the Crust:
3

cups

mini pretzel twists

1

tbs

brown sugar

1

tbs

flour

4

tbs

melted butter
For the Cheesecake:
3

oz

about ½ cup dark chocolate (60%)

1/3

cup

Chocolate Stout

8

wt oz cream cheese

softened

2/3

cup

sugar

1

egg

1

tbs

flour

3

tbs

cocoa powder

1/2

tsp

salt

1

tsp

espresso powder
For the Sauce:
1

cup

sugar

2

tbs

light corn syrup

½

cup

stout

3

tbs

butter

cut into cubes

1/2

tsp

vanilla extract

2

tsp

sea salt
Instructions
Preheat oven to 350.

In a food processor add the pretzels, flour and brown sugar. Process until just crumbs. While the food processor is running, slowly add the melted butter until well combined.

Add about 1 tablespoon of crust to each wells of a mini cheesecake pan that has been sprayed with cooking spray (if you don't have a mini cheesecake pan, use muffin tins or mini muffin tins lined with cupcake papers). Press the crust firmly until compacted.

In the top of a double boiler over gently simmering water add the chocolate and the beer, stir until well combined and melted. Remove from heat, set aside.

In a stand mixer add the cream cheese, beat until light and creamy. Add the sugar and beat until well combined.

Add the egg, beating until well combined.

Add the flour, coco powder, salt and espresso powder, stir until just combined.

Stir in the chocolate mixture until well combined.

Add the cheesecake batter on top of the crust until wells are about 2/3 full.

Bake at 350 until the cheesecakes are set and top has puffed slightly, about 20-25 minutes (time will vary depending on the size of your mini cheesecakes).

Allow to cool to room temperature, while the cheesecakes cool a dip will form in the top.

While the cheesecakes bake, make the sauce.

In a saucepan over high heat add the sugar, beer and corn syrup. Whisk until sugar has melted, then stop stirring.

Allow to boil until dark golden brown and has reached 230 on a candy thermometer, about 6-8 minutes. Turn off heat and immediately stir in the butter and the vanilla ( mixture will bubbly up furiously). Allow to cool for about ten minutes.

Once cool, remove cheesecakes from pan (if using the mini pans, it may be necessary to run a sharp knife around the edges).

Gently spoon the caramel into the well that formed in the top of the cheesecakes.

Sprinkle with sea salt.

Refrigerate until chilled, about 2 hours.
*Disclaimer: consuming alcohol while pregnant is ill-advised. If you have concerns about the consumption of cooked alcohol while pregnant, consult your doctor. I'm not a physician, taking medical advice from me is also ill-advised. If you want more information about the rate at which alcohol cooks off, read this.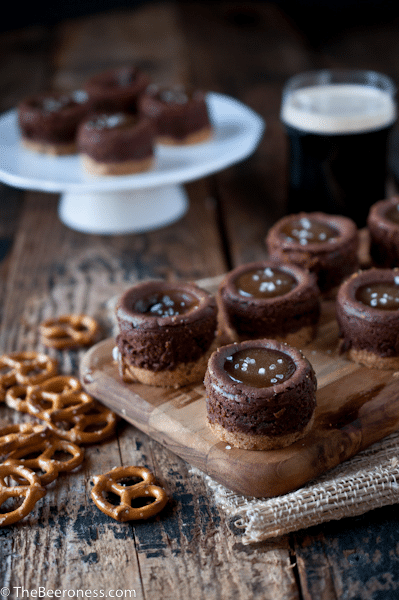 Check out the other Baby Shower recipes:
Appetizers
Bacon Cotija Guacamole from Gaby Dalkin
Gruyère Gougères from Shaina Olmanson
Lemon Risotto Tarts from Kelly Salemi
Goat Cheese Crostini with Pesto and Roasted Red Peppers from Liz Della Croce
Spinach and Feta Quinoa Bites from Aggie Goodman
Roasted Red Grape, Brie and Rosemary Flatbread from Laurie McNamara
The Fastest Appetizer Ever from Brooke McLay
Apple Pear Tart – Two Ways from Sarah Glyer
Drinks
Chocolate Chai Frappe from Brandy O'Neill
Cherry Chocolate Kiss Smoothie from Amy Flanigan
Cranberry Sorbet Bellini – Non-Alcoholic and Alcoholic from Megan Keno
Peppermint Mocha Affogato from Christina Lane
toasted marshmallow cream hot chocolate from Jessica Merchant
Pomegranate Lemonade Punch from Heather Christo
Salads
Kale Salad with Pomegranate, Orange and Pine Nuts from Rachel Gurk
Pear Cranberry Arugula Salad from Tracy Benjamin
Brussels Sprout Salad + maple roasted cranberry dressing from Katie Unger
Gluten-Free Pasta Salad from Lisa Thiele
Hearty Roasted Winter Vegetable Salad with Honey Ginger Dressing from Heather Disarro
Winter Citrus Salad from Catherine McCord
Entrees
Creamy Roasted Red Pepper and Chicken Sausage Pasta from Heidi Larsen
Eggplant Parmesan Lasagna from Joanne Ozug
cheesy chicken enchilada 'double' stacks from Lauren Grier
Jalapeno Popper Chicken Soup from Kevin Lynch
Thai Spiced Chicken with Coconut Cream Swiss Chard from Brandi Evans
Sausage and Red Pepper Quiche from Tasty Kitchen
Roasted Red Pepper Pasta with Goat Cheese from Julie Deily
Desserts
Soft and Chewy Oatmeal Coconut Chocolate Chip Cookies from Averie Sunshine
Glazed Dulce de Leche Pound Cake from Meagan Micozzi
Mississippi Mud Pie Brownie Ice Cream from Megan DeKok
Buttermint Frosted Sugar Cookie Cups from Shelly Jaronsky
4-Ingredient Peanut Butter Chocolate Cookies from Ali Ebright
Sweet Potato Creme Brulee from Brian Samuels
Whole Wheat Double Chocolate Mint Cookies from Aimée Wimbush-Bourque
Mini Chocolate Stout Cheesecake with Salted Beer Caramel Sauce from Jackie Dodd
Red Velvet Hi Hat Cookies from Kristan Roland
Double Chocolate Panini from Kathy Strahs