Michelada Marinated Steak Tacos with Chipotle Avocado Sauce and Beer Pickled Onions
Michelada Marinated Steak Tacos with Chipotle Avocado Sauce and Beer Pickled Onions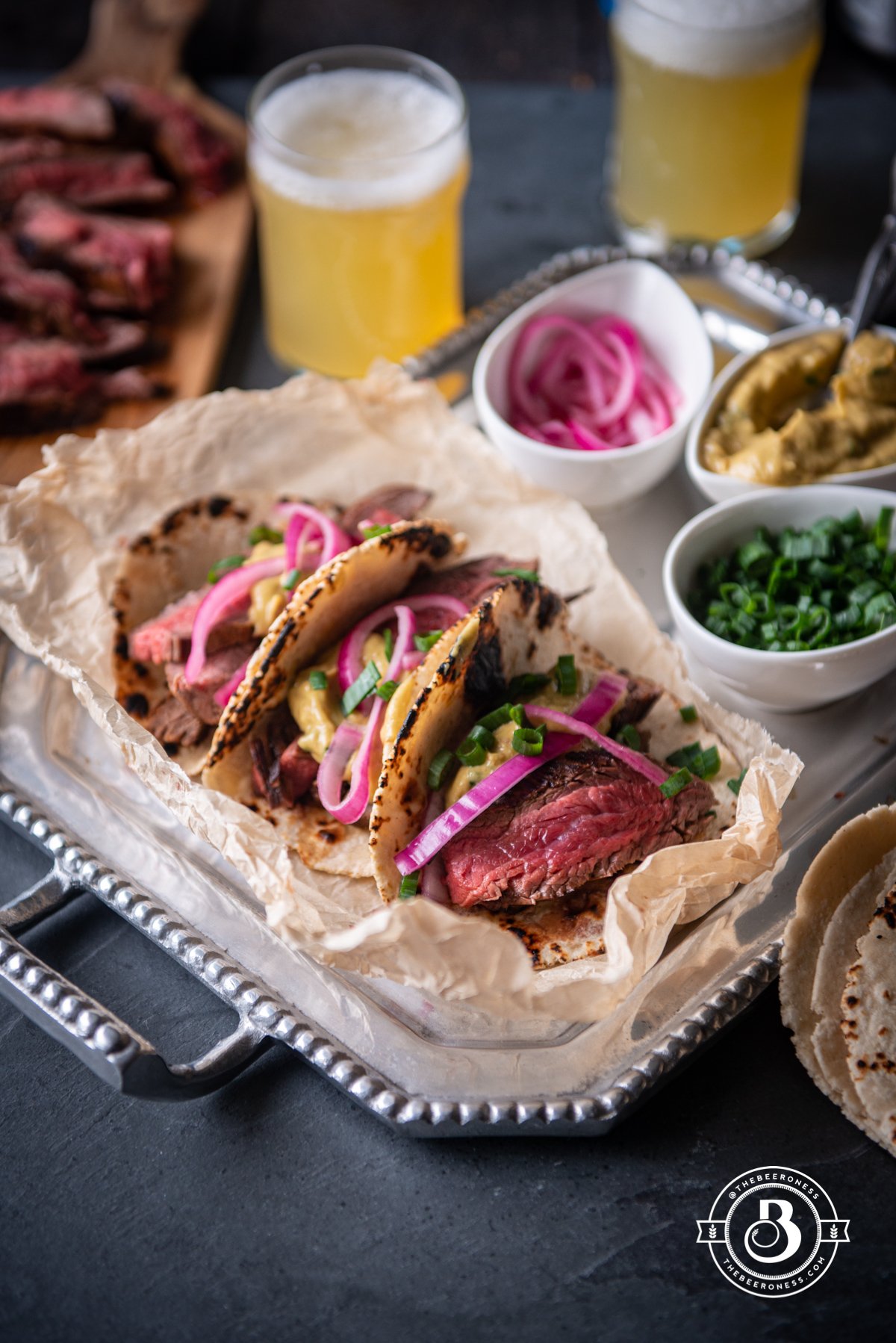 If anyone tells you they don't like tacos they are incorrect. Yes, I know, liking something is technically an opinion, and those can't be correct or incorrect, except about tacos. I'll even let those "I don't really like ice cream" people have their inferior preferences but with tacos, I'm just going to say no, absolutely not, you are wrong.
Because the truth is, you just haven't had the right taco. Maybe street tacos are your jam, or maybe it's what I call "trash tacos" which are the ones our moms made with ground beef and cheddar and pre-packaged hard taco shells, or MAYBE you like a hybrid of both like the ones Malo in LA used to make.
OR you could just be a dessert taco guy, like a ChocoTaco sort of human. But the truth is, tacos are for everyone, and everyone is for tacos.
These tacos just happen to be my sort of tacos: GOOD corn tortilla (not those cardboard disks that pretend to be tortillas), steak, pickled onions, and a sauce of sorts.
I will ride or die for all types of cheese, but not on my tacos, save that for a burrito. Or a burger. No lettuce, thank-you-very-much, and no premade hard shells. Just a protein, a corn tortilla, onions or one sort or another, and a spicy sauce. And a beer, tacos and beer are always better together.
For homemade tortillas, use this recipe for Beer Corn Tortillas
For store-bought, the only ones I ever buy are La Tortilla Factory
Michelada Marinated Steak Tacos with Chipotle Avocado Sauce and Beer Pickled Onions
Ingredients
Steak:
2

lbs

skirt or flank steak

1

tablespoon

kosher salt

1

tablespoon

Sriracha

2

teaspoon

Worcestershire sauce

1

teaspoon

cream-style horseradish

1

large lime

juiced

1

teaspoon

black pepper

12

ounces

beer

pale ale, lager, pilsner

1 ½

cups

12 ounces tomato juice

1

tablespoon

olive oil
Beer Pickled Onions:
12

oz

of IPA beer

1

cup

apple cider vinegar

1

tablespoon

sugar

2

tablespoon

salt

1

tablespoon

black peppercorns

1

large

red onion

thinly sliced
Chipotle Avocado Sauce:
1

large

chipotle pepper in adobo,

chopped

1

large

avocado

pit and skin removed

¼

cup

chicken broth

½

teaspoon

salt

½

teaspoon

garlic powder

1

tablespoon

chopped green onions
For the tacos:
12

small

corn tortillas

homemade recipe link above, for store-bought, see note

¼

cup

chopped green onions
Instructions
Marinate the steak:
Sprinkle the flank steak liberally on all sides, place in a gallon-sized Ziplock bag or a large bowl with an airtight lid.

In a large bowl stir together the sriracha, Worcestershire sauce, horseradish, lime juice, pepper, beer, and tomato juice. Pour over the steak, remove as much air as possible before sealing the bag.

Refrigerate overnight.
Make the onions:
In a pot over medium-high heat add the beer, vinegar, sugar, salt, and peppercorns. Bring to a simmer, stirring just until the sugar and salt dissolve, remove from heat.

Add the onions to a jar or storage container. Pour brine over the onions. Allow to sit at room temperate until cooled, cover and refrigerate overnight and up to several weeks.
Cook the steak:
Remove the steak from the marinade, allowing the liquid to drain off as much as possible. Place the steak on a clean kitchen towel or a stack of paper towels, add more to the top of the steak drying it as well as possible (this is how you will be able to achieve a good sear, too much liquid will ruin the sear).

Heat the olive oil in a large skillet with a lid until very hot. Add the steak, allowing to brown and sear for 3-5 minutes, flip and cover with a slight vent to the lid until cooked through, another 4-6 minutes (depending on the thickness of your steak).

Remove from pan and allow to rest for 5 minutes before slicing against the grain.
Make the sauce:
Add all the ingredients for the chipotle avocado sauce to a small blender or food processor, process until well combined.
Make the tacos:
Add steak, avocado cream, onions, and green onions in desired proportions to tortillas.
Notes
*The only store bought tortillas that I ever buy are La Tortilla factory (this is not a paid mention, I have no relationship with them), all other store-bought tortillas are bland and dry in my experience. If you can't find La Tortilla Factory corn tortillas, try to make them at home, it really is rather simple.