Melting Beer Sweet Potatoes with Balsamic and Hazelnuts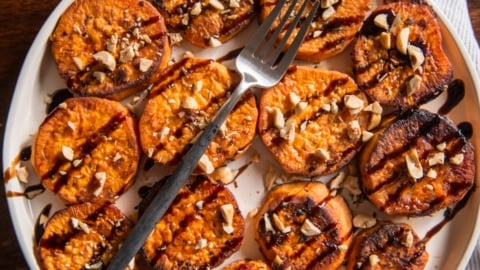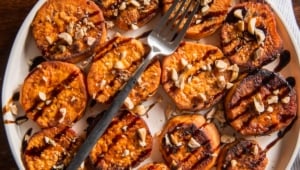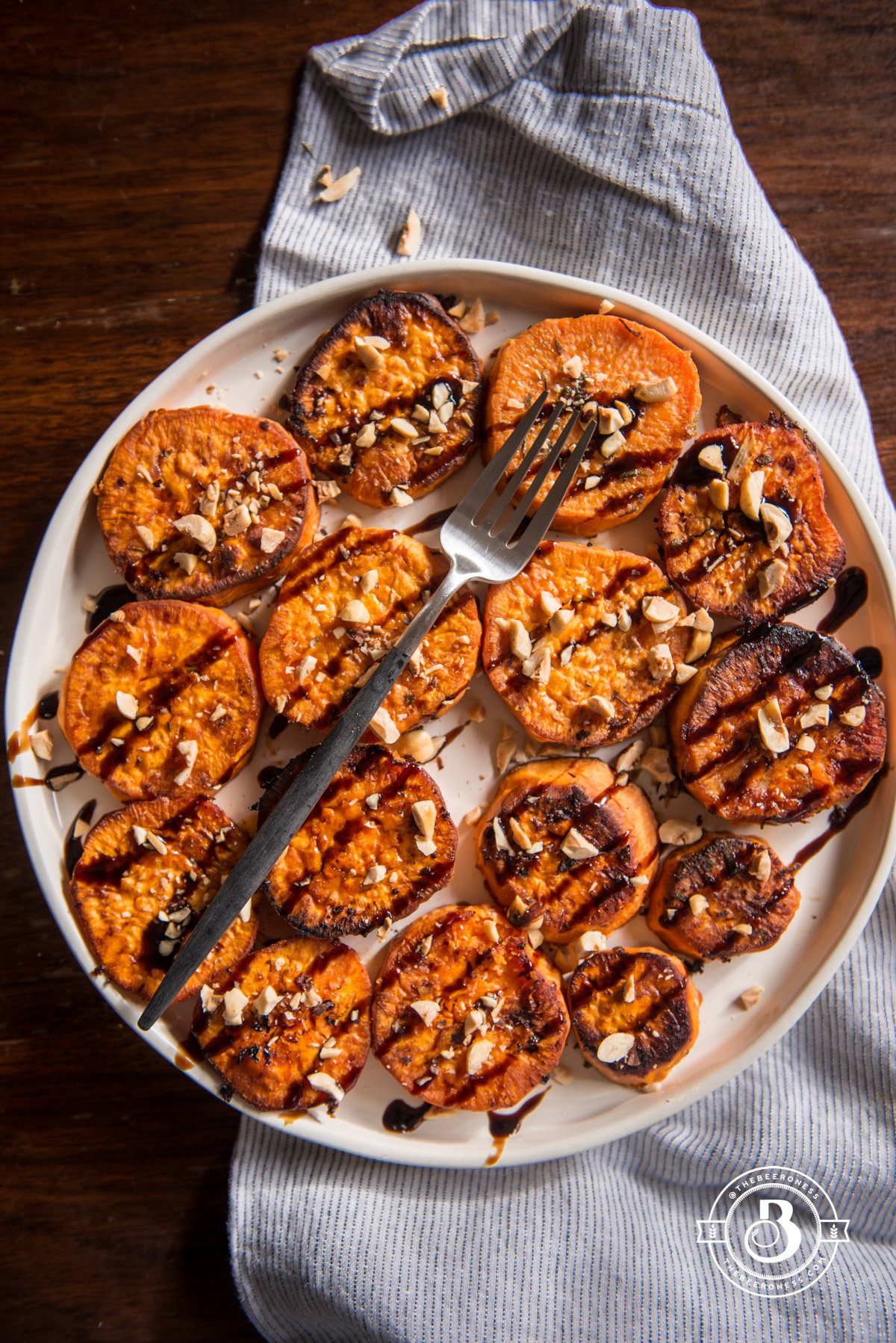 Let's talk about sweet potatoes, shall we? Of course we shall. It's been a while since we've had any root vegetable related banter. I didn't have sweet potatoes until I was a grown-up. A literal grown-ass human. This is a true fact. I did not grow up in a house where any orange vegetables, roots or tubers of any kind other than white potatoes, or squash of any variety were entertained. We were more the vegetables from a can or freezer bag sort. I've changed, I promise.
The actual first time I saw a sweet potato being eaten by a real-life human I was in college. See, kids, you learn more than the stuff in books if you make it all the way to 13th grade! A friend of mine was just sitting there eating a microwaved sweet potato with sugar and butter as if that wasn't the weirdest thing anyone had ever done, ever. I couldn't get over it. In my head it was like eating broccoli covered in chocolate, I couldn't even imagine.
It took me a while to try it, you know with the gagging and all, and when I did I was astonished. I went from thinking my friend was a crazy person to being mildly angry with everyone from my childhood for keeping these little magical beasts from me.
I have since made up for the time I spent sans sweet taters and now I eat them several times a week, I should probably add a line item in my budget just for them, it would be a wise financial move.
When I got a shipment of beer press mail from Left Hand Brewing which included a velvety-malty-delicious Sawtooth Nitro amber ale, I knew I needed to soak some sweet potatoes in it.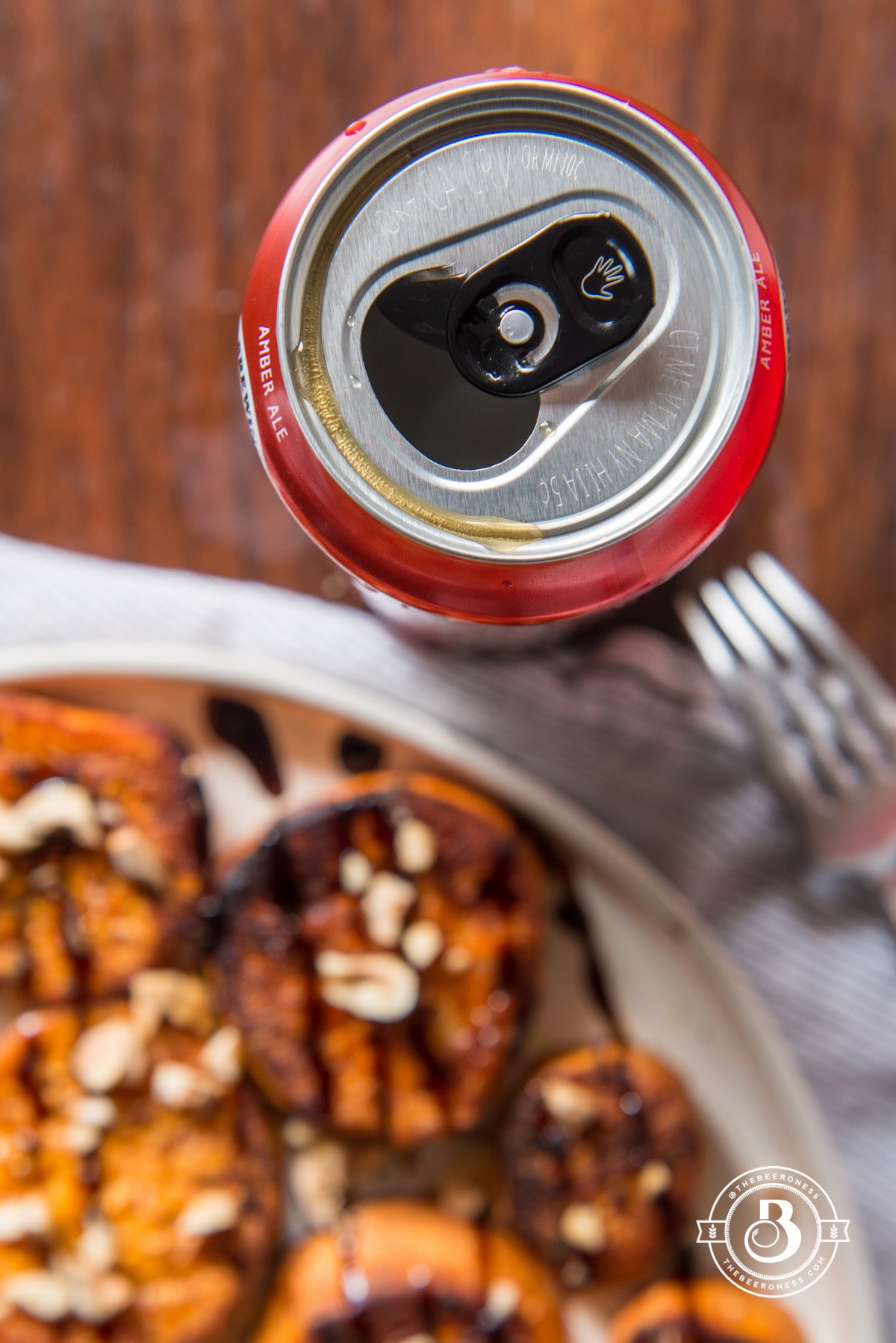 It was a wise move. And if you come over for Thanksgiving I'll make you some. But you need to bring a pie, and maybe some beer.
Melting Beer Sweet Potatoes with Balsamic and Hazelnuts
Ingredients
2 ½

lbs

sweet potatoes

look for relatively uniform ones

4

tablespoon

melted butter

1

teaspoon

chopped fresh rosemary

1

teaspoon

garlic powder

1

teaspoon

salt

¼

cup

malty beer

(amber ale, Oktoberfest, brown ale)

3

tablespoons

balsamic glaze*

¼

cup

roasted

chopped hazelnuts
Instructions
Preheat the oven to 475°F.

Peel and slice the sweet potatoes into 1-inch rounds.

In a large bowl stir together the butter, garlic powder, salt, and beer.

Add the sweet potatoes, toss to coat.

Line a baking sheet with aluminum foil. Add the potatoes and the herb liquid to the pan in an even layer.

Bake for 15 minutes. Flip the potato rounds with a spatula, return the pan to the oven, rotating the pan so that side that was in the back of the oven is now in the front. Bake for 10 to 15 more minutes or until the top has started to brown and the potatoes are soft.

Remove with a spatula while the potatoes are still hot, if they cool on the pan they are likely to stick. Add to a serving plate

Drizzle with balsamic glaze, sprinkle with hazelnuts.
Notes
*Balsamic glaze is easy to find in most grocery stores. It's usually found near the vinegar, it's sweeter and more syrupy than normal balsamic vinegar.