Matcha Strawberry Shortcakes with Lime Whipped Cream #CAStrawberryShortcakes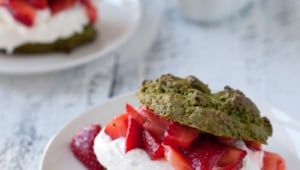 My first official assignment as a Brand Ambassador for California Strawberry Commission was to re-invent the strawberry shortcake.  After a brief stop on the idea of another chocolate strawberry shortcake, and possibly a lemon lavender version, I settled on a matcha version, something I hope is new to you all (I like to feel inventive!), and matcha goes so well with strawberries.
I've had Matcha powder (Japanese green tea powder) in the back of my mind for a while,  on my list of foods to bake with. It gives a great contrast of color and flavor to the gorgeous strawberries, if you're a matcha lover, I think you'll agree.
I also have a pin contest to tell you all about. It's a great excuse to spend a little extra time on pinterest while checking out some fantastic strawberry recipes, getting inspired for those summer cook-outs and trying to win some extra cash!
To enter, follow these steps:
2. Create a "CA Strawberry Shortcakes" contest board on your own Pinterest page.
4. Include the hashtag #CAStrawberryShortcakes and tag @CAStrawberries with each image you pin so we can find you!
(don't post it below on this blog post)
Good luck to you all! 
To give you a little inspiration, check out this awesome strawberry shortcake recipe from Muy Bueno Cookbook and Savory Simple!