Matcha Beer Pound Cake with Strawberries, Mint Whipped Cream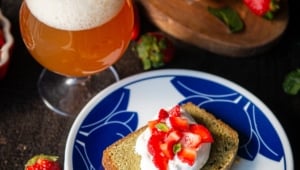 Matcha Beer Pound Cake with Strawberries, Mint Whipped Cream
I know what you're thinking. "Oh, so THIS is a cake but that chocolate thing you posted last week was bread? What are the rules?!"
There are no rules! Not right now. Not in this pants-optional-all-day-drinking-keep-your-COVID-cooties-away-from-me world we currently live in. Rules do not exist! Ok, that's not true, but when it comes to what is cake and what is bread, the line has blurred in our favor and it can all be cake, and it can all be bread because we don't have to social distance from carbs.
I wanted to make a "pantry" recipe but I realized that I like to keep weird things in my pantry like bean curd caramel and dried hops. I do love matcha, which has been hanging around in my kitchen since I made matcha doughnuts last year. If you don't have any, don't worry, the internet can help, and since we are ordering everything in these days, what's a bag of matcha to add to that list? A necessity. And essential.
What are you cooking? Are you baking all the bread all the time? Me too.
Matcha Beer Pound Cake with Strawberries, Mint Whipped Cream
Ingredients
For the cake:
½

cup

(114g) unsalted butter, room temperature

1 ¾

cups

(350g) granulated sugar

3

large

eggs

1

teaspoon

vanilla extract

¼

teaspoon

almond extract

1/3

cup

(78g) beer (pilsner, pale ale, wheat beer)

1 ½

cups

(240g) all-purpose flour

2

tablespoons

(30g) matcha (green tea) powder

1

teaspoon

baking powder

½

teaspoon

salt
Topping:
1 ½

cups

(334g) heavy cream

½

cup

(60g) powdered sugar

1

fresh

mint leaf

minced (about ¼ teaspoon)

1

cup

chopped strawberries
Instructions
Preheat oven to 325°F.

Add the butter and sugar to the bowl of a stand mixer. Beat on high until well creamed. Add the eggs, vanilla and almond extract one at a time, mixing well between additions.

Stop the mixer occasionally to scrape the bottom of the bowl to insure all ingredients are well mixed.

Stir in the beer.

Stop the mixer and sprinkle with flour, matcha, baking powder, and salt. Stir with a wooden spoon or spatula until just combined, don't over mix.

Pour into an 8.5 x 4.5 loaf pan that has been greased and floured.

Bake until the top has puffed and cake is cooked through 50-65 minutes.

Allow to cool before slicing.

Add the heavy cream, mint, and powdered sugar to the bowl of a stand mixer beat until soft peaks form.

Top the cake slices with whipped cream and strawberries.