Mascarpone Winter Ale Stuffed French Toast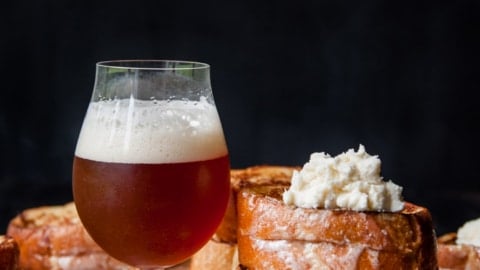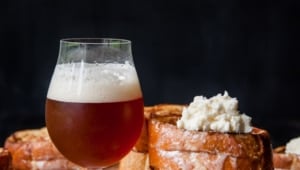 Mascarpone Winter Ale Stuffed French Toast
Winter ushers in a new crop of hard-to-get-your-hands-on beers, and they are just starting to poke their heads out the pumpkin saturated beer crowd.
Winter ales have flown under the main-stream-beer-radar for a while, getting a bit lost as beer drinkers trample from the squash-spice section over to the barrel aged section, but they deserve their time to shine. Every pocket of beer lovers have their own set of winter ales they wait for, counting down the days until the Holiday Ales start to show up in bottle shops. In my circle of beer nerd (based mostly on the distribution zone I'm in), this is what we are waiting for:
Fremont  // Winter Ale (and then the BBomb version that's barrel aged)
Sierra Nevada // Celebration (a classic, and a reminder that hops are invited to the holiday party)
HUB // Abominable  (Malty and hoppy, well balanced and full of flavor)
Deschutes // Jubelale (Tastes like Christmas: notes of cocoa, toffee, spices)
Avery // Old Jubilation (A crowd pleaser, warm, malty, with nut and candy notes)
21st Amendment // Fireside Chat (they describe it as: "a kick in the ass and a hug at the same time")
Widmer // Brrr (robust red ale with candy notes and a nice balance or malt and hops)
The Bruery // 12 Days of Christmas Series 
Maritime // Jolly Roger
What are you looking forward to? Any Winter Ales that you'll pick up that I can't get my hands on?
Mascarpone Winter Ale Stuffed French Toast
Ingredients
For the Filling:

8

wt ounces mascarpone

½

cup

powdered sugar

2

tablespoons

winter ale

pinch

salt

For the French Toast:

1

large loaf French bread

Brioche, or Challah

2

eggs

½

cup

cream

½

cup

winter ale

1

tsp

vanilla

¼

cup

sugar

3

tablespoons

butter
Instructions
In a medium bowl add the mascarpone, powdered sugar, 2 tablespoons winter ale and salt. Beat with a hand mixer until well combined.

Slice the bread into 3-inch slices (about 8 total).

Using a sharp knife, make a slit in the center of the bread slices, forming a pocket for the filling.

In a medium bowl add the eggs, cream, ½ cup winter ale, vanilla, and sugar, whisk until well combined.

Melt the butter in a large skillet over medium high heat.

One at a time spoon the filling into the bread slices. Dip in the egg mixture, making sure to coat well. Remove from the bowl allowing the liquid to drain off the bread.

Place the French toast in the hot pan, cook on each side until golden brown, about 4 minutes per side.

Serve warm.