Mango Wrapped Mozzarella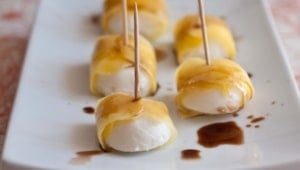 I'm back. Sort of. When I say that I'm move into my new place, all that means is that my stuff is physically there. 
In boxes. Lots and lots of boxes. But the gas isn't on yet, so I can't cook, and showers have been very cold. 
Like this mango.
So the theme for this week is about food you can cook without a stove.
Which can be tricky. But when you are so sick of take out and pizza and all you want to do is cook a meal for your family and the stove is gas which hasn't been turned on yet and the new place doesn't have a microwave and your old place had a built in one that had to stay and you can't figure out which of the billion boxes holds the cord to the electric griddle, you have to make do.  
So this is what I made for breakfast for my first morning in the new house:
Scrambled eggs in the waffle maker. Totally works. 
Bacon cooked on an electric crepes maker. 
Toast. 
It may have been my most creative use of heating elements, but it wasn't the most delicious breakfast ever to be made by my hands. 
In keeping with the motto of my life: Figure out what is great about the situation that you are in and enjoy the crap out of it, I decided to give you a tasty treat that requires no cooking. It only has three ingredients and the only tricky part is shaving the mango with the vegetable peeler. But even if you need two of three strips of mango to go around the mozzarella ball, who cares. Its easy and tasty and looks fancy. Don't sweat it. 
I hope to bring you pictures of my new place soon, right now the mess isn't nearly charming enough to be photogrpahed. Except Taters room, it's her perfect little sanctuary in the midst of the chaos, even the pictures are hung and every box has been unpacked. Other than that, the rest can wait. 
Mango Wrapped Mozzarella
1 large mango
12 Bocconcini or Ciliegine sized mozzarella balls
2 tbs balsamic vinegar 
Peel the mango with a vegetable peeler. once the peel has been removed, shave thin slices of the mango with the vegetable peeler until you have enough to cover the mozzarella balls. 
Wrap the mozzarella balls with the mango slices and secure with a toothpick. Drizzle with balsamic vinegar. 
Like Domestic Fits on Facebook