How to Make The Creamiest Baked Mac N Cheese: Gouda Cheddar Beer Mac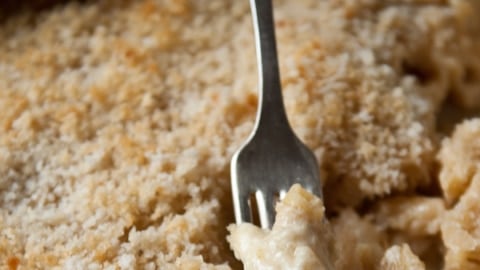 How to Make The Creamiest Baked  Mac N Cheese: Gouda CheddThe Creamiest Baked Mac N Cheesear Beer Mac. Perfectly cheesy and creamy every time!
For something so seemingly simple, it's easy to get this wrong. It's easy to end up with dried up pan of overcooked noodles in a curdled sauce.  It's easy to spend too much time and too much money on something that you just want to toss in the trash. I've devised a plan, a set of rules to make sure you don't have to endure that tragedy again. I've got your back.
1. Cheese choice. Expensive cheese is great, it's my spirit animal. But it's best eaten in it's natural state. Save the cheese, and your money, and go with cheddar. White cheddar melts better than the yellow/orange versions giving you a creamier sauce. I also use a bit of gouda, not crazy expensive, and melts beautifully. I also dig a smoked version for a little kick.
2. Roux + cornstarch = a must. You can't get a creamy sauce without a solid roux backbone. The  flour expands in your sauce to hold it together and gives it weight and thickness. The cornstarch holds the beer in place and keeps it creamy and prevents it from separating.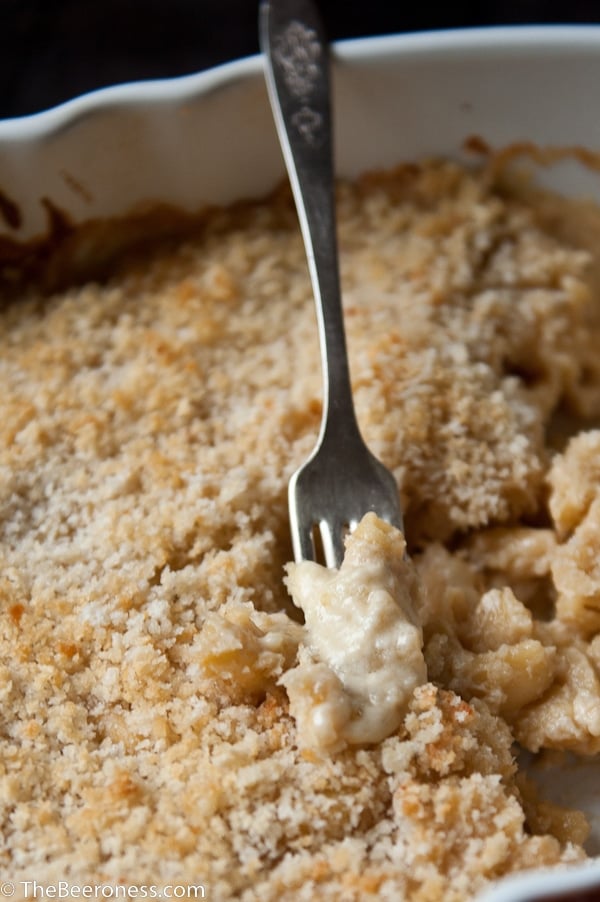 3. Cook dry noodles in the cheese sauce. Don't boil them first. Just drop your dry noodles into your sauce. The starch from the noodles with thicken the sauce and the cheese will inject flavor into the noodles. But only cook them about half way, they will continue to cook in the oven.
4. Undercook. Twice. First, undercook the noodles on the stove top. You'll be cooking them again in the oven so you just want to give them a small head start. Second, don't over bake in the oven or you'll dry out the sauce.
You don't really have anything to cook, you're just browning the panko. Some recipes will tell you to bake for 45 minutes, all this does is turn the cheese to a solid and dry your sauce. Some people like that. Some people want to be able to cut a square of mac n cheese and place it on the plate beside the BBQ'd ribs.
If you don't want that, if you want scoopable mac n cheese, don't bake it too long. Just brown the panko and take it out of the oven.
5. Size matters. Look for large elbow macaroni, not those little guys. The big ones are better at trapping that creamy sauce.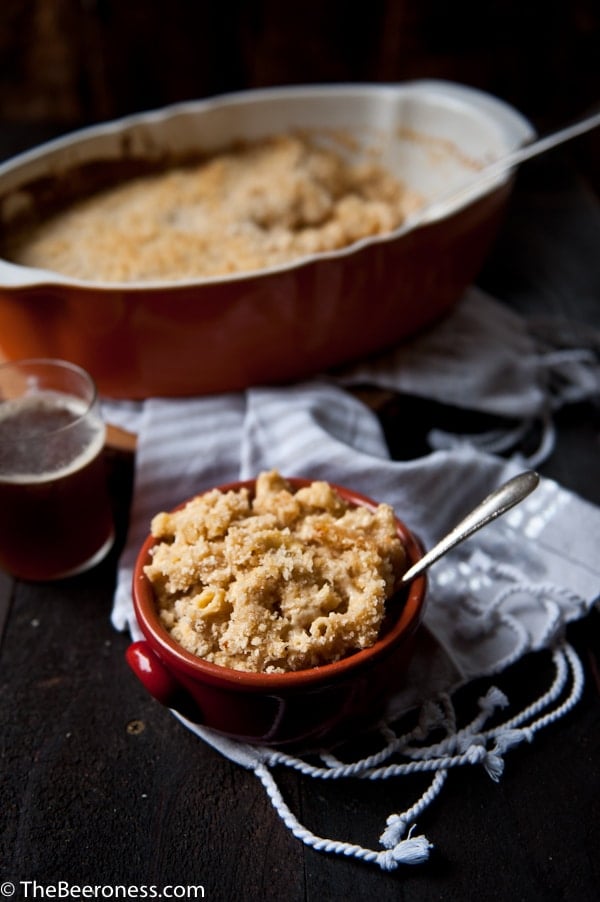 You're ready. You can do this. You'll have the best mac n cheese on the block and it's up to you if you want to share your secrets. Or just make them wonder how you do it.
Creamy Baked Gouda Cheddar Beer Mac
Ingredients
½

cup

unsalted butter

3

tbs

flour

2

tbs

corn starch

3

cups

whole milk

12

ounces

beer

pale ale, pilsner, wheat beer

1

tsp

mustard powder

½

tsp

chili powder

1

tsp

salt

1

tsp

black pepper

1

lbs

about 6 cups white cheddar, shredded

7

wt oz

about 3 ½ cups gouda, shredded

4

cups

large elbow macaroni

1

cup

Panko bread crumbs

3

tbs

melted butter
Instructions
Preheat oven to 400.

In a large pot or Dutch oven, melt the butter. Sprinkle with flour and cornstarch, whisk until a paste forms.

Add milk and beer and bring to a simmer.

Sprinkle with mustard powder, chili powder, salt and pepper.

Slowly add the cheese in, about ¼ cup at a time, whisking until well combined before adding more. Reserve about 1 cup of cheese for the topping (a mixture of both cheeses).

Add the dry noodles to the cheese sauce, allowing to cook until just before al dente, not cooked through, stirring occasionally. This will take about 8 minutes.

Pour into a 4 qt baking dish in an even layer.

Top with remaining cheese. Toss panko with melted butter until well coated. Sprinkle panko evenly on the top of the macaroni.

Bake at 400 until panko has browned, about 15 minutes.