Lemon Pilsner Cake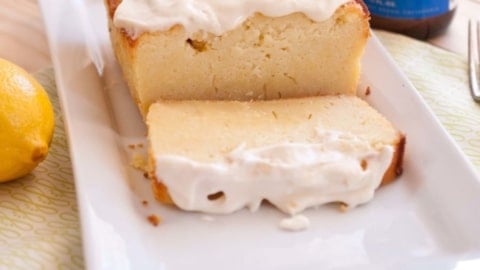 If you have ever had the opportunity to talk to a brewmaster, you have seen it. You've seen that look that lets you know that there is an art and a respect for what they do that goes far past what most Americans experience at their day jobs. The look that tells you that the paycheck isn't the reason he does the job. The flavors, the journey, the solving of the problems that yield to an end result of a drinkable, shareable masterpiece. You've seen that look.
It's because of that look that I try to create recipes that respect the years of love and hard work that go into the process of making Craft Beer. I had the idea of making a lemon cake with pilsner, but the issue is always the hops. Hops are a hard ingredient to cook and bake with, given that they often reduce to a very bitter product. Scrimshaw Pilsner, while still a pilsner, has a low, and well balanced hop taste. It is also from one of my favorite breweries, North Coast, that produces an incredible variety of craft beer. And you can bet that if you are ever lucky enough to take a tour of the brewery, you will see that look I'm talking about, all over the place.
Lemon Pilsner Cake
1 1/2 cups cake flour
1 tsp baking powder
1/2 tsp baking soda
1/3 tsp salt
2 tbs lemon zest
1 cup (2 sticks) unsalted butter
1 1/4 cup sugar
3 eggs
1/4 cup fresh squeezed lemon juice
1/2 cup Pilsner
Icing:
4 oz cream cheese, softened (cold cream cheese will result in lumpy icing)
1 cup powdered sugar
1/4 cup heavy cream
1/4 cup Pilsner
1/2 tsp vanilla
Direction:
Preheat oven to 350.
Spray a large loaf pan with butter flavored cooking spray.
In a large bowl, combine the flour, baking powder, baking soda, salt and lemon zest until well mixed.
In the bowl of  stand mixer, cream the butter and sugar until well combined. Add the eggs, one at a time, beating well and scraping the bowl between additions. Add the lemon juice and mix until well combined. Turn the mixer on low and add the flour a bit at a time until just barely combined, do not over mix.
Remove the bowl from the stand mixer and add the pilsner, stirring with a wooden spoon until just combined. Pour into prepared loaf pan. Bake at 350 for 45-55 minutes or until the top turns a light golden brown and a tooth pick inserted in the center comes out clean. Allow to cool before serving.
In the bowl of a stand mixer, add the cream cheese and the powdered sugar, beating until well combined. Add the remaining ingredients and whip until smooth.
Top the cake with the icing, chill prior to serving.
 Cooking and baking with craft beer.